There is nothing that quite beats that smell of freshly baked bread filling your van. But how can you bake bread in a campervan kitchen? And what if you don't even have an oven? Here are our favourite tricks to getting that soft, warm, freshly baked bread in the comfort of your campervan.
Bread is one of the best foods you can learn how to make, to take your cooking to the next level. And it might not be as complicated as you'd expect. You don't need a special bread maker or even an oven for that matter.
Bread at its core is just flour, yeast, water and a dash of salt. You can get creative and add your own twist of flavour such as chilli, garlic, herbs or even flip the script and make a sweet cinnamon roll.
From flatbreads to homemade pizza to dessert sweet treats, there is a recipe in here for every occasion. Hopefully, this post inspires you to try a new recipe this week and discover a new favourite bread recipe you didn't even know you were missing out on.
Supermarket pre-sliced bread and fresh bakery bread are not even in the same league. Nothing beats the smell of fresh bread filling your campervan home or campsite.
To be honest, it may be easier to walk down to the local bakery in the morning and grab a loaf or a few rolls for the day. However, there is something magical about making bread at home and having full control over the flavour. Then knowing you prepared your meal entirely from scratch. Plus making your own bread is likely to save you money which is always a bonus when you're travelling or living on a budget.
If you are ready to get experimenting, these are our tried and tested recipes that you need to try out.
Although it sounds simple, bread can be tricky to master. But trust us, once you become a pro at making your own bread and perfecting your recipe to your own taste you will never go back.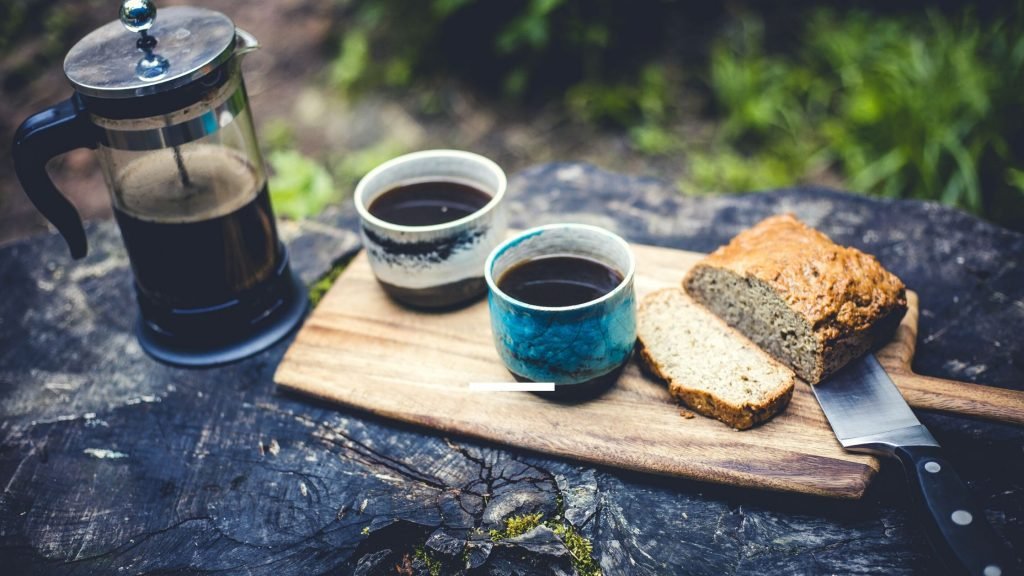 As a camper or van lifer, you are probably more creative than the average person. The minimalist van life often lends itself to adventurous, creative personalities who are experts at finding new ways to cook traditional foods in a tiny van kitchen. Whether you are cooking on an outside wooden fire or inside on a stovetop or in a crockpot
Here are our top 7 bread recipes you can cook in your van today.
7 Bread Recipes Suitable for Campervan Kitchens
One of the best ways to bake bread in your campervan without an oven is by using the legendary, infamous….(can you tell how much we love it?) Omnia Oven.
Baking bread is 100% possible in a van by only using the stove top and we love being creative with bread flavours. By replicating the classic cheese and onion crisp sandwich we came up with this Cheddar and Spring Omnia Loaf recipe and has turned out to be a go to when we are away in the van.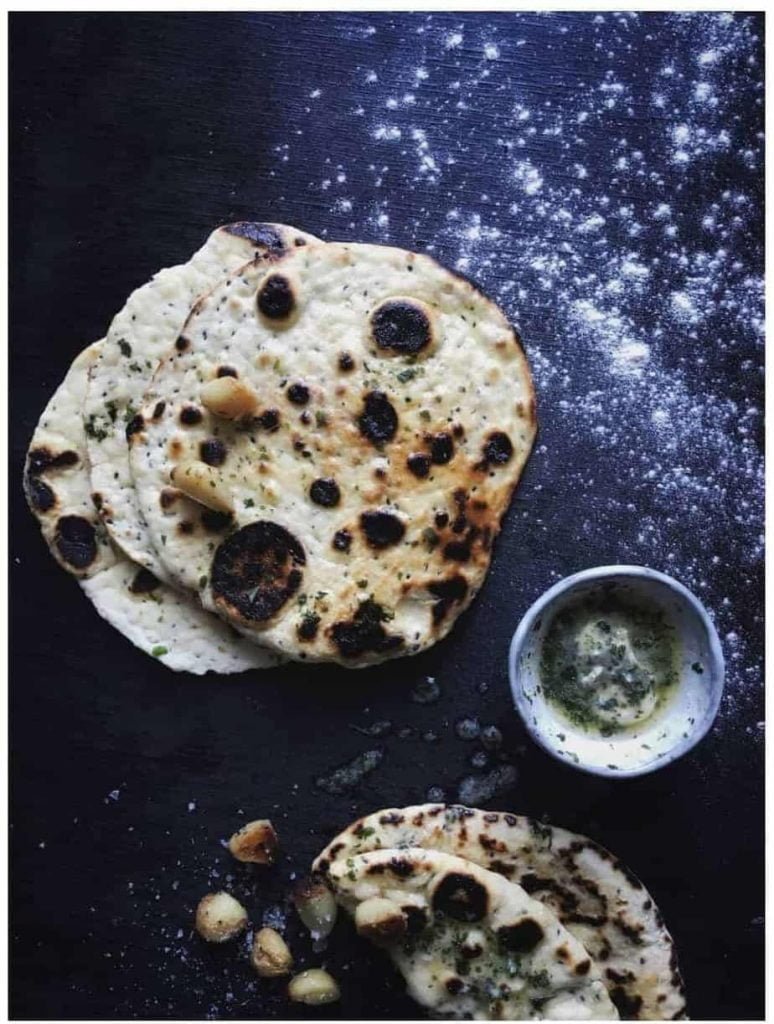 With van kitchens being pretty minimal we had to start this list off with our 2 ingredient flatbread. Yep, all you need is self-raising flour and natural yoghurt in equal parts to create this versatile Turkish bread. Add a drizzle of oil, butter, ghee or coconut oil, or maybe even some garlic, chilli flakes or fresh herbs to compliment your main dish. This recipe couldn't be easier for a van kitchen or a beginner baker.
This pizza dough recipe is fully tailored for van kitchens, as it is cooked over an open fire. Not only does this make it excellent for cooking on the road but it also adds a smoky flavour and crisp texture. Homemade pizza is also a great option when entertaining guests as there is always an option to customise the toppings to suit everyone's taste.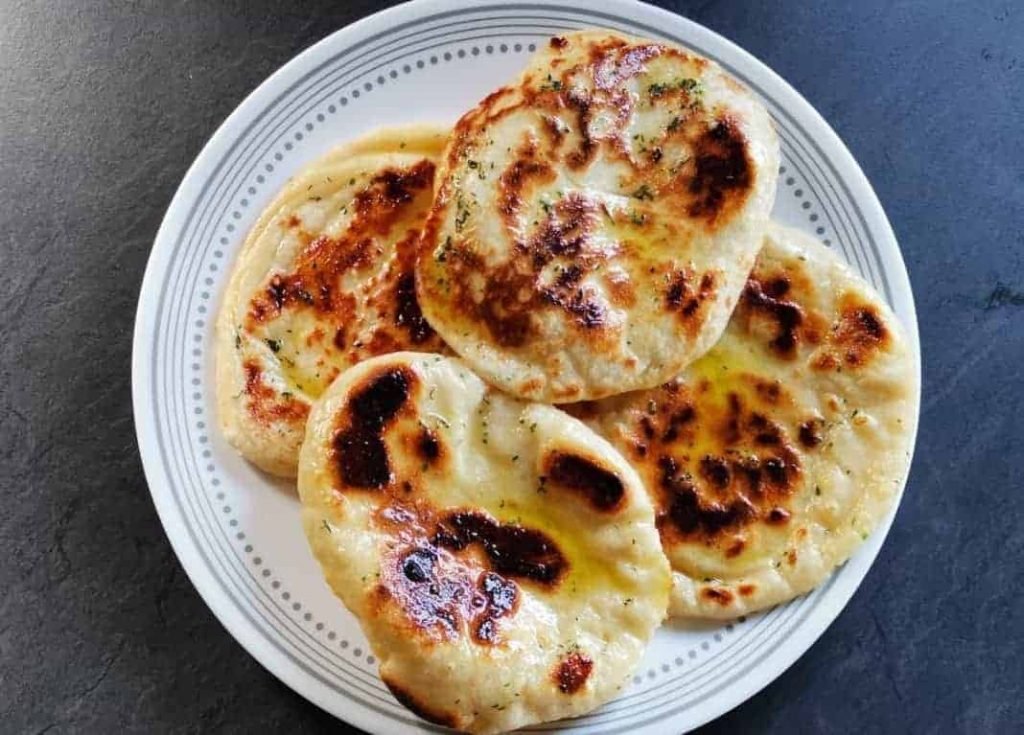 Naan bread is something you can make in no time with just two ingredients! All you need is self-raising flour and Greek yoghurt. Find the full recipe for this easy naan bread on VanlifeEats.com as well as a simple garlic butter with coriander. This is a great recipe to make while you are cooking up your curry, as naan bread is fried on a dry pan this can be done on a stovetop or campfire.
Bread on a stick is the ultimate campfire bread for a simple yet delicious and fluffy baked bread. This bread doesn't need kneading so it is great if you have limited tabletop space or just want an easy alternative to a loaf or rolls. The recipe is pretty simple but it does require some patience while you wait for the yeast to do its magic and allow the dough to rise.
Best of all is that you really can use what is around you in nature and use sticks. Just make sure you sterilise them first by heating them over the fire before you wrap your dough around them. When the dough is brown and crispy on the outside it should be light and fluffy on the inside. Cook all sides evenly and serve warm as is, or with some butter or homemade jam.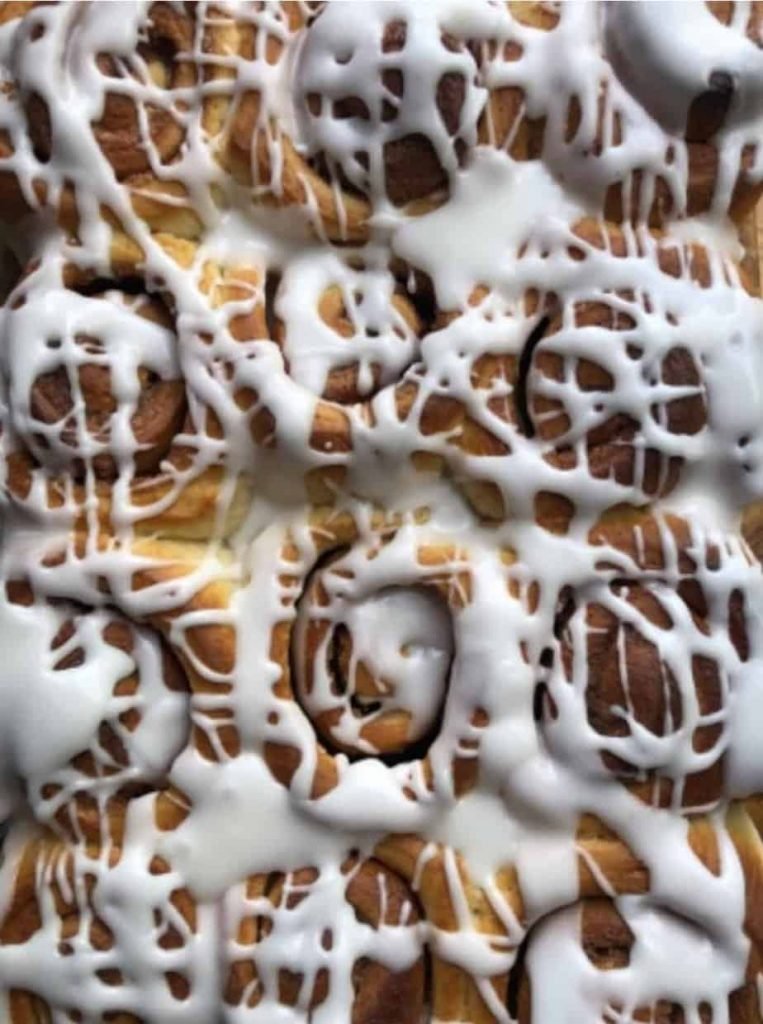 Calling all cinnamon lovers! This delicious cinnamon bun recipe is perfect for those big, fluffy rolls topped with a drizzle of vanilla frosting that soaks into each groove of the rolls. The secret to the fluffiest cinnamon rolls is bread flour. Serve these as part of an indulgent brunch or as a dessert. The only downside is that you will need an oven for this recipe but it is certainly worth checking out if you have this luxury.
Ok maybe some of you will argue that banana bread is a cake but it just had to make this list as an honourable mention. You could serve this as a grab and go hiking snack, a warm dessert with cream and extra chopped banana and walnuts, or even toast it with some butter or yoghurt and blueberries for a sweet breakfast.
Our super simple 6 ingredient banana bread is van friendly if you have a crockpot/instant pot on board and is arguably a much healthier alternative to most banana bread recipes. The peanut butter in this healthy crockpot banana bread adds a creamy sweetness as well as some healthy fats and protein.
Add best of all, there are minimal steps involved. Great for anyone who is less confident in the kitchen or just having a lazy afternoon. Pop 5 of the ingredients in a blender, stir in your favourite peanut butter and you are as good as done. Top with sliced banana, crushed nuts such as walnuts or pecans or a sprinkle of granulated sugar for an extra crispy topping, and bake for 2-3 hours in your slow cooker.
Bonus Recipe
The Omnia stove top oven makes baking bread in a campervan without an oven just so easy.
As with the recipe above, banana bread is a great throw together and it works so well with the Omnia oven.
This recipe is a monthly treat for us. Served with warm custard of course!
This post was all about baking bread in a campervan kitchen.
Let us know if you have tried any of these mouth-watering bread recipes. Feel free to send us DM on Instagram if you need any help with your baking, we understand making bread in a van can be tricky but we are happy to share our tips with you to make it as easy as possible. Our favourite thing to do is chat all about food and van life cooking.
You might also like these posts: