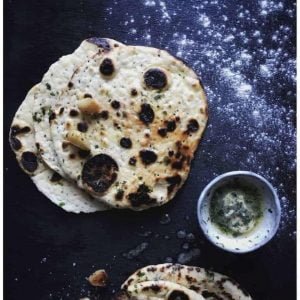 2 ingredient Flatbreads
Yes you read that correctly, 2 ingredient Flatbread, yep, just 2! All you need to cook it is some heat and a pan! In a van kitchen storage, ingredients and cooking facilities can be limited so recipes with minimal ingredients are ideal. You can vary the flavours in this and there are optional extras to make it even more tasty. Plus it can be cooked on an open fire so even those with no cooking facilities can enjoy this meal.This is recipe is a Turkish flatbread known as Bazlama and it's about to rock your world! Serves 4-6
Ingredients
1

cup

Self raising flour

1

cup

Natural yoghurt
Instructions
In a large bowl, mix together the flour and yogurt with the salt and seeds (if using). Then generously cover your hands in flour and bring the dough together, whilst still in the bowl.

Dust a work surface with flour then tip the dough out onto it. Knead the dough for around a minute, adding more flour to your hands if it is still sticky. The aim here is just to bring it together.

Dust the inside of the bowl you just used with flour then pop the dough back in, cover with a tea towel or plate and leave for 10 minutes.

Transfer the dough to a floured surface and divide into 4 equal-ish parts. You could do 6 if you wanted smaller flatbreads or to stretch the recipe a little further.

Roll out each piece of dough using a rolling pin (or wine bottle), using plenty of flour to stop it sticking. I roll them to around the size of a side plate.

Heat the pan to a medium-high heat and cook each side for around 1-2 minutes. Flip once when you see the first side beginning to bubble a little.

Finish with a drizzle of oil, smearing of butter, ghee or coconut oil, a sprinkling of fresh herbs, chilli flakes or choose to rub a sliced clove of garlic across it's glisteningly buttered surface. Enjoy!
Nutrition
Calories:
150
kcal
Carbohydrates:
26
g
Protein:
6
g
Fat:
3
g
Saturated Fat:
1
g
Polyunsaturated Fat:
1
g
Monounsaturated Fat:
1
g
Cholesterol:
8
mg
Sodium:
29
mg
Potassium:
126
mg
Fiber:
1
g
Sugar:
3
g
Vitamin A:
61
IU
Vitamin C:
1
mg
Calcium:
79
mg
Iron:
1
mg