As a passionate cook and living full-time van life, here is my honest review of the Omnia oven, and will I claim this to be the best campervan oven?
As a full time, van lifer space and organisation is a serious aspect of being comfortable living in a tiny home. Like many people living van life I opted for storage space instead of fitting a gas oven.
I am a long time passionate cook and since moving into my van this has not changed. If anything I have become more passionate and I now think more about my health and nutrition as well as eating fresh and local produce.
Most of the time I cook from a twin stovetop and this was no different whilst living in a house with a full-size kitchen, but there are some foods that just can't be made without an oven.
When I heard about the Omnia oven and how it is being claimed as one of the best van life or campervan ovens, I was curious, but when I heard you can make roast potatoes and even cake on a stove I was totally sold and had to get one.. like yesterday!
The reputation of the Omnia oven was clearly spreading as I was unable to find one as everywhere including Amazon was completely sold out. It was a long wait for the oven to be back in stock but after daily stock checks, I finally saw them back on sale on Amazon. Woohoo! The Omnia oven was finally mine!
What is the Omnia oven?
The Omnia oven is a stove-top appliance that sits on top of your hob, and using a variety of heat sources it allows you to cook foods that would normally require the use of an oven.
It is a circular ring-shaped tin, that is similar looking to a bundt tin, and it sits on top of your stove hob.
The Omnia oven comes in three parts, the stainless steel base, the central aluminum container and then the aluminum lid.
How does the Omnia oven work?
There are two main cavities within the Omnia oven that maintain an even heat.
As well as the heat from underneath the pan, heat from the hob is dispersed into the central cavity and back into the top of the oven spreading an even containment of heat from the top and bottom within the tin.
Through vent holes around the tin, the heat and moisture can escape thus not allowing the food to get soggy.
The result is a nice even dry cook.
What can you cook in an Omnia oven?
You can cook just about anything in an Omnia oven. The most common foods to cook that are making the Omnia oven stand out are:
Cakes
Pizza
Roast Potatoes
Shepherds Pie
Lasagna
Pasta Bake
Hash Browns
These are all meals that are hard if not impossible to cook and get right whilst cooking in a van.
Omnia have really gone the extra mile with providing an exceptional cooking experience and you will find a variety of recipes on their website and also within the Omnia cookbook that's also available to purchase.
I would certainly agree that the Omnia oven has revolutionised campervan cooking!
How big is the Omnia oven?
The Omnia oven is a compact and extremely light weight appliance that can be stacked within itself and packed away neatly in a space conscious kitchen.
The tin itself is small enough to sit upon small hobs and almost every camping hob out there.
The Omnia oven comes with it's very own protective vinyl bag son of you wanted to take the oven out of your campervan and cook on a beach or on a hike then this is all made very easy.
It really is so lightweight that you wouldn't believe it can be as effective as it is!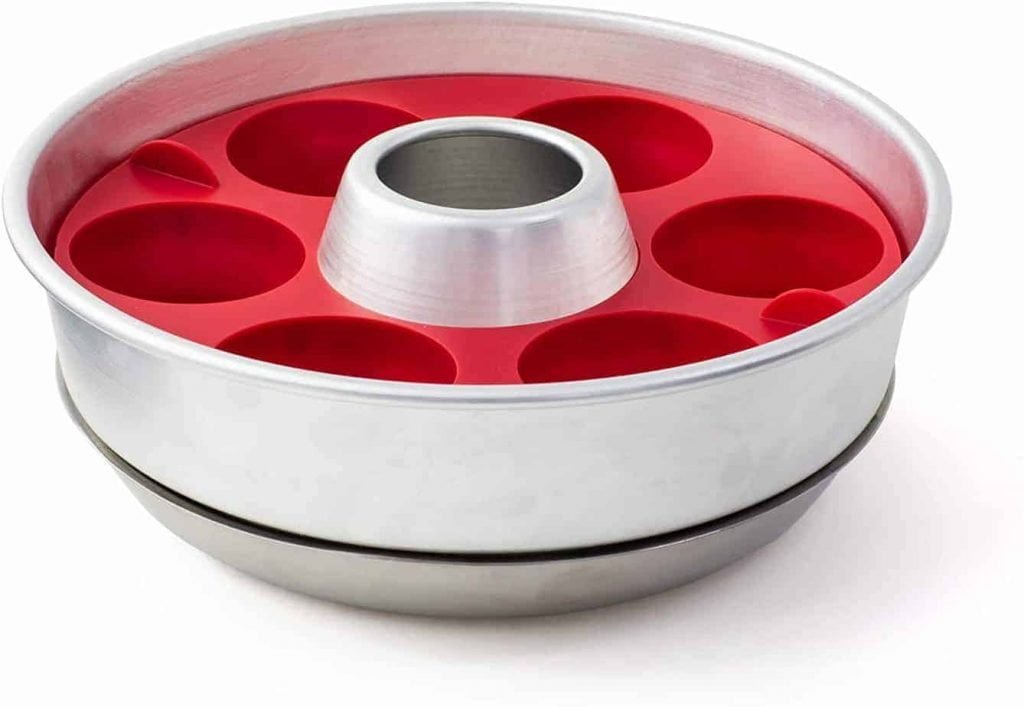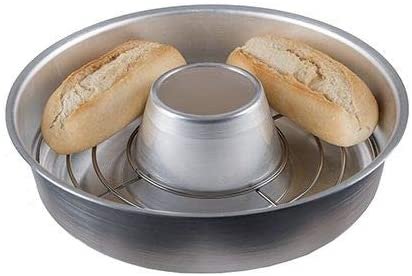 What accessories does the Omnia oven require?
Whilst not essential, there are a handful of accessories that can go with the Omnia oven to further improve your campervan cooking experience.
Silicone Insert
If you are making cakes then you will need the silicone insert as the baking paper is difficult to line within the base of the oven due to the ring shape.
This insert will help with keeping the oven clean of burning and tarnishing and it will also keep your cake intact when you take it out of the tin.
The insert can withstand temperatures of -30˚ C – + 260˚ C ( -22˚ F – + 500˚ F ).
Omnia Oven Rack
If you are making pizza….that's right! Crispy based pizza on a hob! then you will need the rack that fits inside.
The internal rack is particularly useful for baking bread rolls, chips and jacket potatoes.
It is also useful for steaming foods such as fish and vegetables.
Omnia Muffin Ring
The Omnia muffin ring is similar to the silicone mold but shaped perfectly to get the perfect muffin shape. 
Enjoy perfectly formed chocolate, blueberry or even breakfast muffins on your campervan hob.
You are starting to agree that this could just be the best campervan oven aren't you?
My personal experience in how to use the Omnia Oven
Ok so despite waiting so long to get my hands on the Omnia it was actually Sophie that had the pleasure of using it first!
Sophie has always made the best cakes and baking is definitely her forte. When she offered to use up our brown bananas and make her amazing banana cake I couldn't resist.
I must admit even after seeing and talking to other van lifers I was still a little sceptical to how it would come out.
She was so excited when she called me over stating that it's come out "amazing" and wow!, it really did look amazing!
At this point we didn't have the silicone insert so Sophie lined the tin with parchment paper. This proved a little tricky to get the cake out as well as to pick to paper from the tin and the cake but that was lessons learnt..get the silicone insert!
I had no doubt it would taste as good as it looked and it sure did!
Following the cake we have made pizza, sheperds pie, chips!, we made a lasagne and various pasta bakes. I can hand on heart say that it just comes out perfect every time!
Being van life foodies and running Van Life Eats we are in touch with so many fellow van lifers day after day and the Omnia oven is always in discussion. We get asked over and over where to buy it from.
Naturally we have been in touch with the great guys at Omnia and we even considered distributing the ovens for them but we opted to keep out focus on cooking and sharing instead of running a busy shop.
However, Omnia have offered to sponsor us and we have very proudly accepted. Not that we get anything other than a great product to recommend to our community.
Our review
We weren't the first to say that the Omnia oven is the best campervan oven but we could have been. From day one of using this it has changed our variety of meals and way we cook within our van.
Based on storage, cooking methods and foods it allows you to cook we couldn't score this a higher score. It's perfect for van life and campervan cooking.
With the clever design and use of heat flow the Omnia oven almost guarantees an even cook everytime. It uses little gas as a low flame on the hob seems to keep the oven warm enough to cook most things.
It's cheap! Even when you purchase all the additional accessories it comes in at around £100! Considering how much it improves your campervan cooking I feel it's a total bargain!
Any cons?
The only scenario I have found where the Omnia oven is not that suitable is when you are cooking for 4. It's just not quite big enough for a hearty portion each. However, you are in a van after all so it's ok to have a slightly smaller portion.
Otherwise, I am happy to put my name and the name of Van Life Eats reputation on claiming that the Omnia oven is definitely a van life and campervan kitchen essential.
Get one, and let us know if you think that the Omnia oven is the best campervan oven.