For those living or travelling around in a van, fridges are a hot topic and something that can be considered very important.
It's nice and often essential for most to be able to keep food and drink cold and allow yourself to buy things such as cheese and milk that need to be kept in a fridge.
The best fridge for a campervan is one that suits the size of your van, the designated space and runs on a suitable and efficient power source. Installing a fridge in your campervan can be an investment and save you money with less food waste.
For van life, space and efficiency are a huge barrier and are things that need to be cherished. There are so many types of fridges to choose from, so it can often be challenging to know where to start.
Fridges are one of the most expensive costs in the world of van life travel, so it is important that you get it right. To help you do this we have gathered information and created a list of the best campervan fridges.
Firstly there are three different types of campervan fridges that you can get. One is called a compressor fridge, another is a three-way fridge or finally a thermoelectric cool box.
Two-Way Compressor Fridges
A two-way fridge, also known as a compressor fridge, is similar to the type that people have in their houses. Although this is the case, it doesn't mean you can just buy any old refrigerator for your van. This is due to the fact that a normal 240/110V house fridge or even a mini fridge is always going to use way too much power that you van batteries can deal with.
Two-way compressor fridges can run off 12/24V as well as mains power that may be provided at a campsite electrical hookup, hence the name two-way. This means they are perfect for vans as they don't use too much power and are easy on your batteries.
The compressor of the fridge only turns on when the fridge rises to a specific temperature, so they are saving energy too in that way. They are safe and easy to install and are very reliable and efficient.
Three-way Apsorbtion fridges
Three-way fridges also often referred to as absorption fridges are true to their name as they can run in three different ways. Either from a mains supply at 240/110V, using 12/24V electric or by using LPG gas.
If you are travelling in a large group and in a large vehicle then this might be the best option for you. This is because you are able to get much larger three-way fridges compared to compressor fridges or thermoelectric cool boxes.
As this type of fridge runs off the gas supply of your campervan, it is also completely silent, so if you don't want a noisy fridge in your van then this is the one for you.
Gas fridges are long lasting and efficient; however they are not very easy to install. It is highly recommended that you get it installed by a gas safe technician, as if something goes wrong and there is a gas leak in your van it can be extremely dangerous.
Another downfall to having a gas fridge would be that you are going to use a lot more gas and therefore costs will be higher.
The final choice for a van fridge is a thermoelectric cool box. These are particularly good for those on a budget.
They aren't quite as sophisticated as the other two options and work by using electricity to remove hot air from within the box. This type of fridge is great for those that are travelling in a van for short periods of time. However, a massive downside to them is that they will not work as well in warmer climates and won't get as cool as the other van fridge options.
Some electric coolboxes can be quite power consuming and you may find that these types of fridges just arent suitable if you are stationary for even as long as one day!
Now you know the three different options of fridges for vans, we will now go through some of the best available fridges you can buy.
The Waeco CRX50 is a 50-litre compressor fridge and includes a 4.4 litre freezer as well. This means you can also have frozen food stored away and even ice!
The fridge measures around 50 x 38 x 53.4 cm and is designed to fit under your counter. It is designed to look like a fridge that you would find in a home with the door on the front. It weighs around 44kg and draws about 40 watts of power.
It is a highly efficient fridge that works brilliantly with a solar electrical system.
The Dometic CoolFreeze CFX 35 is a fridge freezer and is very compact. It is so compact it can even sit between the two front seats of most vans. This allows you to free up more space for storage or extra living space, which is perfect for smaller vans.
The fridge measures around 69.2×39.8×41.4cm and weight at around 17.5kg.
It has an internal LED light which makes it perfect for night time and it even has a USB charging point for your smartphone.
It has an internal capacity of 32 litres and be used as either a fridge or a freezer, you get to decide.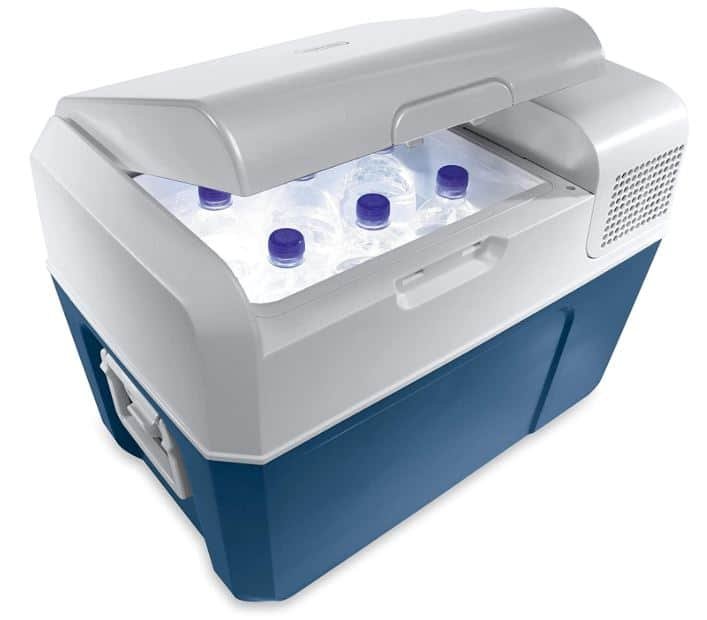 The Mobicool MCF40 is substantially cheaper than the other options on this list. This is because it is a thermoelectric cool box.
It measures up at 58.4 x 36.5 x 44.6 cm and weights at just 3.2kg. Meaning it is extremely easy to transport and lift.
The Mobicool MCF40 is actually designed to be portable, which allows you to easily take it out with you on any trips you may be going on.
It can carry up to 38 litres worth of food and is designed to store 21 drinks upright. It runs off of 12V electrics and can cool temperatures up to 18ºC below the outside temperature.  
Next we have the Dometic Waeco CD-30 Drawer Fridge. It is a great option for micro campers and those in smaller vans.
It measures at just 44x25x73cm and can be fitted up to 1.5m away from the fridge if you are sturggling for space, changing its measurements to 44x25x56cm. This makes it perfect for fitting below a seat withing the living space of your camper.
The Dometic Waeco CD-30 Drawer Fridge weighs just 19kg and can store 30 litres of food. It has a safety locking features to so that the draw stays secure and won't open whilst you are driving around.
Next, we have the Dometic RM8400 3-way fridge. This fridge can run off gas as well as 12V and 240V electrics too.
It is the largest fridge on our list at 48.6×49.5×61.7cm, so it is better suited to a larger van.
The freezer can be removed if you want to have it all as a fridge instead.
It weighs in at 24kg and has a locking system with fingertip opening, which is a great feature to have.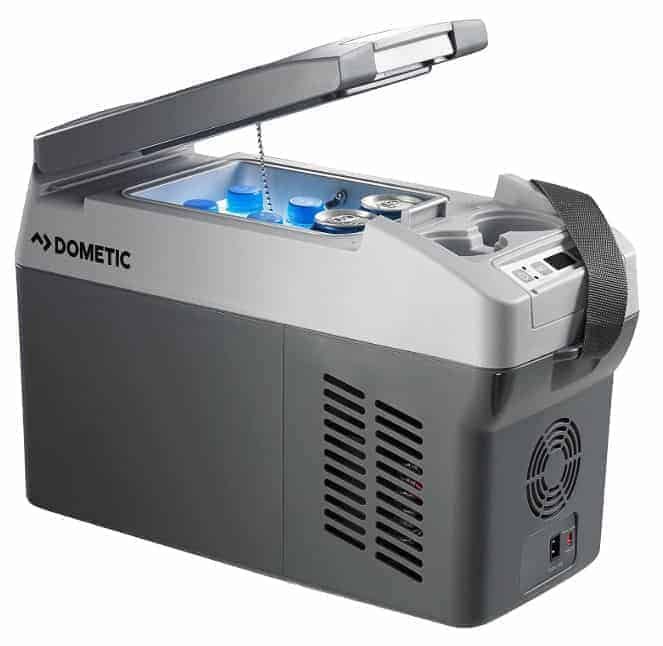 The Dometic CDF-11 portable electric cooler has an excellent cooling performance even at extremely high outside temperatures.
It can store fresh food and drinks effortlessly and even has a removable wire basket and divider that can make organising your fridge easy.
It has a user-friendly digital temperature display that is suitable for solar operation. It holds a large capacity but is small inside which makes it perfect for smaller vans. This fridge freezer is more suited to people doing shorter trips in their van that long term.
Lastly, we have the Smad compact refrigerator. It has a large capacity which makes it great for those that are travelling and living in their van permanently.
The fridge and freezer sections have separate compartments.
This refrigerator cools quickly and evenly, and it will keep ice frozen solid and foods perfectly chilled.
It is totally silent running and has a vibration free operation. It is excellent value that will bring years of quiet, reliable use.
The drawer is designed for your fruits and vegetables, which always keeps them fresh.
The separate freezer compartment chills your ice cream all summer, and the included ice tray can make ice cubes to keep your drinks cool.
The shelves can be removed or adjusted if you want to organize taller things. And it also offers convenience for cleaning.
Final thoughts
We hope that this article better cleared up what types of fridges are available for your van and what makes and models you can look into. Make sure that you take into consideration the size of your van, what power you want it to use and how much food you want it to hold before making your final choice.
Affiliate Link Disclaimer
We are using affiliate links in this post to help fund the running of the website and for other plans we have for Van Life Eats.

As you probably know, it won't cost you anything extra, but will help us out loads!

We will only link tried and tested products.

Lots of Love
Mark & Sophie