Have you ever wondered how to bake in a van?
Baking in a van comes with some challenges, the lack of available space can mean you sometimes have to get creative. Baking in a van isn't as difficult as it may seem initially, cakes, bread and pies are definitely on the menu in our van!
How to bake in a van without scales
Baking requires exact measurements, it can be a very exact science, but it is possible to bake in a van without scales. It doesn't really pay off to guess measurements when baking, especially with cakes and biscuits. One misjudged measurement can make a massive different in how your bake turns out, affecting taste and texture.
When I first started baking in the van, I had no idea how to bake in there without scales. I would take the electronic scales from the house with me and measure ingredients. Slowly I converted to measuring cups and have found it so much easier.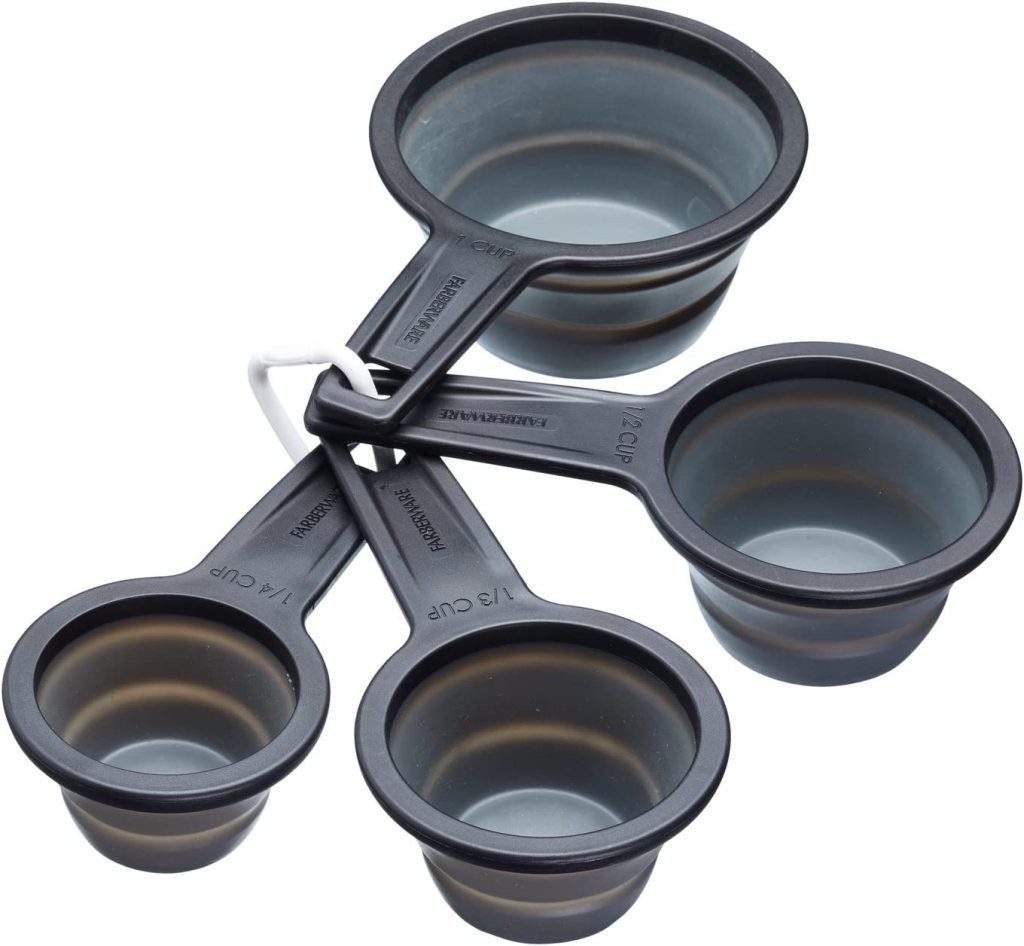 It can take a while to get used to making the change to cups, and it can be quite daunting. It is however, so much easier to do in the van and at home! We use collapsible measuring cups in the van. It helps save space as we can either collapse them flat and have them in a drawer or hang them on a hook on the wall.
There are however some things you need to be mindful of when measuring in cups for baking. Cups are based on volume rather than weight, this means the transfer from weight to cups is not uniform across all ingredients. E.g. 125g of flour is 1 cup, yet 175g brown sugar is 1 cup. Remember UK cups and American cups are different sizes to confuse things further. A UK metric cup measures 250ml, while the US versions are typically smaller. We have created a handy table to help you convert a number of usual ingredients required for baking in a van. The cup measurements are for 250ml cups.
| Ingredient | 1 Cup | 3/4 cup | 2/3 cup | 1/2 cup | 1/3 cup | 1/4 cup |
| --- | --- | --- | --- | --- | --- | --- |
| Plain flour | 125g | 94g | 84g | 73g | 42g | 37g |
| Wholemeal flour | 120g | 90g | 80g | 60g | 40g | 30g |
| Ground almonds | 110g | 83g | 74g | 55g | 37g | 27g |
| Cocoa powder | 125g | 94g | 84g | 73g | 42g | 37g |
| Granuated / caster sugar | 250g | 150g | 133g | 100g | 67g | 50g |
| Brown sugar | 175g | 131g | 117g | 88g | 58g | 44g |
| Icing sugar | 110g | 83g | 74g | 55g | 37g | 27g |
| Butter / margarine | 230g | 173g | 153g | 115g | 77g | 58g |
| Oil | 225g | 169g | 150g | 113g | 75g | 56g |
| Milk | 235g | 177g | 157g | 118g | 78g | 59g |
| Condensed milk | 305g | 227g | 204g | 151g | 102g | 76g |
| Cream cheese | 225g | 169g | 150g | 113g | 75g | 56g |
| Yoghurt | 245g | 183g | 164g | 122g | 82g | 61g |
| Chopped nuts | 125g | 94g | 84g | 73g | 43g | 37g |
| Flaked almonds | 100g | 75g | 67g | 50g | 34g | 25g |
| Dried fruit | 180g | 135g | 120g | 90g | 60g | 45g |
| Oats (uncooked) | 90g | 68g | 60g | 45g | 30g | 23g |
| Chocolate chips | 180g | 135g | 120g | 90g | 60g | 45g |
When measuring butter it may be easier to use the markers on the side of the packet (usually in 50g increments). If the packet doesn't have this then you can spoon the butter into the cup measure and level it off with a knife, you want to push this in to avoid and minimise any air pockets and make sure you have enough butter for the perfect bake. A great tip is to cover the cup in clingfilm first, you then can tip it out and the cup is ready to use for the next ingredient to be measured. Saves greasy water going into your grey waste in the van too! You can use the clingfilm to grease the tin or mould if needed.
If you really aren't confident with how to bake in your van without scales, then there are some great folding scales available. These won't take up much room in the van and will give you much more precision when baking.
How to bake in a van without an oven
One of the other hurdles I had to overcome was how to bake in the van without an oven! I had no idea this was even possible. This is where our stove top oven, the Omnia came in handy. We have plenty of articles about the Omnia, whether it's worth it, and tips for using it. It works on the stove top with it's unique design meaning the heat is pretty evenly distributed. The bottom can get very hot though, so it's important to cook low and slow to avoid a burnt bottom.
This gadget makes it quite easy to bake in the van, it packs away neatly and is stored in a cupboard when not in use. We have baked cakes, bread, pizza, muffins, pies, lasagne and a lot more in ours. Even a roast dinner at one point. It definitely makes baking in a van without an oven a possibility, even if you do end up with ring shaped cakes and loaves.
There are other options to the Omnia. Be creative when baking in a van without an oven! We have seen cheesecakes made in an instant pot and pineapple cakes cooked in a slow cooker. We often make flatbreads and pizzas in a pan on the hob and they taste amazing. It is possible to get your bread fix without an oven.
The other gadget we have used for baking in the van is our ridgemonkey. We bought the Compact Xl sandwich toaster, and originally used it only for toasting sandwiches. Since then our eyes have been opened up to the possibilities and we bake in it quite often. We have baked the pre-made croissants and pain au chocolat, pizza pinwheels and even made brownies.
If you have a pan then your bread fix is never too far away. When craving bread we often want a quick fix for those carby cravings. The flatbread recipes, provide a great option to have delicious bread in the van without the need for an oven.
Although it initially seems baking without an oven in the van is impossible, there are options out there.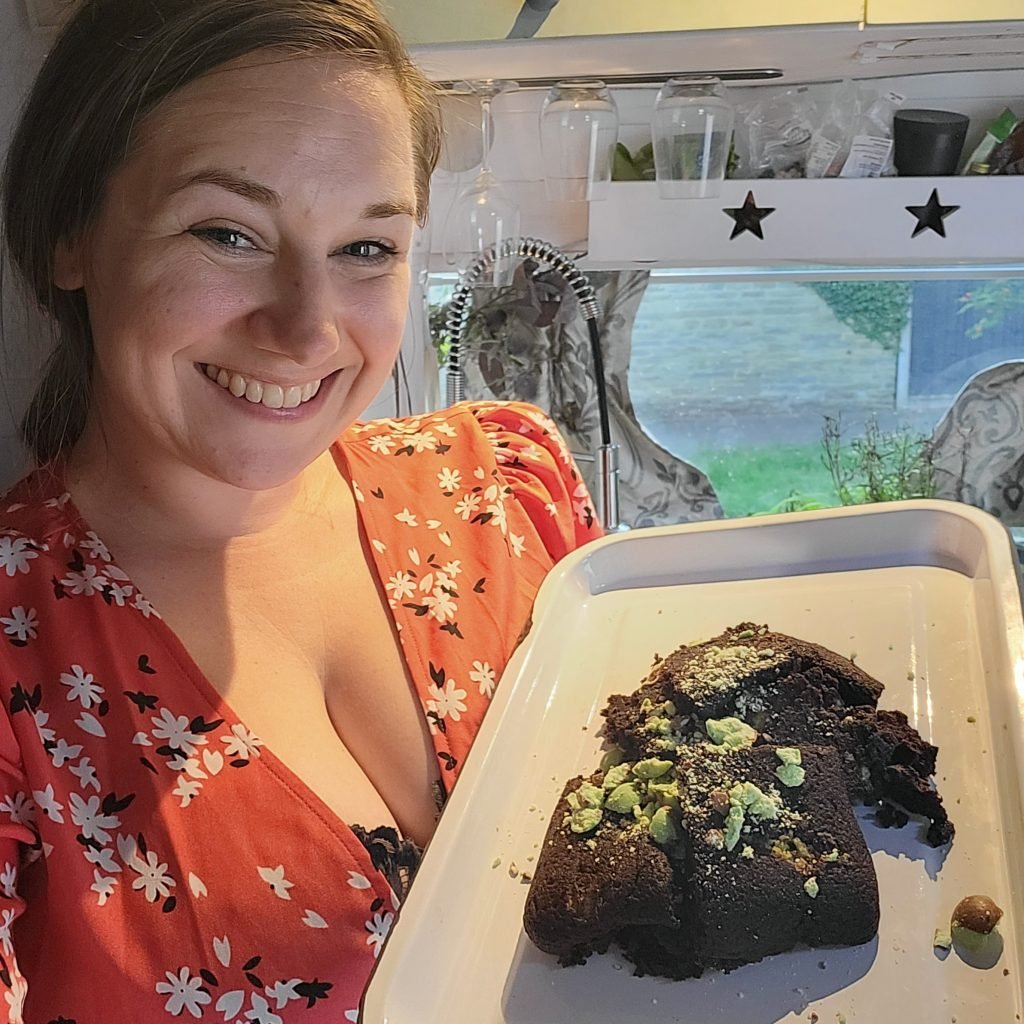 How to bake outside the van!
Remember, one of the joys of being in a van is that you can have an ever changing kitchen view. Cooking outdoors is a great way to get involved in nature. If on a campsite, it's a great way to keep an eye on the kids and cook dinner at the same time.
Baking on an open fire is possible! Just be sure to be responsible if building a fire in the great outdoors. Damper loaves are great to cook on the fire, and satisfies that crunchy, doughy bread craving.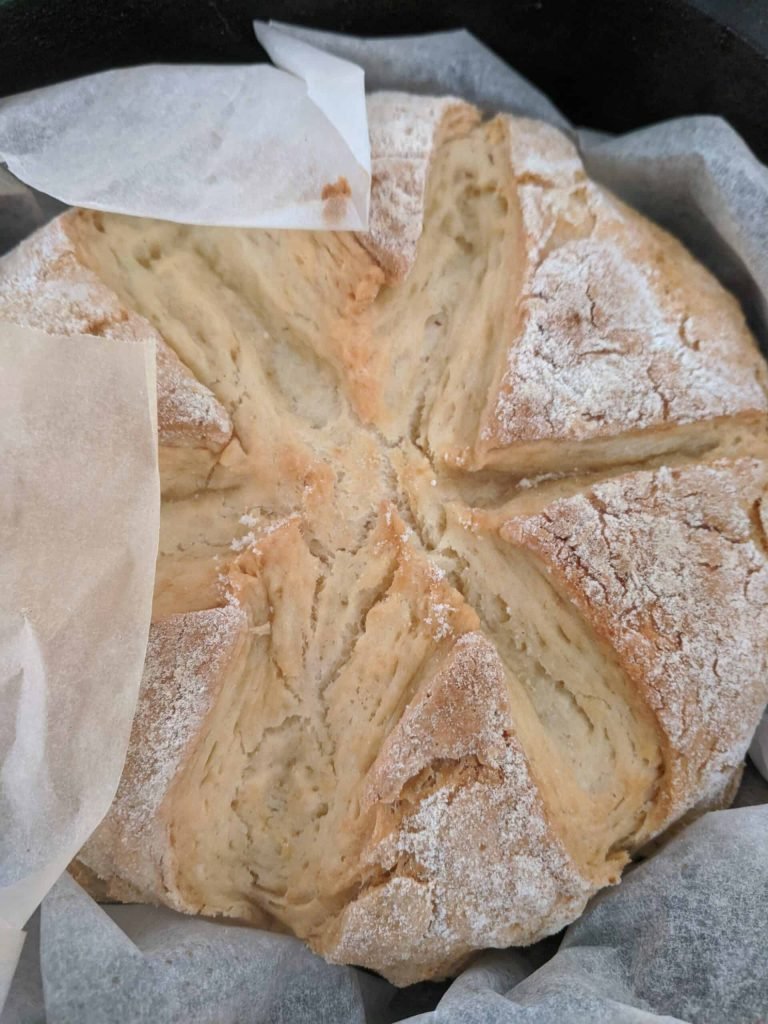 Baking in a van with an oven
If you have an oven in your van it may seem like plain sailing when baking. Certainly, it may be easier than stove top baking, but there may be some limitations. As when using a hob you need to keep an eye on your gas levels, nobody wants a half baked cake!
Remember all ovens have their own little quirks, hot spots, cold spot. Get to learn the best place to bake your goodies. Unfortunately the slope can affect us all, so make sure you are parked levelly if you want a uniform looking bake.
Keep ventilation in mind if using an oven, be sure to ventilate your van well to ensure the van doesn't get too hot. It's a great idea to invest in some silicone bake-wear. It can be folded flat for storage, is light-weight and easy to clean.
Extra tips for how to bake in a van
Ingredients
If you are part-time in your van, consider weighing your dry ingredients at home. You can store them in a Ziploc bag. This will keep them fresh and secure – no flour spillages. When ready to bake you can simply tip the ingredients in and mix in your wet ingredients.
Vanlife baking
One of the differences between baking in a house and a van is the levelness of the hob or oven. It can sometimes be difficult to see before you start baking whether you are on a slope. Be prepared that some of your bakes may be slightly uneven. It all adds to the character, and they will still taste amazing.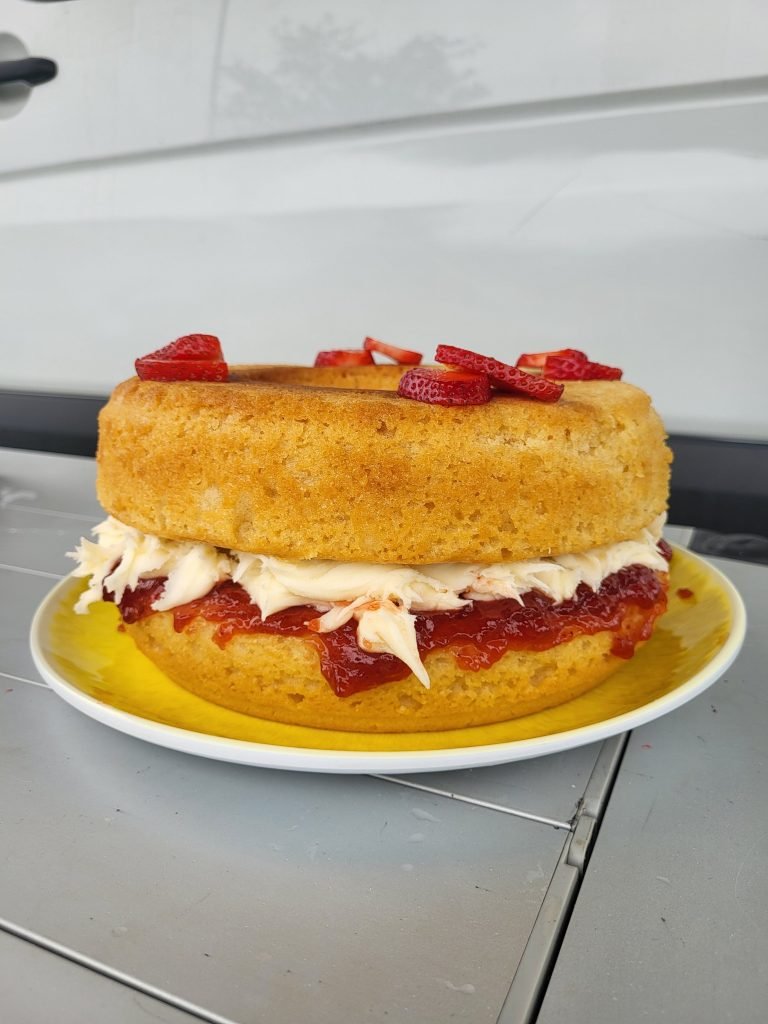 Tidy pan, happy van
Baking in a tiny space can get messy. It is so important to clean as you go to avoid a caked on mess (pardon the pun!). Washing up isn't always easy in a van, so washing up sooner rather than later can help. It is also the perfect excuse to lick the spoon and bowl clean, less mixture to go in your water waste!
The proof is in the rising
If baking bread it will need proving time. Take into account the temperature in your van proving bread. If it's a nice sunny day we leave ours in the window in the sunshine, but there have been times we have had it near the diesel heater to get the perfect rise.
Smells be gone!
If you use silicone baking products in your van you may have noticed, they can cling onto smells. To get rid of this heat up the silicone mould, this opens up the pores. Then wash with warm soapy water, once dried, your will be free to bake again. No risk of any unwelcome whiffs.
Practice makes perfect
Finally, remember to go easy on yourself! If you aren't used to baking in a van it can take some getting used to. If your bakes don't always come out perfect in the van, it doesn't matter.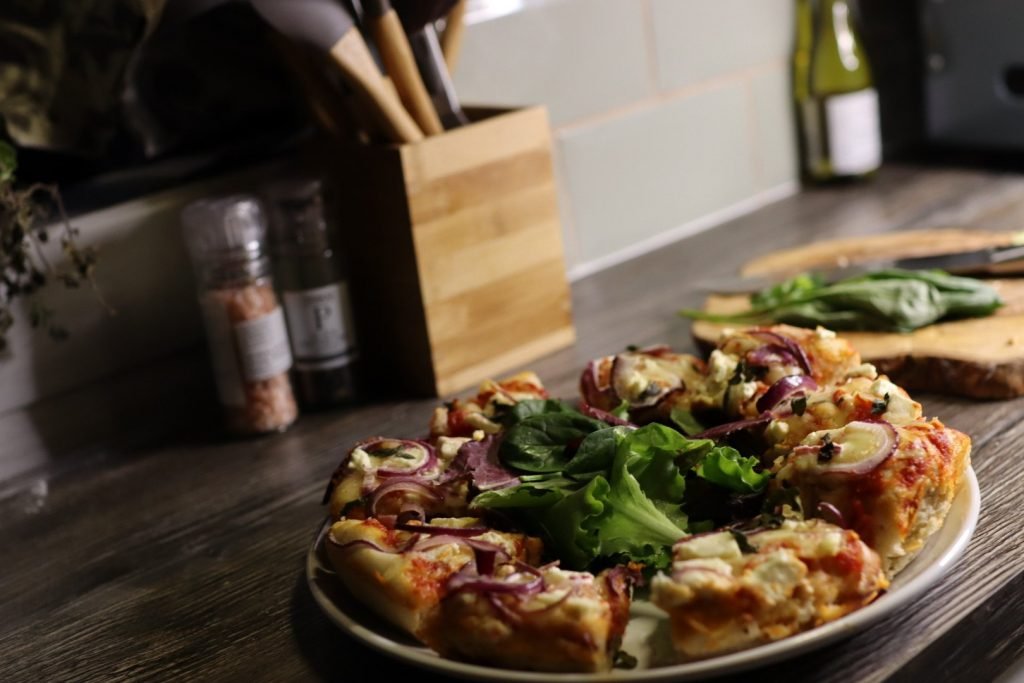 Please note this article contains affiliate links. Any items purchased via these links, will be at no extra charge to you. We will gain a very small commission which helps to cover the running costs of the website. Thank you