Featured Vanlifers Katie & Jason share their experiences of selling their house and travelling full-time in their motorhome with their cat Elsa.
Find out where these featured vanlifers have visited and their travel plans for the future. You should also follow their adventures on instagram @forevercopilots
Why did featured vanlifers Katie & Jason decide to go full-time?
Changing from a 9-5 lifestyle, with a nice home and then downsizing to a home with 4 wheels instead of 4 walls, has many advantages. Katie & Jason tell us about their experiences.
There are many reasons to live vanlife or motorhome life full-time. One of the most popular reasons we hear is that people are keen to live a more simplistic life. This was one of the reasons Katie & Jason decided to make the change in their lives. Another is that the couple decided to live life to it's fullest.
Katie has been diagnosed with cancer 3 times in the last 18 years, 3 separate diagnoses. This can understandably make you look at life differently. With Jason also having a stressful job the the pair decided to pack up and head off for a full-time adventure. Along the way Katie has tried to raise awareness of cancer and raised several thousand pounds for Cancer Research. The Daily Mirror have covered her story which can be found here.
"we wanted to make some drastic changes in our life and start to live for today and not wait until we were retired"
With Covid giving everyone time to evaluate their lives and lifestyle, including Katie and Jason, their plan was made. They purchased a motorhome, a 2020 Hymer BMC T-580 to be exact in October 2020. After much deliberation they settled on a name for their new home, Björn after being inspired by the series Vikings.
They made some changes, such as having the cab wrapped, adding an LPG system, solar power and some bad-ass tyres.
Katie & Jason's motorhome adventures
Imagine being all packed, and prepped and then having nowhere to go! Well, feaured vanlifers Katie & Jason ended up spending the first 10 weeks of motorhome life in lockdown on a campsite! As soon as they were able to they began enjoying the joys the U.K can bring. Katie is a big fan of water, and so they have enjoyed many trips around the UK coastline. This has given her plenty of opportunity to do some cold water swimming and paddle boarding, 2 of her hobbies. They have enjoyed Devon and Cornwall, and take their fold-away bikes to make the most of exploring the area.
After spending the last winter in lockdown they have decided not to spend another winter in the U.K. They have big plans for their motorhome in the future. They will be heading to Europe later this year for some more exploring, and have plans to get the van to North America within the next couple of years.
Elsa is looking forward to some more global adventures, and is building up to being off her harness in the wilderness one day soon!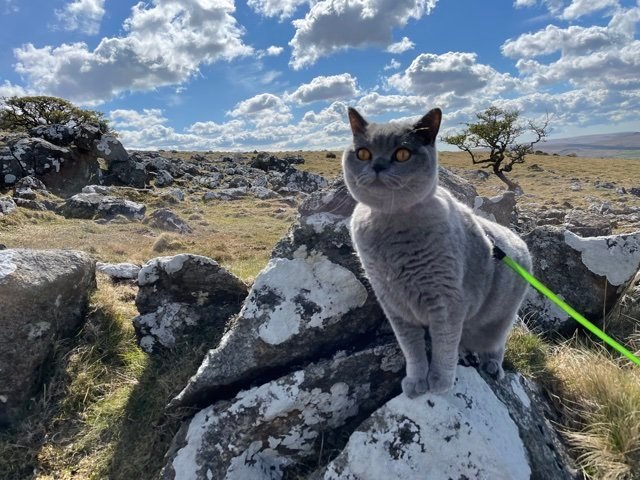 Cooking in a motorhome…
As those of us with tiny homes know, facilities and space can be limited in a van kitchen! Katie & Jason have a pretty awesome set-up which helps when cooking in a tiny space. These featured vanlifers have a 3 burner hob, FULL-SIZE fridge freezer (not that i'm jealous or anything!), plus lots of storage options including under the floor!
Katie & Jason say their favorite things about their motorhome kitchen are the freezer, as they say everyone needs ice cream in their life. Plus they can have a steady supply of ice for their G&T's! They are also very grateful for the underfloor lockers.
Even with the extra storage, space is still the thing they find most limiting about cooking in their motorhome. They have had to make adaptations from cooking in a big household kitchen, and have embraced these changes. They see it as a challenge to continue to make great food in a tiny space. They love that they can cook anything, all it requires is a little imagination and creativity.
Katie & Jason are lucky not to have experienced any cooking disasters yet! They have a couple of meals they are proud of, especially that they were made in a tiny home. One being a lasagna – made in an airfryer! The second being Egg's Benedict for Jason's birthday breakfast. Another firm favourite is spicy chickpeas served with mint yogurt sauce with a wrap and homemade red cabbage coleslaw.
Check out their recipes right here!
Spicy Chickpeas – recipe here
Pickled red onion
2 red Onions
100ml water
50g sugar
200ml cider vinegar / red wine vinegar
Thinly slice the onions & put aside
Add the water, vinegar & sugar to a pan and simmer until the sugar has dissolved
Add the onion & leave for an hour or so until crunchy but soft
Cheesy coleslaw
Red cabbage
Carrots
Apple
Onion
Grated Cheese
Greek yogurt
Mayonnaise
Salt & Pepper
Garlic salt
The beauty with this recipe is you add the quantities you want, and for how many you want to serve.
Thinly slice all the vegetables
Add the greek yogurt & mayonnaise
Add salt, pepper & garlic salt
Mix well
Put in the fridge until ready to serve
In the motorhome kitchen
One of their favourite gadgets at home was their coffee machine, and so naturally they needed one in their motorhome. They now have a WACACO Minipresso NS portable espresso Machine which doesn't need any power – perfect for a tiny home on wheels. The latest gadget they are in love with is their airfryer – they go as far as to say it's almost life changing. If it means you can eat lasagna it's got to be a winner!
Katie did say they could maybe do with a dishwasher, until they make a van friendly version they'll have to do the dishes themselves.
What do Katie & Jason like to make sure is in their motorhome cupboards?
You will always find lots of Garlic and onions
Obligatiory tin of rice pudding
Katie & Jason's tip for fellow vanlifers
If you're dreaming about this lifestyle then just go for it. Definitely don't have a plan B or you'll never do it.
So Get out and enjoy the the world we live in AND always respect the 7 leave no trace principles ❤️
Plan ahead and prepare.
Travel and camp on durable surfaces.
Dispose of waste properly.
Leave what you find.
Minimize campfire impacts (be careful with fire).
Respect wildlife.
Be considerate of other visitor's
Most of all pick up any other litter that's not yours.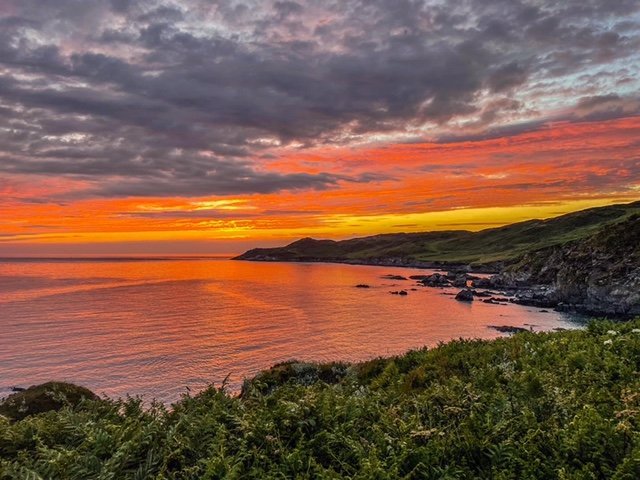 Want to be featured on
vanlifeeats.com?
To apply for a featured post on vanlifeeats.com simply follow this link and fill out the application form. We promote all featured van lifers across all our social media networks, we send out a "featured Van Lifer" sticker for your van as well as awarding you a prestigious badge for your profile on our website.