Although mushrooms are delicious simply sautéed in a little butter, there is so much more you can do with them. Celebrate mushroom month with us and explore the multitude of uses for fungi.
September is 'mushroom month' so why not experiment with new varieties of mushrooms and expand your palate with these recipes using mushrooms. You might even wish to grow your own mushrooms at home and incorporate them into a delicious recipe.
What is Mushroom Month?
Mushroom month was organised to raise awareness for these incredible fungi and their uses. Not only can we enjoy the taste and texture of mushrooms in many foods but they also offer health benefits when eaten. Most mushrooms are high in vitamin D, which can aid calcium uptake and improve bone density.
Mushrooms are also used for their ability to dye materials, clothing or wool, and their medicinal purposes. They have even been known to extract harmful radiation from the soil.
Grow Your Own Mushrooms
An excellent way to celebrate mushroom month is to experiment growing your own fungi at home. Although you might think you need a garden to grow your own mushrooms, you can use a ready-to-grow home kit that is small enough to fit in your van.
Merryhill Mushrooms offer kits to grow chestnut mushrooms, white mushrooms, shiitakes and beautiful yellow or pink oyster mushrooms from home. These kits make a great gift idea for yourself or a loved one.
All you need to do is add water and watch your small batch of mushrooms grow right before your eyes! If you are lucky enough to have a fridge on board your campervan you can also keep your box chilled for many weeks to give you ample chance to utilise your homemade mushrooms.
Featured Mushroom – Giant Puffball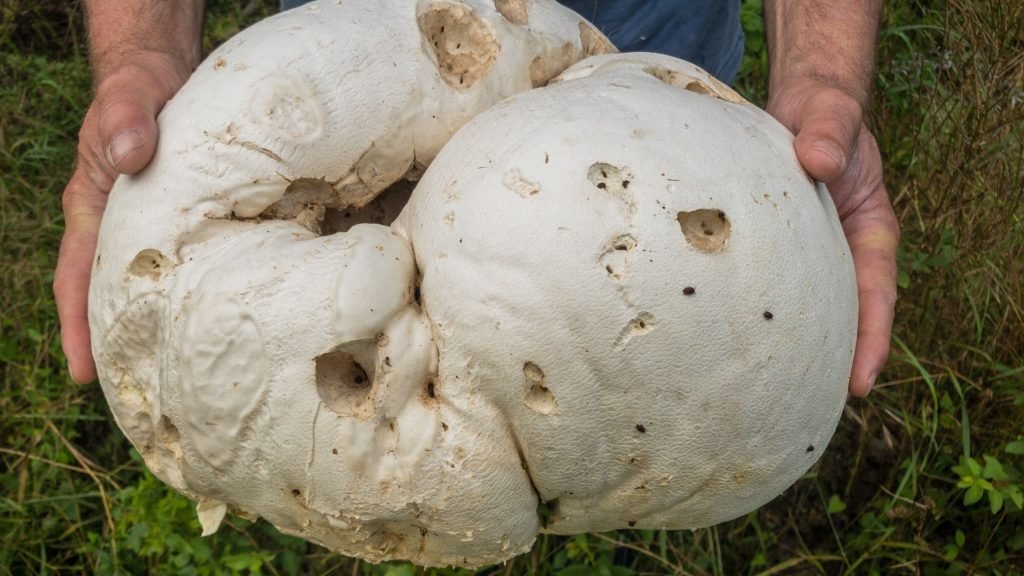 The puffball mushrooms are one of the safest mushrooms to forage as they are easily identifiable. Giant puffballs can only really be mistaken for a football!
Puffball mushrooms are in season at the end of the summer into early autumn and are edible from young.
Looking at a Giant Puffball you'll see that these mushrooms could be a meal in itself. This year (2021) there has been multiple posts on social media of people finding massive giant puffball mushrooms so keep an eye out on your adventures for these humongous beauties!
Top 10 Van Kitchen Recipes With Mushrooms
Of course, we had to start this list off with a double mushroom recipe that is perfect for autumn. This mushroom pie uses shiitake and chestnut mushrooms, along with other simple ingredients such as onion, tomato, ale and ready to roll pastry to make a vegan pie you can whip up in just 10 minutes. Then cook in an Omnia Oven on the stove top and serve with creamy mashed potato, gravy and veggies.
This crostini (aka 'little toast') recipe is a great, simple option for brunch. It's basically like avocado on toast with mushrooms on steroids.
Drown your meat feast with this thyme and mushroom peppercorn sauce that you can make in just 5 minutes. The sauce is rich and balances several flavours, including fresh herbs, garlic, cream and lemon, for a winning sauce to compliment any meat dish.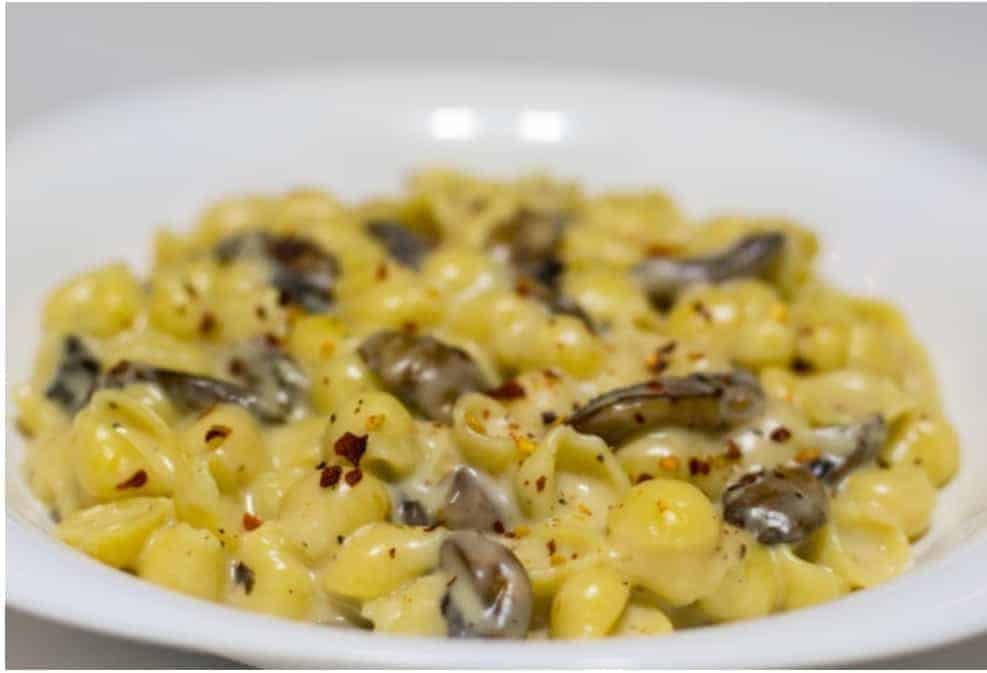 Woah! Before you skip this recipe for sounding too fancy, would it surprise you to know that it's a very straightforward recipe to recreate at home in your van? The truffle flavour comes from truffle salt, rather than the fresh fungi, which is an easy seasoning to keep in your van kitchen cupboard and add into any recipe.
You can also add this truffle seasoning on vegetables, risotto, meat and even popcorn! Once you purchase a dried truffle salt, it can last for months.
Risotto is a great recipe for after a long day. It's filling, hearty and easy to prepare. Of course, you do have to nurture your dish by continuously stirring the rice to reach a thick and creamy sauce, but it's simple enough that anyone can make this recipe. Plus, you can have a great excuse to open a bottle of white wine mid-week!
Swap out the chicken for butternut squash or pumpkin and use vegetable stock to make this risotto recipe vegetarian friendly.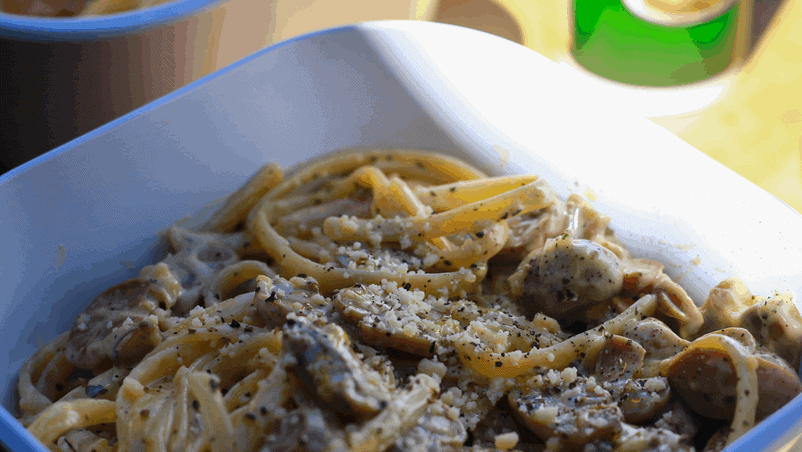 If you're looking for the ultimate comfort food, this mushroom stroganoff served with pasta or rice and a sprinkle of parmesan is your best bet. Plus, as this recipe uses tinned mushrooms rather than fresh, it can be a lot more affordable and a great recipe to make when you struggle to find a supermarket.
Another comfort food we love is this chilli, as it is entirely vegan! And gluten-free when you swap out the soy sauce for tamari or another gluten-free alternative. The flavours in this bean chill will have you drooling over the stove, waiting for this pot to be ready. This is a great meal to make when entertaining guests as you can bulk it out with cheap ingredients such as beans and tomatoes and serve with rice, avocado, salsa and sour cream (or soy yoghurt for a vegan alternative).
Frittatas are among the easiest, cheapest, and most protein-packed meals you can make on the road. You need about 2-3 eggs per portion, and then you can customise the frittata to any vegetables, mushrooms, meat or cheese you need to eat up. You can even add some sriracha sauce to (quite literally!) spice things up.
Not only is chicken broth ramen excellent for when you feel you may be coming down with the flu, but it's a delicious, warming winter dish to cosy up in bed with after a chilli day. This ramen is a no-fuss recipe for this Asian dish with incredible flavours.
It is also high in protein from the egg and chicken. Simply swap the chicken broth to vegetable stock and use tofu instead of chicken things for a vegetarian alternative that is equally packed with flavour.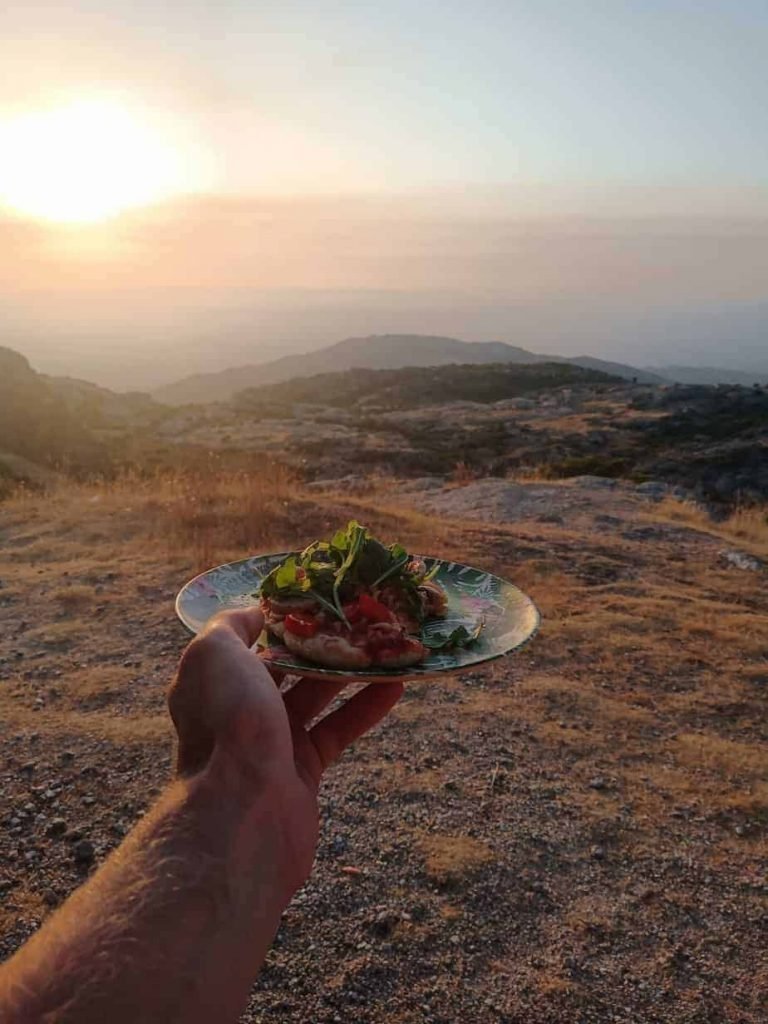 Van pan pizza is a great option when entertaining guests or cooking for small children because you can add toppings and customise your pizza to your taste buds. Add cheese, mushrooms, meats and more. This recipe on our website is for the base to get creative with the additional extras. You could even swap out the tomato base for pesto!
Happy Mushroom Month!
Wishing you a happy mushroom month, and we hope this post has inspired you to try a new recipe with mushrooms this September. And, don't forget to tag us in your mushroom recipes on Instagram @Vanlife_Eats so we can share your creations to our story and inspire other people to try your recipes.
*Please do NOT pick wild mushrooms without professional guidance, as some may have adverse health effects.