Featured vanlifers @ephin.in.transit are a family of 8 who enjoy family travels in their van Panda Spaceship. Who are featured vanlifers @ephin.in.tranit? Parents Joseph & Devin have 6 children between them, Audrey, Henry, Evan, Naya, Mateo & Sage. Keep reading to find out what this family of 8 get up to on their vanlife adventures. Be sure to follow them on Instagram to see their adventures!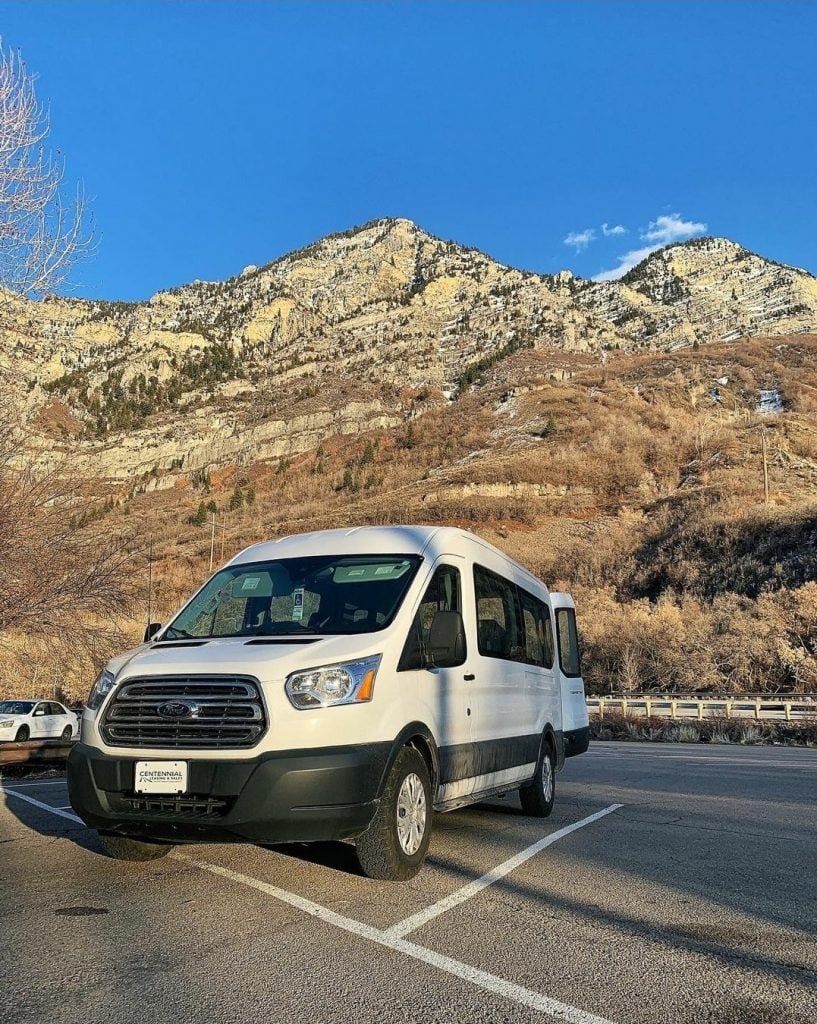 Where have they visited?
This family are based in the U.S. They are big fans of the National Parks & have visited a number of them including Grand Tetons, Zion, Canyonlands & Joshua Tree. Currently they travel as a family part-time due to them co-parenting their children with their ex partners.
Devin has dual citizenship with the US and UK which opens up foreign travel to them a little more. In 2019, parents Joseph & Devin visited 9 European countries in 16 days. In the future they plan to have a trip abroad with one child each year.
A few highlights from their trip in their van trips so far are driving with the kids from Utah to New Orleans & back. They have also enjoyed trips to Denver & Ft. Collins in their current van. One particular memory they recall is enjoying an incredible sunset and sunrise when on a trip with Sage. They managed to find a good park-up on a ridge to get the best view over the Grand Tetons – vanlife at it's finest!
They have had some not so great times too, though luckily they can laugh at them now. Travelling with potty training kids can have it's issues. This family weren't potty training 1, but 2 children at the same time! Both decided they needed to pee-pee in a shady looking bar car park in Las Vegas one night, so out came the potties in the car park. Another time Devin recalls freaking out when driving through the Rockies in the pitch black at night. She was worried because she couldn't see the road properly and was scared of hitting something. Finally, before getting their windows tinted they looked back to see one of their children with a diaper box on his head because the sun was too hot.
All in all the fun far outweighs any mishaps they have had, and so the family adventure on!
Why Vanlife?
Travelling with 6 kids could be problematic and expensive, but vanlife has changed that for this family. Both Devin & Joseph confess to having a severe case of wanderlust and so they needed to find a solution for travelling with the children. Since they already needed a large van to get around in, they decided this was their best option for travelling too. By eliminating screens on their travels they have found the children enjoy road trips the way their parents used to as children. Looking out of the windows, talking to one another, reading, playing games etc. All of this helps the family to bond and make special memories together.
When asked what was their favourite part about travelling with kids, they said the fact that they were legally obligated to have the children strapped into seats all day – and considered better parents for it! Ha ha ha. Jokes aside though, they feel like their children are gaining amazing experiences and are going to grow up with the same lust for travel as their parents.
Where do they all sleep?
One of the questions these guys must get asked a lot, is where do they all sleep? The answer is there are 2 beds in the back, then each row of seats adapts to become a bed. The family use their storage containers as supports for the beds in the front. Click the link below to see how they manage…
How do they cook?
The family doesn't have a built in kitchen in their van. They simply cook on their second hand camp kitchen. They prefer cooking this way as they can have their kitchen as big or small as they want, and place it where they like according to the weather. They also travel with a ninja foodi, which alongside the camp kitchen is their favourite accessory.
One time when travelling their old camping stove was misbehaving and the flame kept going out every 30 seconds. Due to Devin's perseverance and stubborn-ness pancakes for eight was a success 2 hours later. It would have been a different story if Joseph were in charge of the stove that day – us too most likely!
They travel with a couple of pots & pans, making sure they have their dutch iron or cast iron pan. They also take a little backpacking stove, a Santoku knife, cooler, water jugs & cutting board. In terms of their pantry, they like to carry Kerrygold, salt & multi-purpose seasoning. They also like to take jerky as a snack as well as protein shakes & bars. One of their favourite meals to enjoy together is hamburgers – definitely a classic when camping out. Another favourite is this recipe below.
Cheeseburger Mac
Serves 8 – Adjust Ingredients accordingly
2 lbs ground beef
1/2 onion
Handful of minced mushrooms
Trader Joe's 21 seasoning salute (on sautéed veggies, then add beef)
Salt to taste
5 boxes Annie's mac and cheese (and the butter and milk they call for) 
Grated/shredded cheese to mix in (gives it a more legit mac and cheese taste) 
Additional 1/4 cup whole milk and 3 Tbsp butter to keep the sauce saucy once you've added the ground beef
Start preparing the mac and cheese.
Finely chop the onion and mushrooms and sauté them. We can't add much or our kids don't want to eat it, but if you're making it for adults or kids who are fine with more mushrooms and onion, feel free to add more.
Add in some 21 seasoning salute (or your favorite multipurpose seasoning), then add the ground beef to that mixture.
Once your mac and cheese is prepared, stir in the ground beef and add salt to taste.
Add the additional butter and milk, stir it all, then grate in some cheese. You can just do cheddar, but sometimes we add an aged gouda or gruyere.
We like to serve some kind of veggie on the side, like broccoli. 
Tips for future/fellow vanlifers…
"You don't need the perfect Instagram/Pinterest van to get out there and make amazing memories and have the best time. Just do what you can when you can. Also, don't feel like you have to give it up when you have kids; it's totally possible. If you're living in a van, you really should have given up caring what society thinks about you by this point anyway"