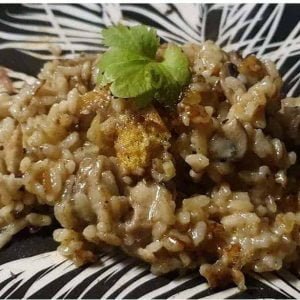 Chicken & Mushroom Risotto
This special extra starchy rice makes a delicious creamy meal that pairs perfectly with mushrooms. If you don't like chicken then beets, shrimp or pumpkin squash can also be good options.
Ingredients
400

g

Chicken & Mushroom Risotto

1

Onion

1

cup

Mushrooms

1 3/4

cup

Risotto (Arborio) Rice

1

Butter

5

cup

Chicken Stock

1

cup

Dry white wine or brandy

1/2

cup

Sharp Cheese

Parsley

Salt & Pepper
Instructions
Brown the chicken on each side with butter, salt and mixed herb. Inside should not be fully cooked. Dice the chicken roughly.

In the same pan, sautè the mushrooms and diced onions in butter for 5min.

At the same time bring the stock to a boil in a different saucepan.

Add the rice and the wine to the mushrooms and reduce liquid by half.

Add simmered stock 1/2 cup at a time and wait until all the juice is almost all soaked up by the rice before the next 1/2 cup. This process should take about 25min.

Add chicken bits after the second cup of stock

Taste the rice. It should be still slightly chewy and not overcooked. When ready, turn off stove, put cheese in and 1/3 cup of stock. Add salt and pepper (I like it very peppery).

Mix well. Garnish with parsley if you have any.