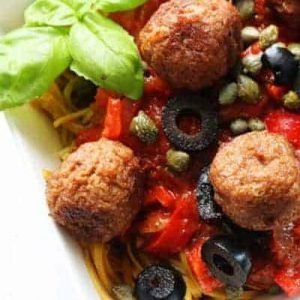 Meat Free Vegan Spaghetti
Ingredients
10.5

oz

Whole Wheat Spaghetti

3

Sweet Peppers

1

tbsp

Olive Oil

1

Yellow Onion

1

tsp

Mixed italian Herbs

1

Chopped Tomatoes

4

tbsp

Black olives

For the Veggie Balls

30

g

Dried Porcini Mushrooms

3

tbsp

Olive Oil

1

Yellow Onion

1

tsp

Smoked Paprika

1

Black Beans

50

g

Rolled oats

2

tbsp

Brown rice miso

50

g

Fresh Breadcrumbs

2

Garlic Cloves
Instructions
To make the veggie balls

Soak the Porcini Mushrooms in boiling water for 20 minute

In the meantime, heat 1 tbs of olive oil in a pan.

Add 1 onion and fry on a low heat for 10 minutes or until soft and translucent.

Add the Parika and crushed Garlic and cook for a further 1 minute.

In a blender, blitz the black beans and oats until you have a chunky mix and then stir through the Miso, Breadcrumbs and Onion mix.

Strain the porcini mushrooms and add to the mixture.

Season and roll into 12 Veggie Balls

The Dish

Cook the spaghetti according to the directions on the packaging.

In the meantime, halve the peppers, remove the stalk and seeds and cut in half-rings.

Chop the onion.

Heat half the oil in a pan and fry the onion and Italian herbs for 3 min on low heat.

Add in the peppers and cook for another 2 min.

Next add the tomatoes and allow to cook for 5 minutes on low heat.

Season with salt and pepper.

In the meantime, heat the rest of the oil in a separate frying pan and heat the veggie balls for 5 minutes on medium heat.

To serve, divide the spaghetti into bowls and pour the tomato sauce over, topping with olives and the vegetable balls.