Latest featured vanlifers Carl and Sally-Anne of @motorhominglife are some of Vanlife Eats biggest fans. They have provided so much support to us, and we are very grateful to them. Carl has experienced a number of health issues, a brain tumour, strokes and a heart attack. During his time in hospital, Carl and Sally-Anne focused on their ambitions to travel in a motorhome, and this must have provided some much needed motivation to recover.
Their dreams became a reality and here they share an insight into their travels with their motorhome Pegasus. This couple enjoy adventures full-time in their motorhome.. read to find out more, you won't be disappointed…
More about featured vanlifers Carl and Sally-Anne
Carl and Sally-Anne decided to leave their corporate careers behind them when they reached their late 50's, and after some health issues. What better way to celebrate their health and enjoy early retirement than travelling Europe and experiencing all that comes with it. That is exactly what this couple decided to do.
The couple had been doing just this when Covid struck and ruined these plans. They were enoying their time in Portugal, and Sally-Anne decided to visit her family in the UK for Christmas. All was going well…. until she couldn't get back to Carl! Carl began living solo vanlife while grounded in a campsite. There he began sharing his love of food with fellow stranded vanlifers. He took the time to learn about different cultures and cuisines in order to make meals for them all to enjoy. Poor Sally-Anne had to miss out on all the campsite meals.
As soon as the borders were reopened, Carl set about driving across Europe to rescue his damsel in distress. In May this year they were finally reunited. Currently making the most of being grounded in the UK, they are catching up with friends and family. It won't be long til they head off on their next European adventure though, so make sure to follow their adventures on Insta and YouTube (links at the bottom). Be sure to keep an eye out for adventures from when Vanlife Eats meet Motorhominglife!
Carl and Sally-Anne's adventures
Carl and Sally-Anne decided to take their tiny home with them at all times. They saw this as the perfect opportunity to make their life more simple. There are no televisions in Pegasus and they took the opportunity to downsize and minimize their 'junk'. Instead they use their time to enjoy the surroundings and people around them and Sally-Anne is a keen reader.
Carl is a massive fan of Scalextric fan. One of his ambitions was to set this up on a beach in the Mediterranean, and he has now accomplished this! This hasn't been their favourite part of their travels so far though…
The couple keep everyone entertained on their YouTube channel and regular Instagram posts whilst on their adventures. During their European adventures they each found their own favourite places whilst on their travels. They have such a lovely way with words we're going to let them do the talking and paint the picture for you.
Carl's favourite place:
Hort De Soriano
Spain

A free 2 night maximum stay Aire.
In the middle of an 'orange ocean'. Right in the middle of an orange forest, with millions of orange groves, millions of oranges.

The Aire is in a recreational area, once used as part of the orangery (van spaces on terraces), at the side of an enormous roman styled villa, once orange baron.
No water, no electricity but a toilet, and places to sit and picnic. There are remains of an orange museum, and signs of opulence from the early 1920's.

Walking into the mountains, you can see the enormity of the ocean, the horizon is almost a straight line, orange meets blue..

Every place we've been to in France, Spain and Portugal has had its own individual beauty, pleasing to the eye, and some smells associated with food and flowers. However, this area was an assault on the sense we don't often use. Orange blossom, orange, almost cointreau-like. It was there, on your clothes, in the van, in the wood, buildings, I guess a good way to describe it, was like standing in the Jo Malone factory, leaning against a vat containing orange blossom body lotion.

You went to bed with it, and woke up smelling of orange blossom.

Being deaf, my other senses work much harder, so I 'heard' through my nose, my sensory fibres tingling with delight.
Sally-Anne's favourite place:
Merida,
West Spain
'Rome of Spain'.


This spectacular city was once the home of retired Roman warriers. The evidence of occupation and opulence runs throughout the city, ruins, remains and renovated Roman architecture around every corner.
Amphitheatre, temples, fortress and the outside and inner remains of what must been a hippodrome (chariot racing circuit ) to match anything in Rome. We walked around it, and according to our FitBit it was exactly 1,500 m around the circuit.
When you think you've seen every thing and eaten some of the most amazing croquettes "ever", the National Roman Museum and Crypt awaited to bend our minds. Firstly the architecture of the building itself is enough to impress the greatest architect in the world. But the artefacts! How did the Romans make mosaic floors the size of football pitches without computer aided software. Statues the size of houses, glassware, gold, pottery, tools, the list is endless. "Just shows you what the Romans did for us". 3 days just wasn't enough. There are a number of basic aires in the city, but we found the local camping site was adequate. After all, you only slept and showered there.
We met fellow motorhomers Lynn and Chris (Scottish) at this camper park, and enjoyed a glass or two of local wines. We have kept in touch and will undoubtedly meet again, to finish off that bottle of Scotch.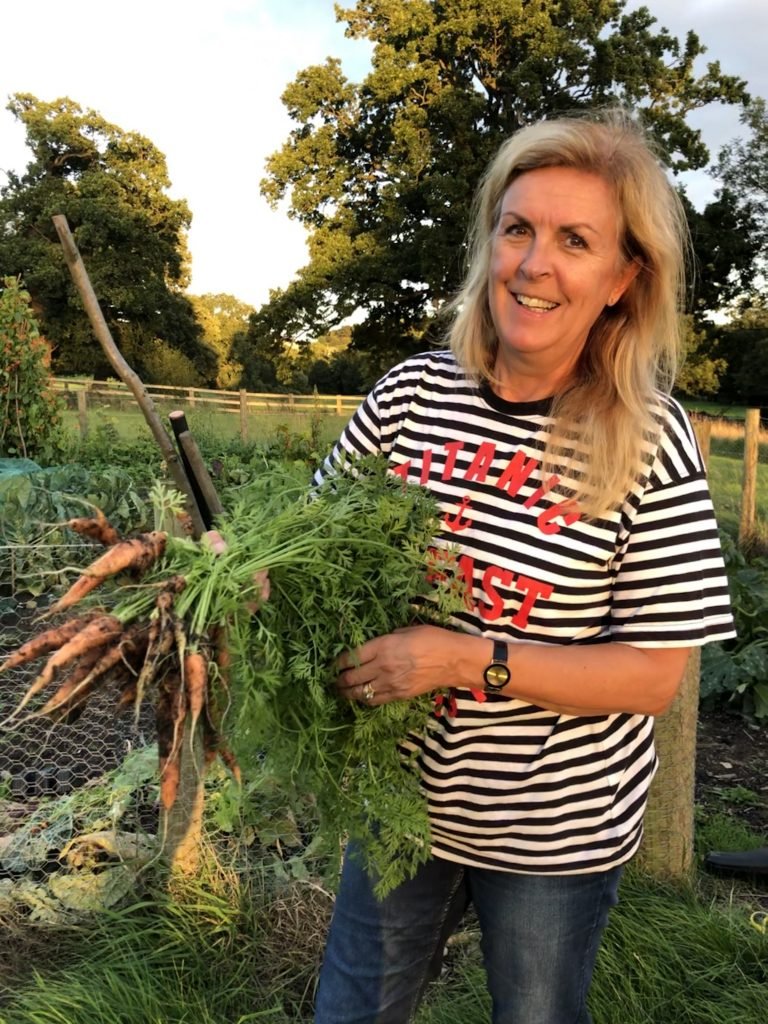 During their travels they have enjoyed visiting a number of places, and have even managed to accumulate a hive of bees and an olive tree (they don't transport these in the motorhome for some reason!)
Featured vanlifers Carl and Sally-Anne and their kitchen
Sally-Anne confesses that Carl does most of the cooking in this motorhome, and she is more than happy to be sous chef and chief taster! When asked what they like best about their tiny kitchen, they said, that it is the biggest kitchen in the world! That is what they love about it. There are no limits. Carl is a keen chef and is always looking to try new recipes and gadgets. The fact they don't have an oven in their van hasn't held them back at all. Carl even managed to make a giant yorkshire pudding in their Omnia oven.
Their favourite kitchen gadget for their travels has been their Hell's handle fish slice from Mercer. They are also very keen on sampling local wines when travelling so a corkscrew / bottle opener is also a firm favourite.
The couple like to cook outdoors and so one of their favourite things about cooking in their motorhome kitchen – is that they don't have to!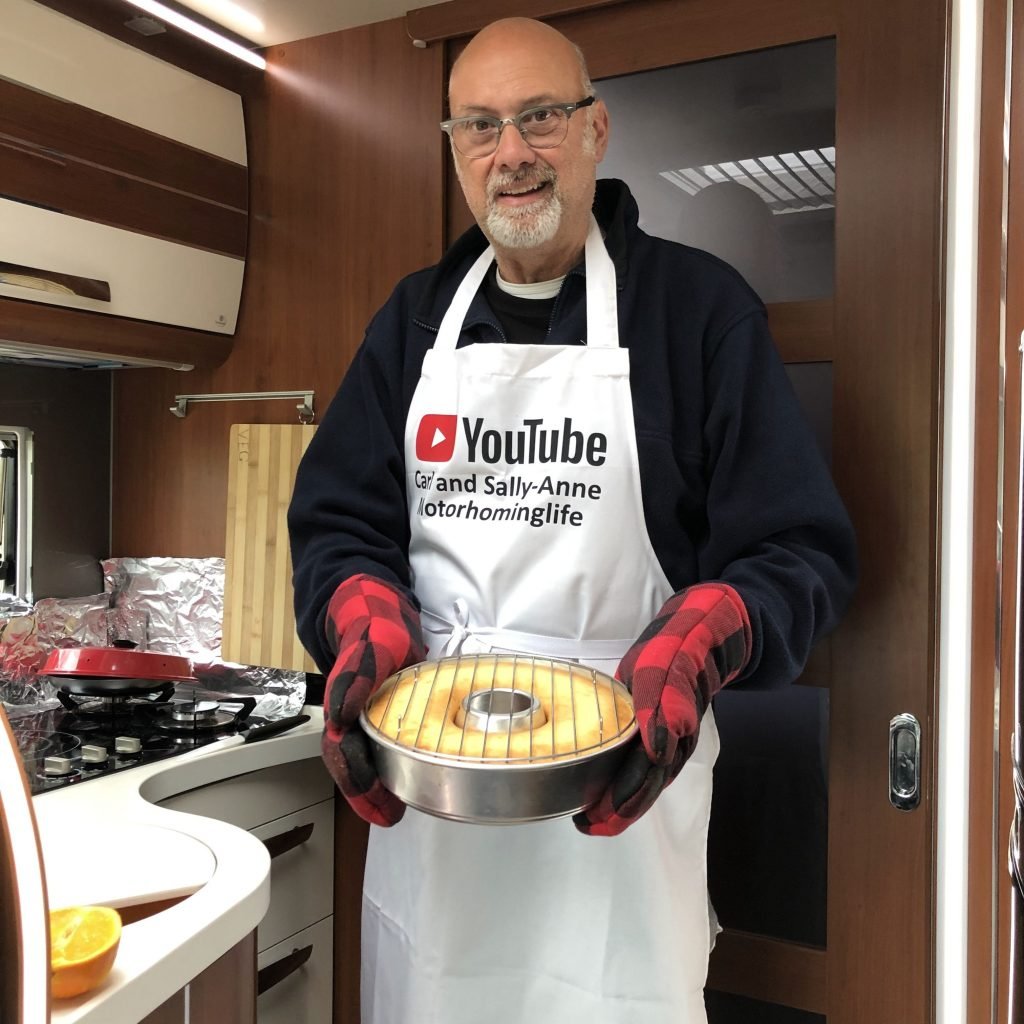 What do Carl and Sally-Anne cook in their motorhome?
You may know Carl is a big fan of honey and his daily pollen, but what does he like to cook?One of their most memorable meals they have cooked outside was a fish dish – cooking fish in the van isn't always the best plan. They enjoyed fresh monkfish tail caught that very day and cooked with local garlic and onions. They enjoy eating fresh, local produce. As such a salad nicoise is a definite favourite for them when they can get the freshest ingredients.
When shopping locally there are some key items they always ensure to purchase from the local supermarket:
-Local Garlic
– Local Onions
– Local Tomatoes
– Low fat, low suga digetives
– Anti-bac wipes
Those of us that like to cook in the van they know there is always a fair share of cooking disasters, and Pegasus has witnessed a few. One was when Carl decided to use the beloved Omnia oven on a fire pit. He attempted to make a cake using a cake mix, and is certain this is the reason his Omnia now looks like a spaceship on it's re-entry from space. Good job he got a sparkling new one for his birthday recently!
If you are subscribed to their YouTube you may remember this video..
This amazing looking yorkshire pudding was the third attempt, the first two were not so picture perfect shall we say. The great thing with their previous experiences in their working lives means they are nifty with editing videos. Just as well as Carl managed to combine the best bits from all 3 attempts to create the perfect video!
As with other vanlifers Carl and Sally-Anne have their favourite go-to meals. One is beans on toast with grated cheese and HP Sauce! They also like to be well prepared for those situations where you are lost, have little water and power left – we've all been there! In these cases they are prepared with an 'armageddon' meal, essential boil in the bag meals. Ideal for these situations.
The things they love to make the most are nice fresh salads with chicken. Outside the van they love to cook fish and seafood. This is what they avoid cooking in their van though, alongside anything that needs to be fried.
Find some of their recipes here!
Any disasters?
Let's face it vanlife wouldn't be vanlife without some ups and downs. Sally-Anne didn't find it funny at the time, but now it is something they can laugh about together. This story is better told in their own words.
"We missed the turning for Apibericos (heading for a beekeeping experience) in the mountains surrounding the Douro Valley. This road was Pegasus wide. Wing mirrors in, steep gradient, raining, cobbled road, "dead end". In a farm yard on a slope, in sand. By this time Sally-Anne realised her mascara wasn't waterproof. A '26 point turn' was needed.
The automatic gear box struggled.
Not so simple though, as we had were following Portugal EasyCamp's wine experience route, every bottle of wine we bought (just left our 5th vineyard) we put in the back. Pegasus beached like a whale.

So in the rain, on a gradient, in sand on top of wet cobbles, we unloaded the wine. (Didn't realise how much we'd bought), took out my Scalextric, (I have a lot, 40 kilos of it), quite a number of 6 litre bottles of fresh water, tables, chairs, etc and put them inside the van, in the front seat well, front seats and the under table. Pegasus breathed a sign of relief and she raised a good 12cm at the back. Weight at the front, traction control on, off, on, off. Bingo!

Not quite..
Because we had to go back down the way we came, we started to slide, handbrake on, wing mirrors in, and in reverse gear.

I was disappointed that Sally-Anne wouldn't let me put the GoPro on, nor the phone in the front bracket to film the event.
I was in complete control. This is what Vanlife is about. Adventure. There was a 50 mts drop on the other side, to make it more adrenaline pumping.

Half an hour later, we were sitting by beehives, drinking coffee with honey and pollen, eating Pastel de Nata.
"Oh, we hadn't realised you had such a big van" the host said.
After our stay, we had to reverse out".
Carl and Sally-Anne's advice for fellow vanlifers
"Stretch, listen, respect the local rules, don't believe everything on social media, engage with the local people, value and absorb traditions, and eat local fresh foods.
Invest in an Omnia, Skillet, unlimited WiFi and never stop exploring…"
Where can you find featured vanlifers Carl and Sally-Anne?
Instagram: @motorhominglife
YouTube:
Want to be featured on
vanlifeeats.com?
To apply for a featured post on vanlifeeats.com simply follow this link and fill out the application form. We promote all featured van lifers across all our social media networks, we send out a "featured Van Lifer" sticker for your van as well as awarding you a prestigious badge for your profile on our website.