Meet Featured Vanlifers Alex and Amy..
Many things can happen when travelling on the road as a vanlifer, this includes falling in love. They met in 2018 whilst travelling separately in their vans and eventually reunited to join forces.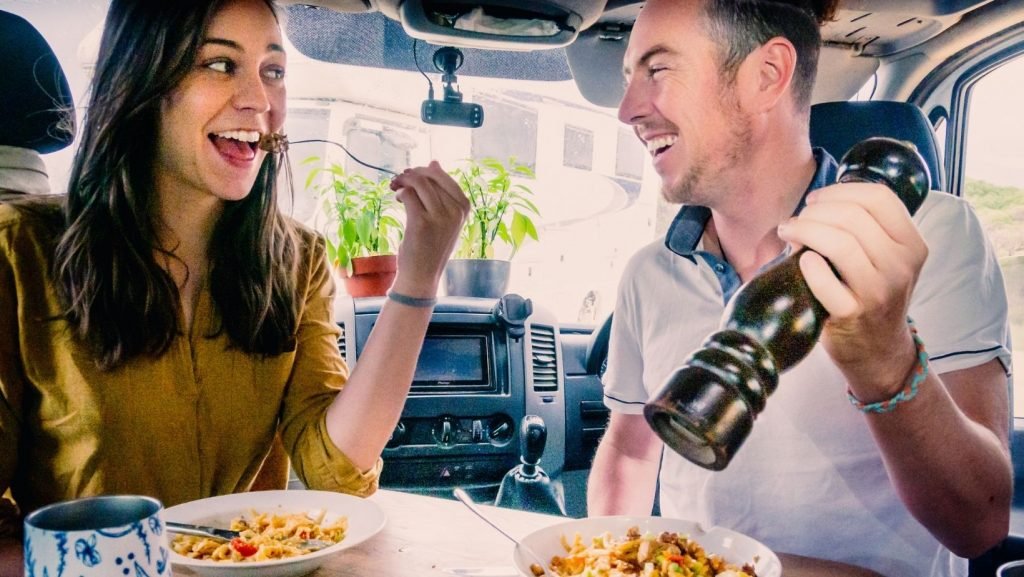 Meet the vanlifers..
Alex
Alex is better known as KiteVanMan, he has a big following on both Instagram @kitevanman and YouTube. A vanlifer keen on adventure, in particular kite surfing, vanlife is the perfect solution for being able to experience life to the fullest.
Alex became a vanlifer in 2017 and began travelling in his self converted van Joyce. In 2018 someone very special joined him on his vanlife adventures, and she has been by his side ever since. His beautiful dog Sen. They have travelled far and wide, visiting around 26 countries. These include Greece, Albania, Croatia, Sicily and Sardinia. On one of his most recent escapades to Morocco, Covid meant he was unable to leave! Based in a camp, food was limited at times. This meant Alex had to resort to catching his own food. That is sustainability at it's finest right there! The experience has not deterred him though and it is a place he would like to go back to.
Alex and Sen finally managed to get back into Europe after a few setbacks. Once back in Spain they met back up with Amy and the trio are now planning many more adventures together.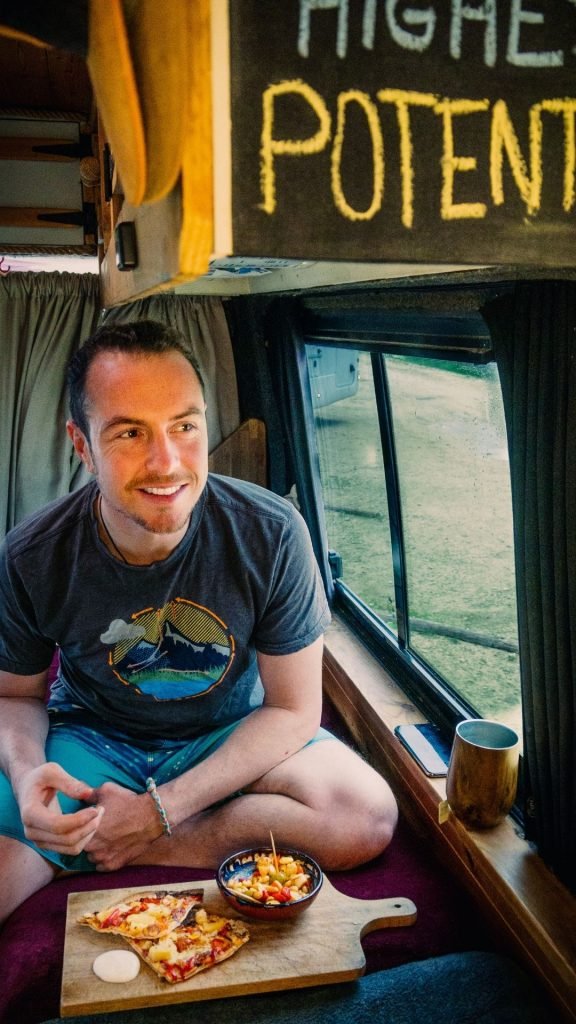 Amy
Amy also a keen adventurer, has been experiencing vanlife and the adventures that can bring. She documents her travels on Insta @abundant.adventures She has a focus on health and has a plant based diet as well as being a fan of water fasting. Cooking in the van is something she enjoys, and clearly has a lot of patience for. She once cooked an apple and cinnamon cake over candlelight! It took 4 hours which we imagine made it taste all the better when ready.
The Van
A featured vanlifer article wouldn't be the same without having a nosey into what they like to cook and eat…
The couple are currently travelling in Alex's van Joyce. Their van kitchen is well equipped for knocking up some awesome vanlife meals. The van has hot running water, a definite luxury in a travelling home. The cooking set-up includes a twin burner hob and an oven with a grill – no more need for cooking by candlelight for Amy. All of these run off LPG, and their 12v compressor fridge runs off solar power. Amy's favourite part of the van kitchen is the spice rack. Spices are a definite vanlife essential, they can improve even the most basic meal.
Meals that feature in these vanlifers diet?
Amy is vegan meaning their van pantry is always stocked up with fresh fruit and vegetables. They also like to make sure they always have nutritional yeast, garam masala and coconut milk.
Their go to meal has been bean wraps, and Alex would eat these for lunch and dinner every day if he could. Luckily Alex's diet comprises more than just beans. This is just as well living in an enclosed space! One of their favourite meals to make in their van is their Butternut & Chickpea stew, the recipe can be found right here!
They have had their share of cooking disasters including charcoal cake and exploding peppers, and are open to trying new things with cooking and food.
What's next for our featured vanlifers Alex & Amy?
At the moment they are enjoying life in Spain. It has enough variety to keep the adventurers inside of them happy with beautiful beaches, great spots for kiting, mountain ranges and being able to take part in winter sports such as snowboarding. This is also where they met, so holds a special place in their hearts. They are planning many more travels and adventures though, with Alex's favourite places including Albania and of course Morocco!
On future travels they may be quick to rectify any issues. When travelling Alex got his van stuck in sand one night. He drifted off to sleep in his pants, woke up the next morning and threw open Joyce's doors to try and see what the issue was the night before… Only to find himself on a beach surrounded by sunbathers – unsurprisingly he described the experience as awkward.
The pair run a Van Life Digital Nomad group on Facebook – you can find the link here
Tips for fellow vanlifers
With all the inpirational van build videos on Alex's kitevanman YouTube it is only appropriate to ask for any advice to future or fellow vanlifers.
If converting the van yourself, build it around you! Think about what is important to you and prioritise that in the build. Really think about your personal needs when designing the layout
Also, a word of warning for those considering a fruit hammock. Hang it as far from the wall as possible unless you like mashed mangoes and bruised apples. Plus a sticky wall!
Want to follow our featured vanlifers adventures?
Who wouldn't want to see what these guys get up to on their travels? Here are all the links to our featured vanlifers socials, click on the links to head straight to their page.
Amy's Insta: @abundant.adventures
Alex's Insta: @kitevanman
Website: beacons.ai/kitevanman
YouTube: