The time has come for Van Bake off 2021! It's that time of the year again, the dark nights are becoming longer, and the temperatures are dropping. Sounds like a perfect excuse to eat baked goods and get put on a few extra pounds. So join in with Van Bake off 2021 – we look forward to seeing your bakes!
What is Van Bake off?
The Great British Bake off is a show on Channel 4 in the UK. It features bakers competing against each other to bake the best cakes, biscuits, pastry and bread. If you haven't seen it before, be prepared, you will be hungry afterwards!
We have teamed up with the lovely ladies at Brown Bird and Company as we did last year to judge van bake off. Each week we will copy the theme from bake off the week previously. Last year we saw cake week, biscuit week, bread week and even a Japanese week. You can see last years entries and winning recipes here or on our Instagram Highlights here.
Why enter Van Bake off 2021?
Van bake off 2021 is a great way to show off your cooking and baking skills! Each week a star baker will be selected. They will receive a Vanlife Eats sticker and will have their recipe featured on our website. At the end of Van Bake off an overall winner will be selected. The lucky winner will receive either an Omnia Oven or £50 towards items from the Brown Bird Store (This is limited to UK Mainland only).
How to enter Van Bake off 2021
Vanlife Eats alongside Brown Bird and Company will judge the creation, based on the presentation, the suitability of campervan baking and also how in theme the bake is. Each week a winner will be chosen as STAR BAKER, their recipe will get featured on this very site! Each star baker is then in with a chance of winning an Omnia Stove top oven or accessories courtesy of Brown Bird and Company.
To enter, bake an item that fits with that weeks theme, you can find out the current theme on our Instagram or Facebook. Upload your photo and tag us & Brown Bird and/or use #vanbakeoff.
For example, week one is cake week so you would bake a cake of your choosing using vanlife kitchen style equipment. We appreciate not everyone lives full time in their vans so it's ok to cook out of your van, but please keep in mind the suitability of the recipe being baked in a van.
Photos must be uploaded by Monday afternoon (UK time) and a winner will be selected and announced on Monday evenings. This competition is open to the UK mainland only. Each winner will only be contacted by our Instagram account, we have no other accounts and we will not ask for any card or bank information. Stay safe!
Van Bake off – Cake Week
So week 1 in Van Bake off is Cake week! In the show they made a swiss roll, a malt loaf and an anti-gravity showstopper. Let's see what our van bakers made…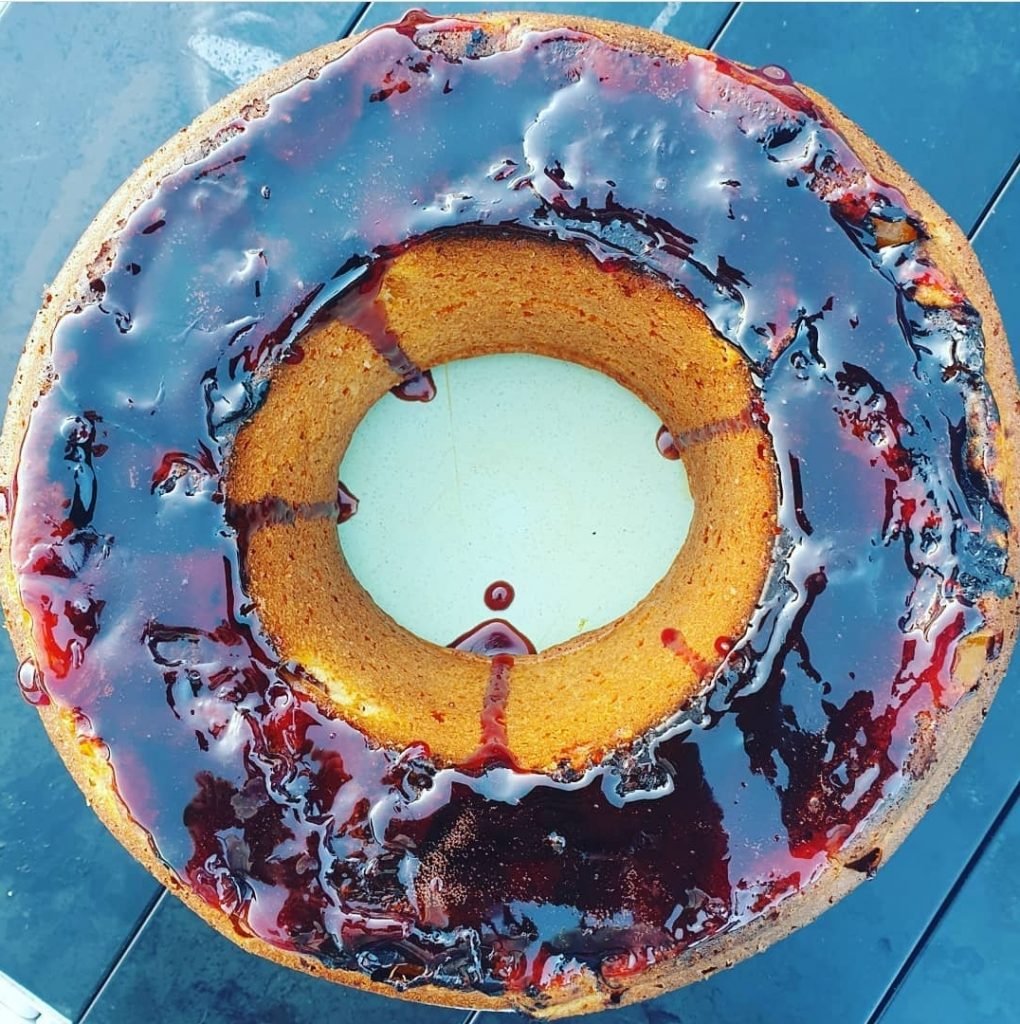 Winner of Van Bake off Week One
This week's star baker went to Lesley of @stillyoungatart for her beautiful heart shaped cake for her husband Richard. One of the things we love about food here at Vanlife Eats is the power food has at bringing people together, and showing how much you love someone. Just like this cake! If you would like to replicate this is your van, then be sure to click on the recipe here.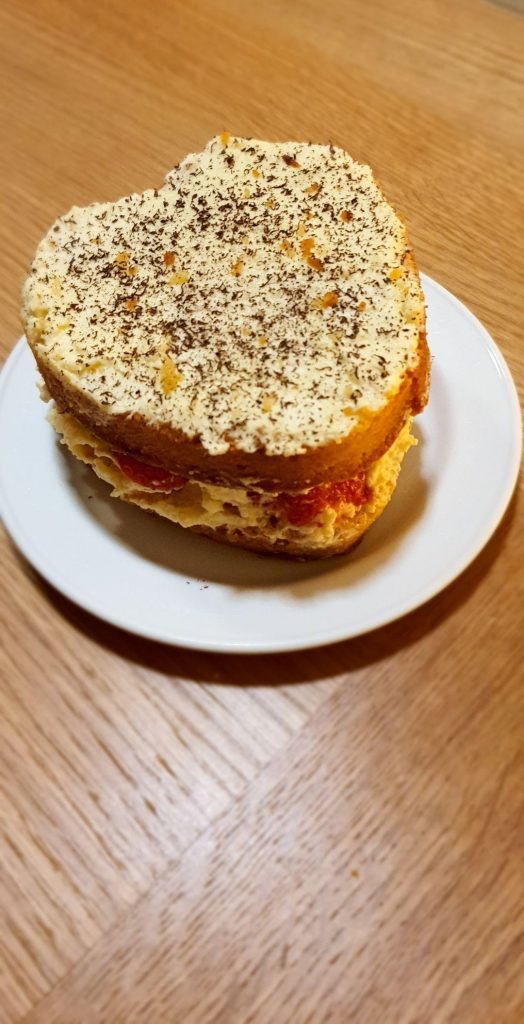 We decided to make the most of some blackberries we foraged on our recent trip away to the Cotswolds – You can see what else we got up to here! So we decided to add them to a basic sponge recipe to make a delicious Blackberry cake.
If you want to try this recipe yourself, you can click here. This can be cooked in a conventional oven also, if you don't yet have an Omnia then you need to enter Van Bake off to be in with a chance of winning one!
Van Bake off – Biscuit week
So week 2 in Great British Bake off and Van Bake off is biscuit week! On the show we saw them create some impressive brandy snaps, jam-filled biscuits and a biscuit replica of a favourite childhood toy – 3D too obviously! We were excited to see what our van bakers came up with. They didn't disappoint.
Winner of Van Bake off week 2
The winner of this week's van bake off had to go to @vanvistas. They managed to replicate Brandy snaps – in their Omnia oven. A feat neither us or Brown Bird were willing to take on. Recipe coming soon….
We decided to keep it simple for biscuit week, a week we always dread in van bake off – as it means batches and batches in our Omnia Oven. We made these delicious 3 ingredient nutella cookies.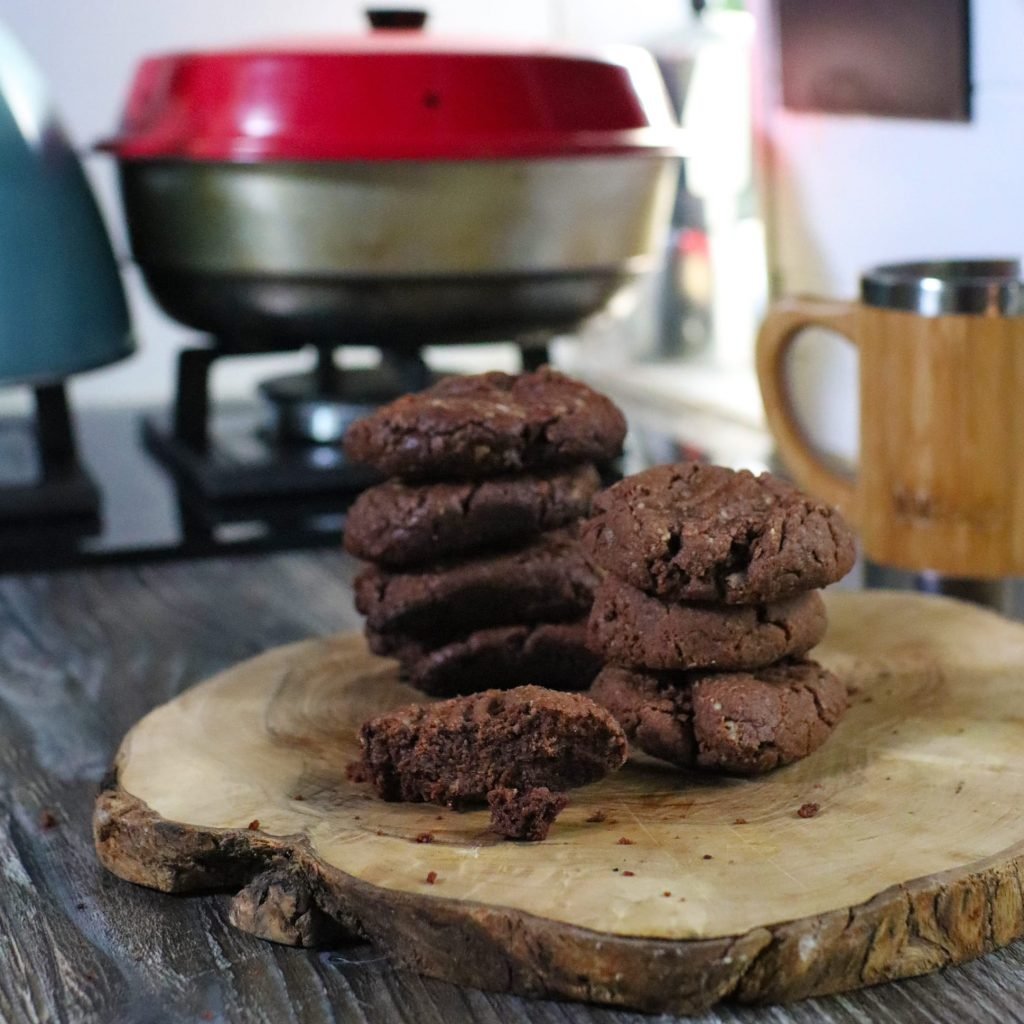 Van Bake Off – Bread week
Week three on The Great British Bake off saw the contestants baking focaccia, ciabatta sticks and a milk bread display.