Here at Van Life Eats we take kitchens almost as seriously as we take food, so here are 10 fantastic van life kitchen ideas to inspire you.
We asked 10 vanlifers about the kitchens in their vans, and their favourite aspects of them, so sit back and prepare to be inspired with van life kitchens ranging from beautiful simplicity to stunning intricacy.
The Van Taste
Vicky's van is a VW crafter which she has travelled around Europe in and for now she is settled in Germany. She creates some amazing meals in her van kitchen, so amazing in fact that she has written and released her own cookbook.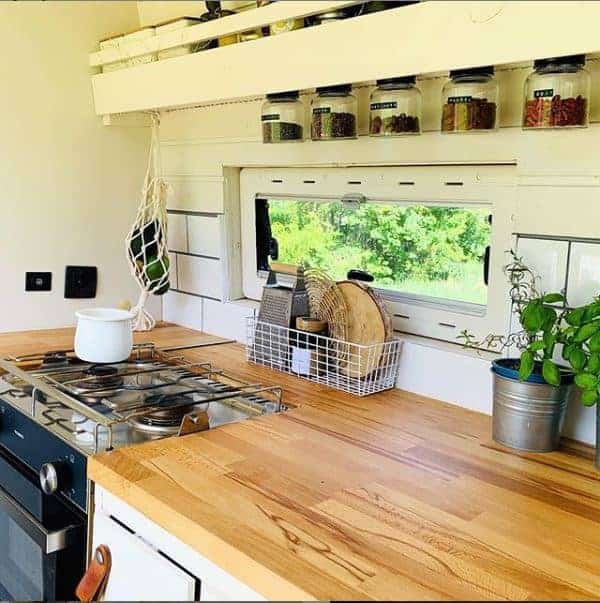 She considers the kitchen to be the centrepiece of her van and it's clear to see why, a bright and airy kitchen which is fully fitted out to be a perfect home from home – who needs a house?!
This van kitchen is fitted out with a Dometic Sunlight oven, fridge & freezer, an amazing array of spices displayed beautifully, and a fab area next to the sink giving space to dry dishes. The most has been made of every piece of available space.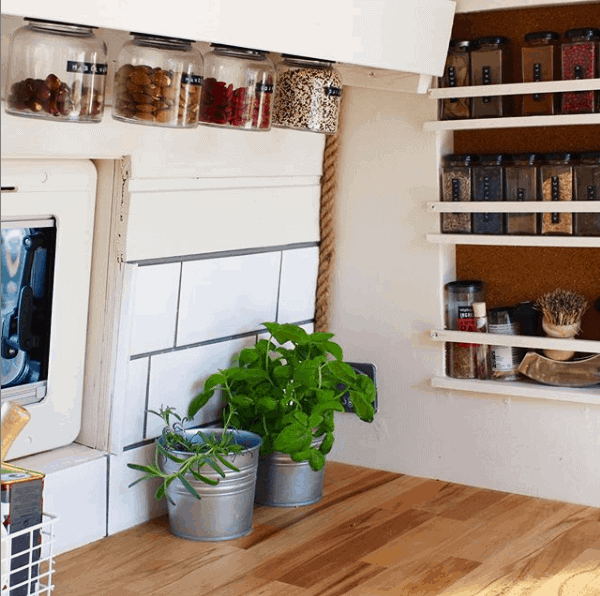 Favourite Kitchen Gadget – A multi-function tool from Kitchen Aid which can whip cream, cut herbs etc. Also a waffle iron which can be used on the hob
Favourite Van Life Kitchen Recipe – Savoury waffles with spinach for breakfast, pasta with garlic, tomatoes & shrimp.
Instagram: thevantaste
GlùcksmoVANte
Max, Mona & Sam have a self converted Fiat Ducato L3H2 and are in Germany, they love hiking and enjoying nature. Their kitchen is fully set up with a cooker with 2 hot plates, hot water boiler and a fridge with a freezer.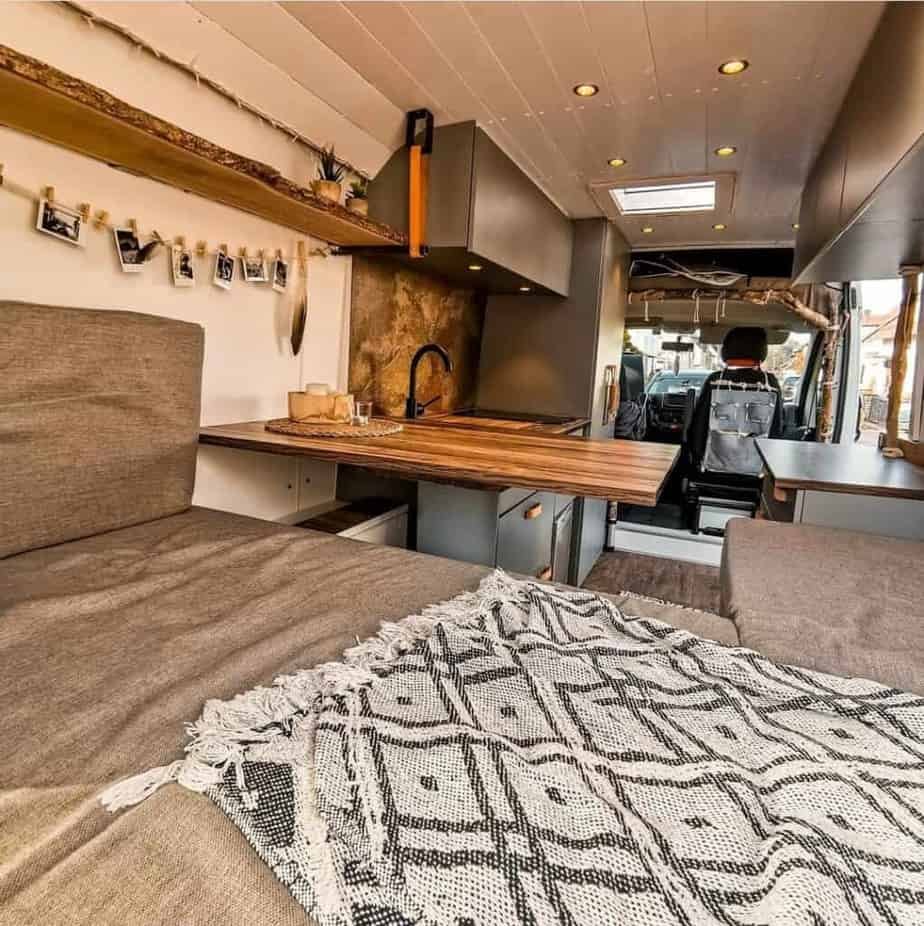 The dark colours in their van kitchen create a really beautiful modern look and they love their large sink, no need for one pot meals in this home on wheels.
They have a very quirky feature in their van which is the back of their kitchen which is made of steel, they have allowed it to rust to increase character.
Favourite Van Kitchen Gadget – Everything in their kitchen is super useful, but their favourite gadget is their Omnia stove top oven.
Favourite Van Life Kitchen Recipe – No particular favourite, they prefer to shop locally in markets and make whatever takes their fancy from what they have bought, but do have a particular love for fresh fish & seafood.
Instagram: gluecksmovante
Bree the builder
Bree has recently been undertaking a van conversion and the kitchen in it is so amazing we had to include it in this list. Hottie (the van) is a 1979 coachman leprechaun and Bree states aspects of the kitchen make this van feel like a home in more ways than one.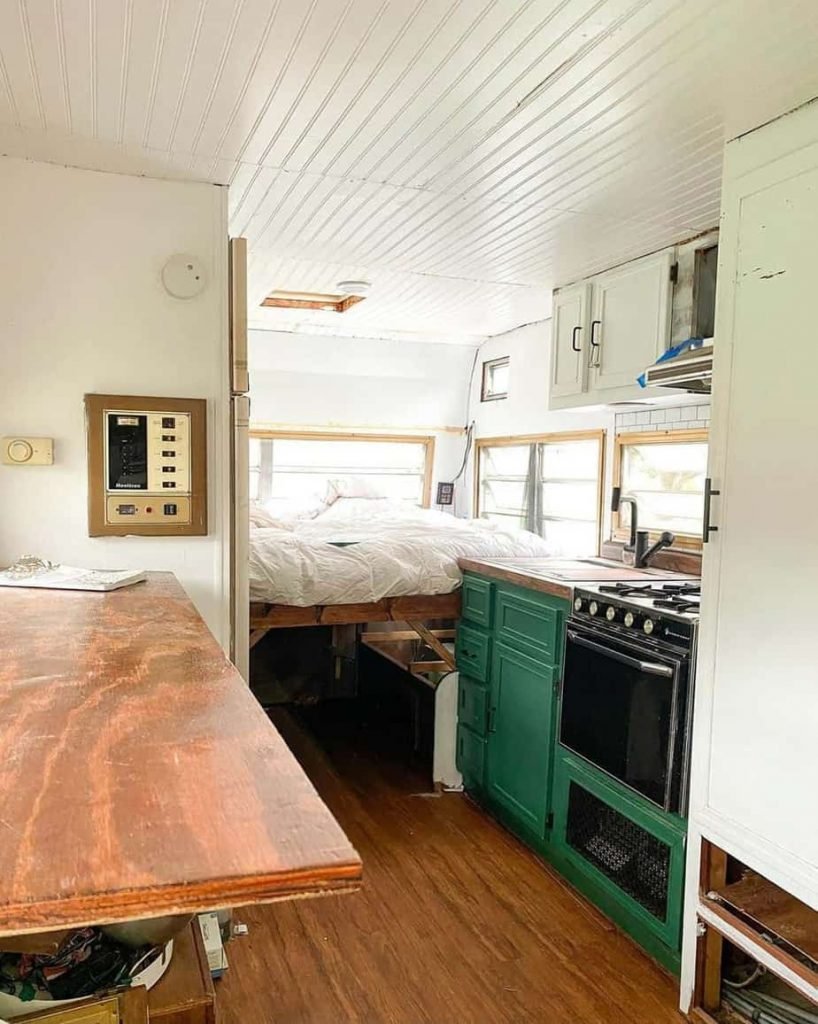 The main focal point in the kitchen is the amazing sink, which is not only deep enough to wash a whole load of dishes it also has a removable drying rack and chopping board.The water system comprises of a freshwater tank, 12v water pump and a propane water heater, ideal for getting that washing up done.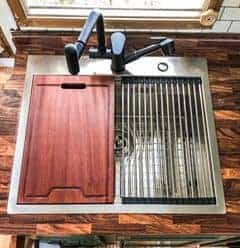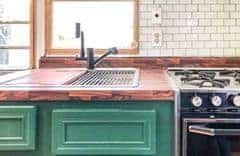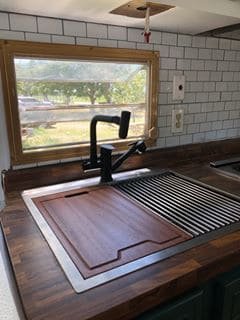 Although campfire cooking is a favourite of Bree's this van kitchen is fitted with an oven and a 4 burner stove, which is the favourite feature in this van kitchen, and the ORIGINAL fridge/freezer unit. Over the oven is a vent hood which is yet to be used until the button to operate it is discovered!
Favourite Van Kitchen Gadget – Although not technically a gadget, the firm favourite here is a cast iron griddle pan, which can be used for a range of meals and is attractive enough to be left on the stove top when not in use
Favourite Van Life Kitchen Recipe – As Bree and Hottie are yet to begin their travels together the only thing that has been made is some super quick ramen – we look forward to seeing what recipes they come up with when their adventures on the road begin.
Instagram: doesthiscountasvanlife
I built a Glampervan
This self built conversion in Australia is all about using the little touches to make vanlife as homely and comfortable as possible and it all comes together to achieve that perfectly, plus it's the only van we've seen with a barn door!
The van is a 2015 Renault Master LWB which includes a bathroom, the kitchen looks modern yet homely, a balance which isn't always easily achieved. The kitchen is set up with a 2 burner stove top & an LG microwave, a fridge and freezer, plus a hot water system using a 12v pump and hot water tank.
As well as the barn door another quirky feature is the self built table that can be used as a dining table but also spins round to double up as some extra counter-top space when preparing meals.
The owner's favourite features in the van kitchen are the soft close cupboards and drawers, as well as the beautiful splashback which looks like tiles but is actually waterproof vinyl wallpaper.
Favourite Van Kitchen Gadget – Coffee machine
Favourite Van Life Kitchen Recipe – Curry or stir-fry
Instagram: i.built.a.glampervan
Roadspirit
This is one of the quirkiest and most unique van kitchens we have seen so far,and one of the best things is that it's available to rent if you're in Germany! This particular van is a Fiat Ducato with the facilities to cook inside the van with a 2 burner hob, as well as having a mobile one burner hob if you wish to cook outside, there is no running water but there is a mobile sink so you can really do the dishes with a view while outside.
A solar powered fridge is fitted with a small freezer for the ice cubes you will be needing for all those cocktails
The main feature of this van without a doubt has to be the unique shape of the counter, round surfaces are not easy to create in a van. It makes the kitchen feel extremely spacious and is very eye-catching to say the least. Everything in the van is handmade to a high standard with good quality materials and we can understand why this van has been so popular on their Instagram.
Favourite Van Kitchen Gadget – Espresso maker
Favourite Van Life Kitchen Recipe – This was a difficult decision and Freddy said everything his girlfriend creates is delicious but if he had to pick it would be pancakes for breakfast.
Instagram: roadspirit
Tom's Van Build
This van build is a total inspiration and it would have to be considering Tom has his own Van Build Consultancy business, he has had a number of years as an experienced kitchen fitter and has used these skills in his own van kitchen. Pair this with the fact that his partner Sarah is a professional vegan chef, you just know this pair mean business when it comes to a van kitchen.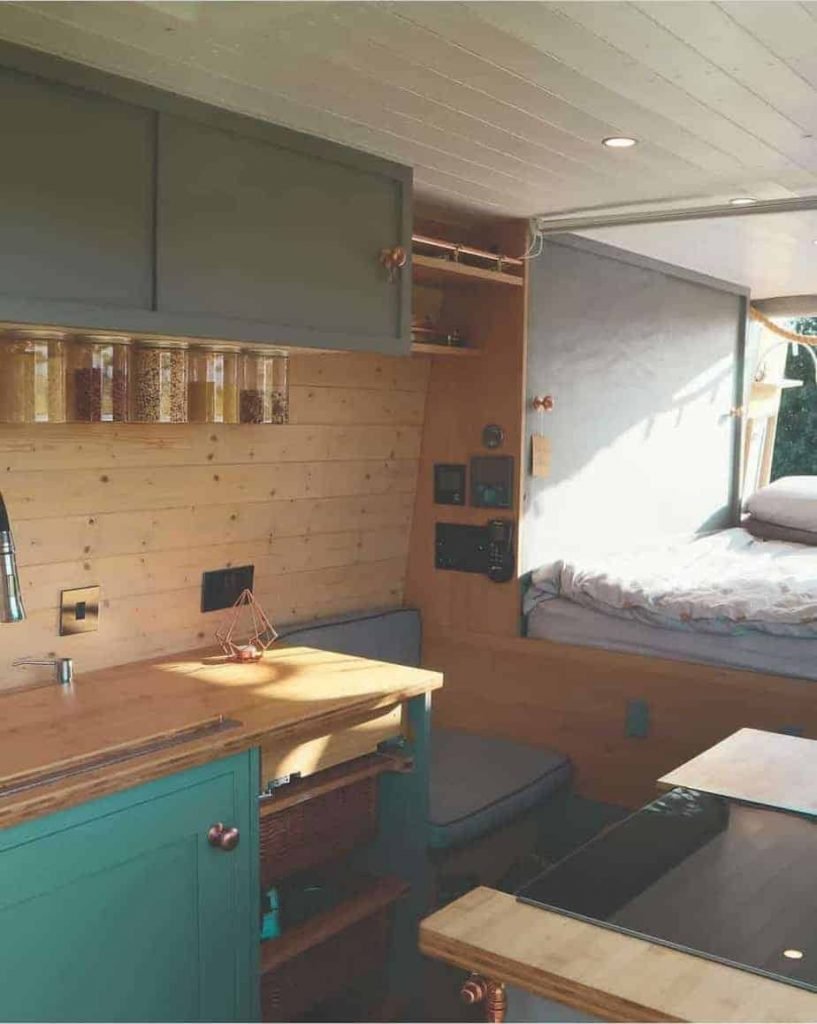 This fully fitted kitchen means their creative juices can really flow when creating meals with the minimal constraints that may normally be faced in a van kitchen. Their van is a 2015 Mercedes Sprinter 313 CDI LWB, and the kitchen set-up in this van is phenomenal.
The water system is comprised of a 100l fresh water tank with a pump, and a Truma Combi 4e which provides the kitchen and bathroom with hot water.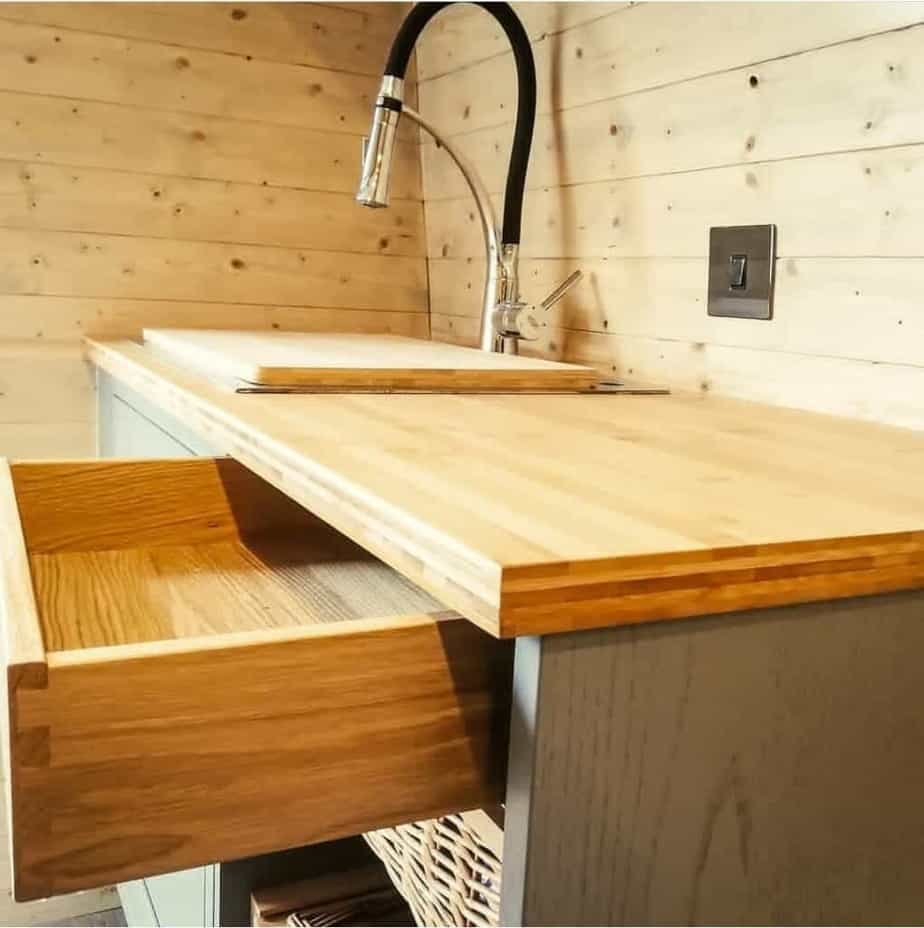 If that wasn't enough they also have a Berkey water filter meaning if they are low on water when on their travels they can fill up their water supply from a natural water source and filter it so they have fresh drinking water readily available again.
They are not limited by cooking facilities either having a Thetford Triplex grill/oven with a 3 burner stove, a 35l fridge and a 35l freezer tucked under their bench seats. On top of that they have an extra deep sink with a retractable hose tap making washing the dishes or vegetables a breeze.
Their van doesn't come without its own quirky features, these include their repurposed wicker basket system and a telescopic dual bin system, and the copper elements add the finishing touches. Their favourite features of their van are the bamboo worktops & their oven.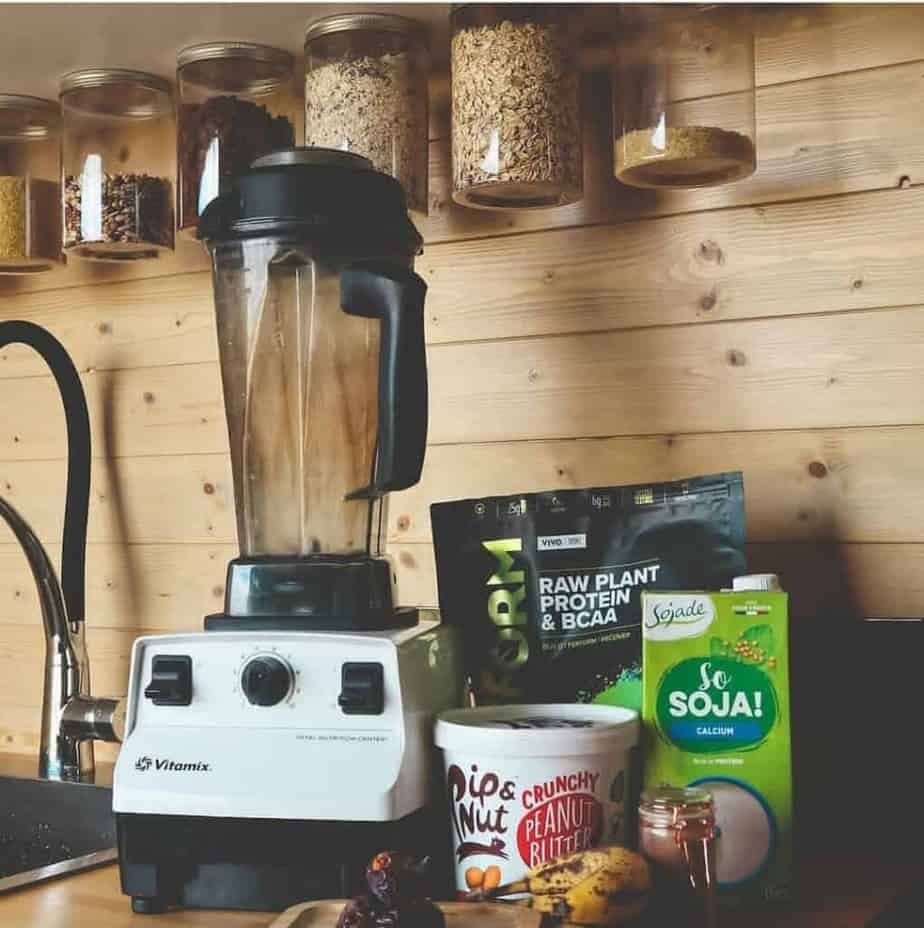 Favourite Van Kitchen Gadget – Tom has admitted he would be lost without his daily smoothies and so the Vitamix blender is their must have gadget, even though it is juicy on the power, this was all taken into consideration with the build.
Favourite Van Life Kitchen Recipe – Cooked breakfast to get the day off to a good start!
Instagram: tomsvanbuild
Layman Travellers
If I tell you pink is my favourite colour it will come as no surprise that Thom & Lucy's van is one of my favourite van kitchens ever! They are currently travelling in their home country, the UK, with plans to travel Europe when the restrictions from Covid19 are eased. They have a cute, homely build for which they have used many elements from their flat and they tried to use recycled and rehomed items as much as possible.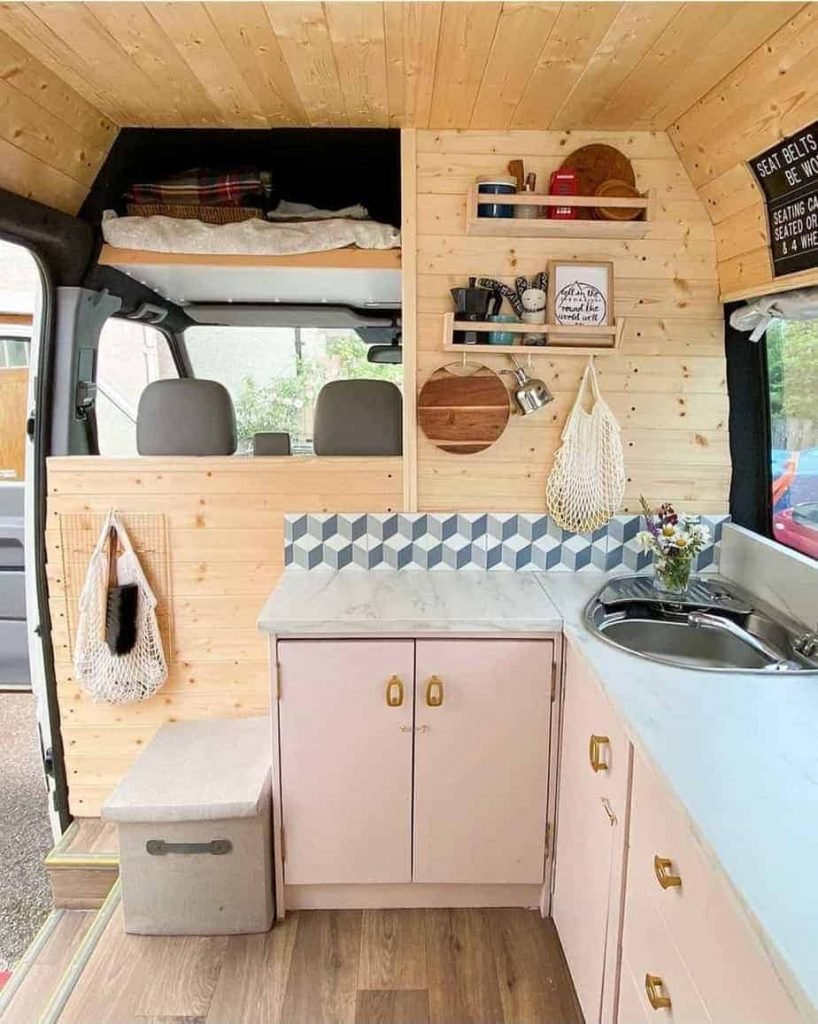 Their van is a VW LT35 MWB, the impressive kitchen is the first thing you see as you step into their beautiful home on wheels. They really enjoy cooking so always have a well stocked kitchen and they have cooking facilities aplenty.
A single burner is attached to the sink letting them make their all important cups of tea, they have a 2 ring burner camping stove which they can use inside or out, the van kitchen essential of an omnia oven, a Trangia for camping outside, and last but not least (the bit we're really jealous of) a pizza oven!
As you would expect their well kitted kitchen comes with a fridge that has a removable freezer, essential for providing them with ice cold drinks after their hikes.
Homely touches are what this van is all about and there are a number of personal touches such as a picture and a soft toy made by Lucy. A touch of quirkiness is added with the cupboard handles, which were found in Lucy's parents garage, spray painted gold and added as finishing touches to the kitchen cupboards. Our personal favourite is the seat belt sticker, which we think has also been a firm favourite on Insta.
Their favourite kitchen features are the colour (I have to agree there), and the amazing splashback tiles which are sticky vinyl floor tiles, so no chance of any breakages while on the road! They also love their bargain worktop which they were lucky enough to nab from Ikea, so much to love in this van!
Favourite Van Kitchen Gadget – As you would expect in this well equipped kitchen, there are too many to choose from. Thom and Lucy have whittled it down to a bottle opener, knife sharpener, steamer & hand blender.
Favourite Van Life Kitchen Recipe – Lucy's favourite is mushroom Taco's, Thom's favourite is paneer curry and they love to make fresh bread in their omnia.
Instagram: laymantravellers
Vanlife Sagas
Marie and Dom travel in Vanessa a 2014 Ram Promaster 136" high roof, and their modern well organised kitchen is just dreamy! The colour scheme is gorgeous and one of their tips is to colour match horizontal surfaces (e.g. darker ceiling, work-top and floor) and then use a lighter colour for the vertical surfaces (cupboards).
Their cooking facilities are made up of a Ramblewood 2 burner stove, which is their favourite item in their van kitchen. To ensure their van stays well ventilated when cooking they have placed a fan over their kitchen unit, and their large counter-top means preparing meals are a breeze. They also have a JetBoil which boils water in no time at all!
They have a very energy efficient fridge which is nicely tucked away on a pull out shelf. Everything has its place in this super organised build each plate, bowl and utensil has its space in specially designed pull out drawers, and each item has its own cocoon to avoid noise and breakages when on the road.
Favourite Van Kitchen Gadget – Marie & Dom decided one thing they could not live without are toasted bagels, because of this they purchased a GSI stainless toaster to ensure they could get their fill while on the road. They also start every day with a peanut butter and banana smoothie, so their magic bullet was an absolute necessity.
Favourite Van Life Kitchen Recipe -In the winter a vegetarian chili is a once a week favourite, in the summer months its a vegetable & tofu saute, topped with cilantro & lemon juice.
Instagram: vanlife.sagas
Boxer Ferdinand
Next up is Melli & Tino with their van Ferdinand. Their van kitchen has a classic country feel to it with lots of homely features & a magnetic board in their kitchen to attach momentos from their travels.
Their self built van is a Peugeot Boxer L2H2 with running water set-up and a fridge with a freezer. They are really pleased with the overall look of their van and love the country look they have created, the table on the end of the kitchen can be put up to create some extra work space or an outdoor cooking area.
When creating their van build they ensured they had plenty of storage space and have utilised the kitchen area well to ensure it stays looking clear and uncluttered.
Favourite Van Gadget – Omnia Stove top oven & Skotti grill
Favourite Van Life Kitchen Recipe – Bolognese casserole
Instagram: boxer.ferdinand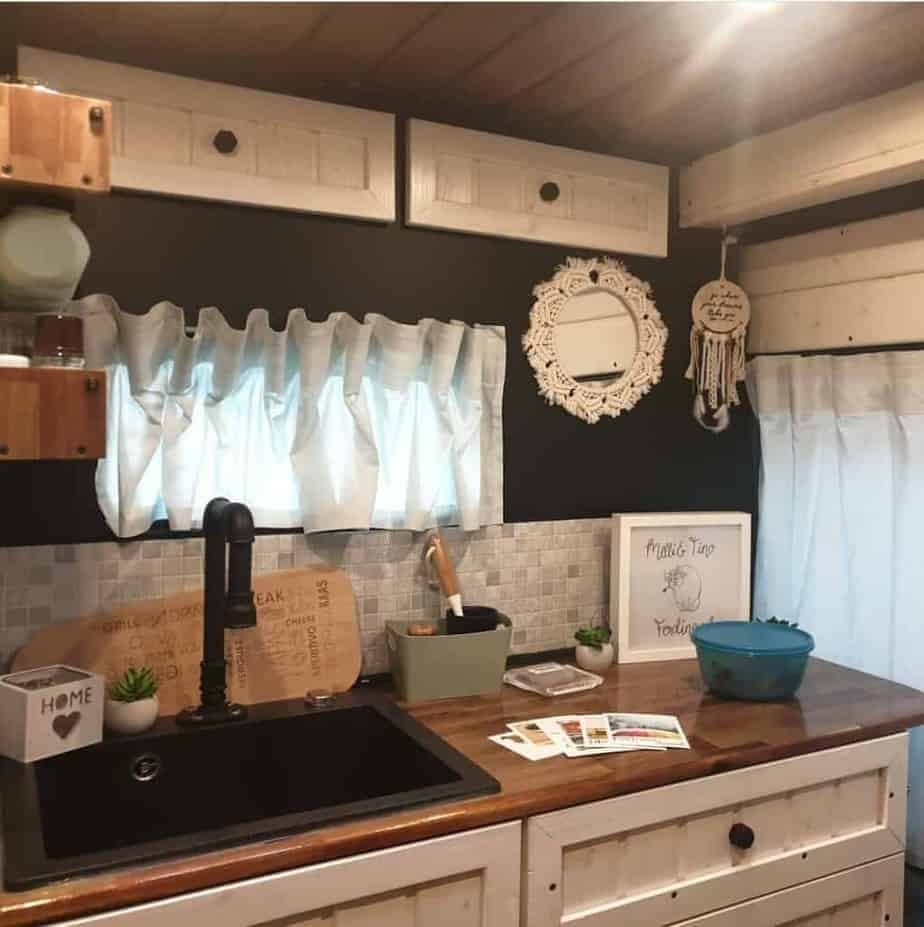 Brit & David
Last but by no means last on our list of 10 van kitchen ideas is this 2019 Ford Transit high roof van. This van is shared by Brit & David and their doggy Pepper, who even has her own little doggy dining room in the van kitchen!
Their kitchen is fitted out with a two burner stove, chest refrigerator and a gorgeous hammered copper sink, which gets well used for the dishes and puppy baths!
They have some beautiful features in their van, those with a keen eye may have noticed the epoxy resin board which was made by David, and comes in handy as a charcuterie board for the ultimate van life meal.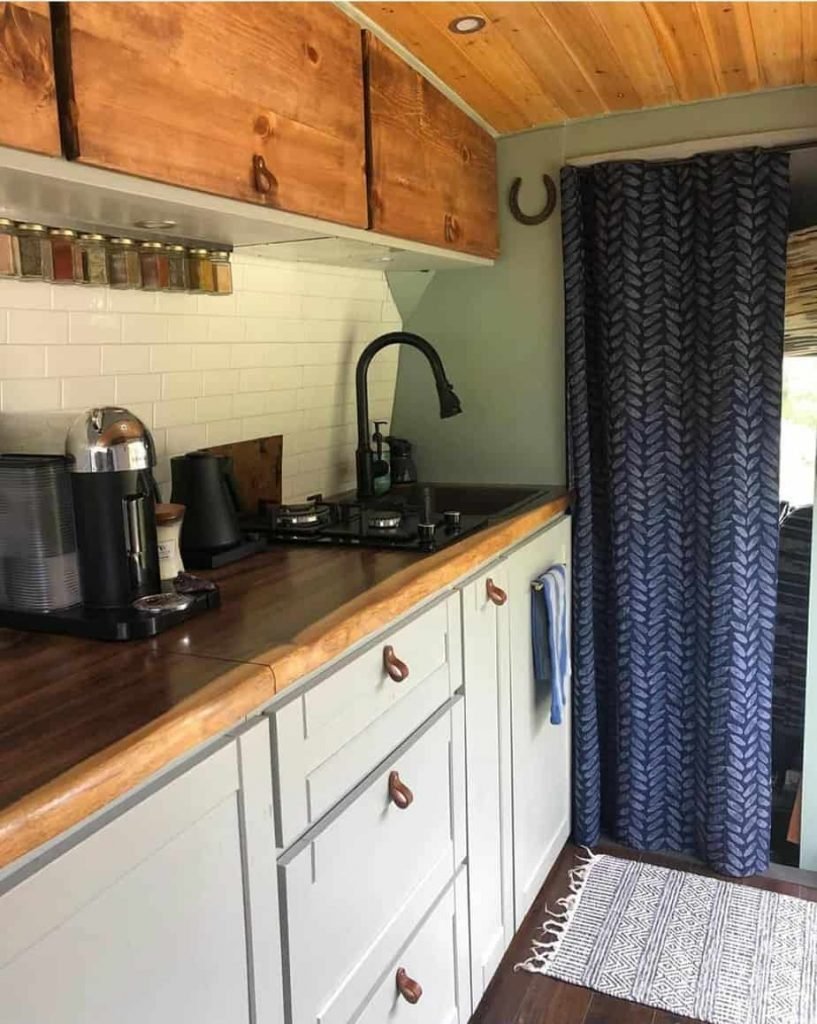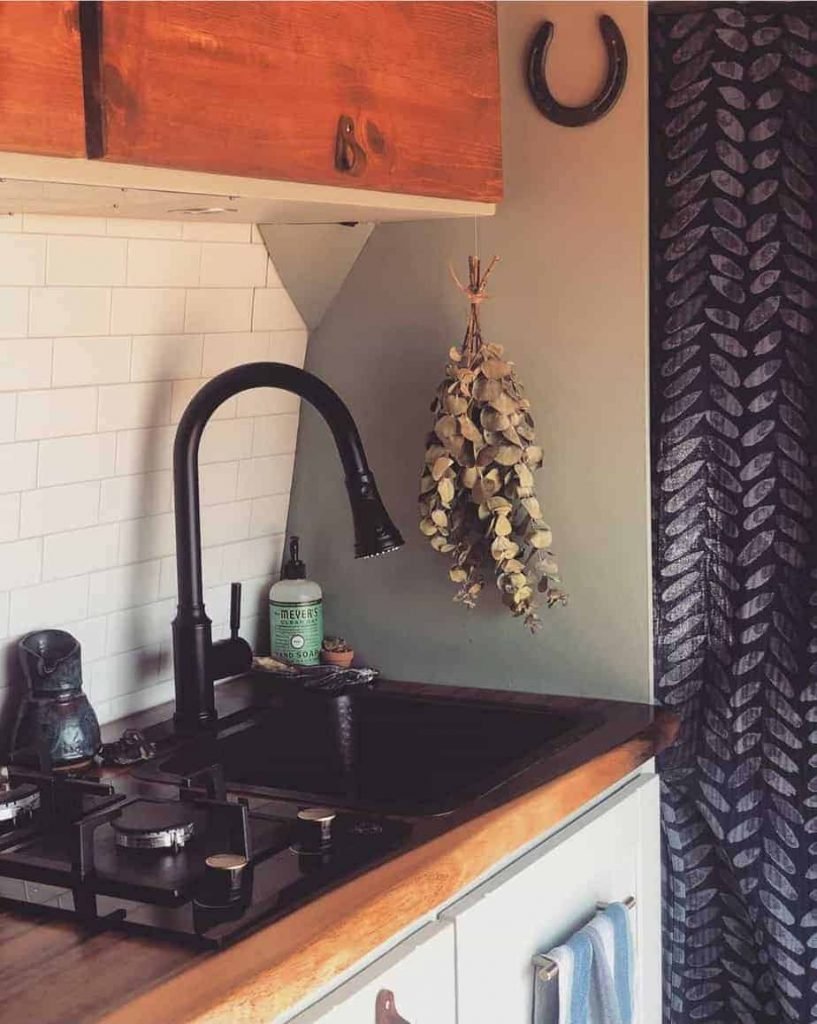 Coffee is an essential item in this van kitchen and so it comes as no surprise that their favourite features revolve around it with Brit's being her Nespresso machine and David's being his electric kettle.
Favourite Van Kitchen Gadget – They have been using their spiralizer lately, really enjoying zucchini noodles which they feel are a great addition to a light & nutritious meal. This gadget is pipped to the post by their cast iron skillet, which we agree is a vanlife essential.They cook most of their food with it and said it's super versatile.
Favourite Van Life Kitchen Recipe – Grilled chicken with fresh green salad is their most eaten meal, but their favourite (including Pepper) is when they get the stove top popcorn on the go, ready for movie night with their projector screen.
Instagram: bad_vanmajamma
Hopefully you have enjoyed a look into these beautiful van kitchens and have found some ideas for your own van or van build. Keep an eye out for future articles on inspiring van life kitchens, yours could be next!