Meet featured vanlifers Andy & Ayana of The Buslife Kitchen. Cookbook author, jeweller, chef to fellow nomads and living buslife full-time. Andy and Ayana live full time in their bus Sweet Bea with their gorgeous puggle Tori.
More about these featured vanlifers
Vanlife or Buslife was something this pair discussed on their very first date, and they realised they shared this idea of lifestyle and adventure.
"We both love travel and adventure, and wanted to live a simpler life with more time to focus on the things we really care about. Living small and nomadic means we can work less and enjoy more"
Shortly after meeting the pair bought a bus and the conversion began. The bus was used for helping to transport disabled people. After converting it, they have been living in Sweet Bea for the last 2 years. One of their favourite features of the bus is the roof deck. What an amazing spot to sit and watch the sunset or watch the stars together.
Ayana is a silversmith who makes jewellery on the road. The pair really enjoy foraging and so it's natural this love reaches into Ayana's jewellery making too. She quite often sets flowers and plants they find on foraging trips into resin for jewellery.
As well as foraging Andy enjoys hunting and fishing and enjoys creating recipes with what he catches. Living buslife and meeting fellow nomads on their travels, he began to cook for them. That is how The Buslife Kitchen came about…
The Buslife Kitchen
After cooking for fellow nomads on the road on their buslife adventures, Andy decided to share these delicious recipes with others. As writing is another passion of his, he decided to write a cookbook. Living in the bus gave him the time and opportunity to write his first cookbook, The Buslife Kitchen. The cookbook features 107 recipes from 15 different cuisines, and aims to bring gourmet meals into tiny homes everywhere. The recipes are designed and cooked in the kitchen on the bus and so is perfectly suited to those whose home has 4 wheels. All recipes are designed to be made on a stove top, ideal for those of us who don't have ovens! You can purchase the cookbook right here The Buslife Kitchen.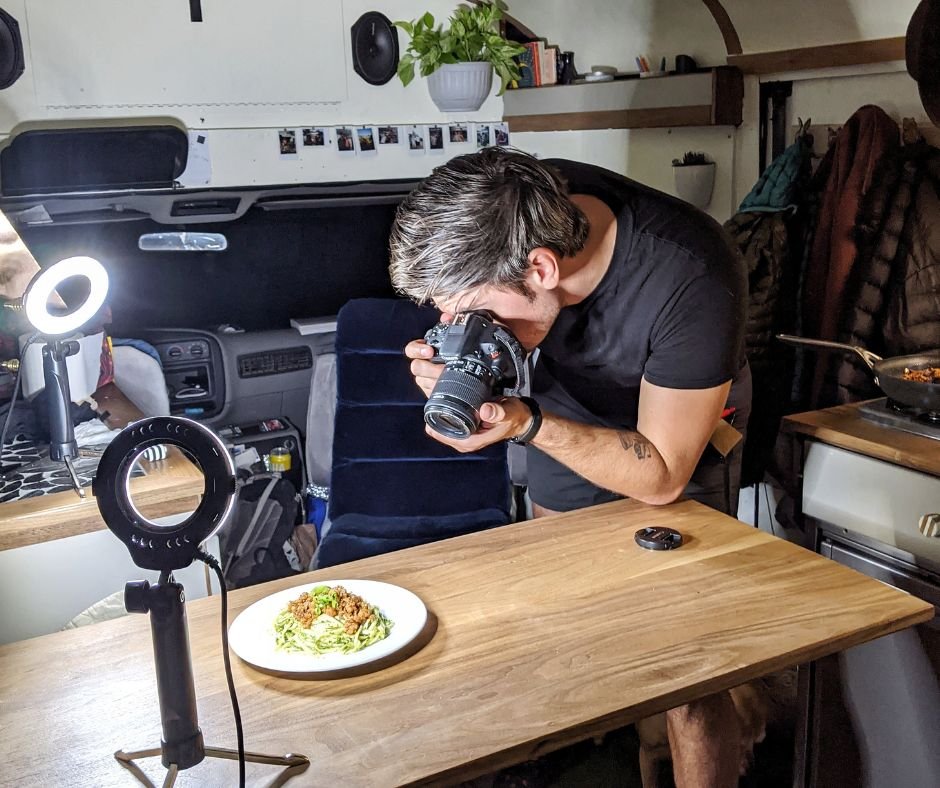 Adventures of featured vanlifers Andy & Ayana
Their favourite place to be is parked up in the forest. They park up on public lands as much as possible, but have been known to park on friends driveways when needed. Having said that, travel and adventure was what the pair were seeking and what better adventure than joining the circus! During a pretty bad breakdown of the bus Ayana was offered the job of a Nanny with a travelling circus. This pair swapped buslife in the forest for a more urban adventure travelling around different cities and seeing what they have to offer. After a year of this, nature was calling them and they headed back on their buslife adventure.
As much as they love travelling together, they both have their own favourite places they have visited. For Ayana, her favourite place so far has been nestled amongst the pinyon and juniper tress in the Red Rock desert Sedona, Arizona. They spent several weeks there enjoying many of the free camping spots.
Andy prefers to be closer to water, so his favourite spot so far has been Telephone Cove in Nevada. Free camping right on the beachfront with crystal clear waters, buslife at it's best. Their ultimate dream would be driving the bus to Alaska so make sure to follow their socials and keep an eye on their travels (links at the bottom of the page).
There are many ups and downs when living in a bus full-time. As with any vehicle they can break down from time-to-time. 6 months after being on the road they were driving through the desert. When Andy looked in the mirror he noticed motor oil down the side of the bus. They immediately stopped and were lucky enough to be close to a town and were towed to a garage. Being stranded without a vehicle is one thing but when it's also your home it has extra implications. Luckily, the mechanic worked his wonders and they were back on the road a day later.
As well as lows there are so many highs when living in a bus full-time. The ever changing scene out the window, visiting new places, experiencing a more simple lifestyle to name a few. The community is an amazingly supportive one, and one of the couple's highlights so far involved fellow nomads. They decided to have a small thanksgiving feast with fellow nomads, with Andy doing the cooking! Which was no mean feat in a bus with no oven. There is little they like more than setting the table for friends and enjoying a good meal together. We can't agree more and love the way food can bring joy and people together!
Sometimes life reminds you why being a nomad and having the ability to up and leave is a good thing! Andy and Ayana were visiting a warm spring in California when they met some of the locals. A group of older people enjoying the nudist lifestyle. This in itself wasn't an issue, but their incessant talk of their 'group' activities made for uncomfortable listening. Many characters were encountered, including Beach ball Bob and his wife. Beach ball Bob, called this because he resembled, you guessed it, a beach ball. When Bob had a little too much to drink he would recite his escapades from high school. Primarily the time he blew up a trash can at school. While regaling everyone with this story Bob's wife would disappear into the bushes with the masseuse. He actually turned out to be a trucker, who was on good terms with all the wives in the group! So unfortunately the trip to the hot spring didn't last too long before Andy & Ayana were on their travels once more
The kitchen in the Bus
With The Buslife Kitchen cookbook being written, designed and photographed in the bus, you may imagine a large sprawling kitchen. The bus has a 3 burner propane stove, and a large 78l fridge. As you would expect with an enthusiastic chef there is a full spice rack and pantry. Good quality cookware is also a must. A fair chunk of their storage in the kitchen is reserved for their cast iron cookware and kitchen gadgets. Their favourite kitchen gadget is their immersion blender, a great multi purpose gadget. Not only can it be used as a blender, but also as a whisk, food processor, and milk frother.
When designing the layout of the bus, the kitchen was an important aspect. They knew they would want to make many amazing meals in there so it was a very important part of the build. It was essential for them to have a large enough fridge for their ingredients, as well as a good solid worktop. As with many vans not having an oven can mean a different way of cooking. This took a while to adjust to, the first time Andy attempted to roast a bird on the stove he burnt the base for the gravy. Ever the professional though, he pulled it back and made a delicious gravy in the end.
The couple try to eat a varied diet from a range of cuisines, and limit their meat consumption so make a lot of vegetarian meals. One of their favourite meals to make in the bus is sushi, something vanlifers shy away from. Sticking to vegetarian sushi means there is no need to find fresh fish on the road. It is easy enough to make but feels very luxurious!
Advice from our featured vanlifers
When we asked featured vanlifers Ayana & Andy what advice they had for anyone considering vanlife or buslife, this is what they said….
"Do it. You only go around once, and nothing is guaranteed. Don't spend your time living by anyone else's rules"
Where to find our featured vanlifers.
You can find our featured vanlifers on their socials below. If you can't wait to get your hands on their cookbook then you can find one of their recipes right here. Rigatoni alla vodka, enjoy!
Instagram: www.instagram.com/the.buslife.kitchen
Instagram: www.instagram.com/letsliveeverywhere
Facebook: www.facebook.com/the.buslife.kitchen
TikTok: www.tiktok.com/@the.buslife.kitchen
Website: www.thebuslifekitchen.com