Whilst the choice of many Van Lifers is to keep a van life oven simple and low cost, there are many options available to help you conjure up some incredible meals that people wouldn't believe was van-made.
To find the best oven for Van Life you need to take into consideration a few things. The type of food you like to eat, the kitchen space available in your van and the type of fuel you want to run your Van Life oven with. With the right equipment, you can cook incredible meals in the simplest van kitchen.
If you are living in a van 24/7 and you aren't rich enough to eat out every time you want a hot meal, then having some sort of cooking device in your van really is important and is something you need to look into. It will allow you to have cooked meals whenever you like. In this article, we will look into what cooking equipment is available out there and what we recommend you should look into buying.
The Ridge Monkey Toaster is an amazing piece of cooking equipment that allows you to cook just about anything on it.
It is essentially two frying pans that are on top of each other to create an enclosed pan. This makes it easy to simply turn the pan over to cook your food evenly.
One of my favourite advantages of the RidgeMonkey toaster is how it greatly minimises any oil or food splashes that you would get from a regular frying pan.
It is reasonably small in size, so I suggest purchasing the XL version to suit cooking for two people. You can easily get two chicken breasts cooking in this.
The amount of meals you can cook using this device are endless. All it needs is a basic heat source such as a stove top.
If you are out of the van, you can even use it on campfires or fire pits. If you don't have a hob and are trying to live a more minimal life this versatile cooking pan is a must!
This is a popular device amongst those who travel around in vans. It's also one of our favourite kitchen accessories!
The Omnia Stove Top Oven is a circular tin that sits on your stovetop and is very versatile in what you can cook in it.
Omnia describe this kitchen accessory as a 'bread baking and oven cooker', which goes to show how it can be used to cook a variety of dishes. Can you imagine being able to make cakes in your van? ?
The Omnia website has a variety of recipes as well so that you are able to get a lot of ideas for what you can use the oven for. It is definitely worth checking out here!
If you want to be able to cook amazingly delicious slow cooked food from the comfort of your own van, then this device will be an absolute game changer!
The hay box / dutch oven technique has been used for centuries. It is an insulation technique that is used to cook food over a period of hours, which then results in a slow tender cooked dish.
The idea is to conceal the heat within an enclosure made of a material that has minimal cooling, thus when hot food is placed within, it reamains at suitable temperature to slowly continue the cooking process.
One of the best things about this device is that it uses little to no power at all to operate! The only use of heat or gas is at the beginning when you first cook to the desired temperature you need the food to be at. After that, it can just be placed in the box and it will cook itself.
This means that it not only saves you a lot of money, about also a lot of time as you can just leave the meal to cook and head off to do other things in the day whilst you wait!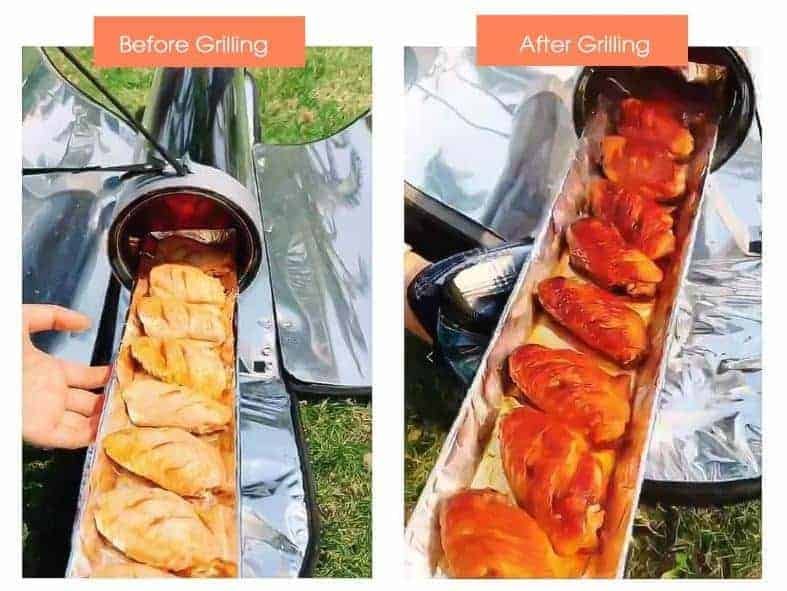 Solar ovens allow you to cook anywhere without the use of any electricity or gas.
The solar oven uses heat from the sun to cook your food. As the sun reaches temperatures of up to 288 degrees Celsius, you are able to cook, bake, steam and roast a meal in under 20 minutes.
This makes them not only very environmentally friendly but also great for van builds with minimal fuel sources.
The solar ovens themselves are relatively lightweight which makes them a great option for vans and is also ideal for those who spend a lot of time outside of their van.
Solar ovens can vary in price and vary on how efficient they are but if you are the hands-on type, a simple google search will show there are DIY options where you can make one yourself.
The Vogvigo solar oven is the perfect size to suit Van Life and not unusably small like some other brands can be.
We have always been a big fan of the Kampa brand. Affordable and you always get a lot of bang for your buck! The Kampa Roast Master is certainly no exception.
It has a two burner stove top as well as a powerful two shelve gas oven, making this ideal for just about any recipe requirments both in and out of a van.
Although its advertised as a portable oven we found its not that easy to lug around so we would recommend this as a more semi to perminant feature of your van life kitchen.
2 in 1 combo hob and oven
Combines compact size, portability and cooking power
Stainless steel insulated shell
Porcelain enamel hob top
Hob with two powerful, fully adjustable, brass burners – up to 1.6kW each
Matchless ignition – just turn the control knob to ignite hob or oven
Lid and windshields protect burners in windy conditions
Powerful 0.6 kW oven burner with flame failure safety device (FFD)
Oven temperature fully adjustable – up to 300˚C
Porcelain enamelled oven interior – easy to clean
Glass viewing window indoor
2 removable chrome plated shelves
Oven temperature gauge
Dual carrying handles
Works from most popular gas cylinders with an appropriate regulator (not supplied)
Sleek and super space saving this hob is very poular with the more compact van builds.
The glass lids double up as an additional work surface either side depending on whether you are washing up or have something on the hob. This is incredibly useful when you are limited on work surface space. Another use for the glass lids is when they are up they act as a splashback guard to stop oil and even water splashing.
The sink has a depth of 152mm which is perfectly suitable for most pots and pans and the built-in tap is small and adjustable as to not get in the way whilst washing up.
Split (2 part) glass lid
Hob/s output 1 x 1.0 kW; 1 x 1.8 kW
Gas consumption 204 g/h
Gas supply pressure 30 mbar
Quality features 2 heat-resistant safety glass lids, detachable chrome pot grids, enamelled burner caps, Piezo ignition, safety ignition system, AC 540 siphon, rubber seal, with hole for tap ( 39 mm)
Dimensions (WxHxD) 900 x 152 x 370 mm
Built-in dimensions (WxD) 793 x 307 mm
Weight 5.8 kg
Conclusion
Hopefully this article has helped you decide whether you need an oven or whether you can get by with other cooking equipment that is available out there.
Take in consideration how much space you have and what will work best for you. Each piece of equipment listed above varies in price and efficiency so do some research in what you are willing to put money on and whether you will actually use it whilst you are travelling around in a van.
Before you go and spend out, dont forget to ask on our forums here
Affiliate Link Disclaimer
We are using affiliate links in this post to help fund the running of the website and for other plans we have for Van Life Eats.

As you probably know, it won't cost you anything extra, but will help us out loads!

We will only link tried and tested products.

Lots of Love
Mark & Sophie