Sian and Scott of the_peri_pot are a Scottish couple who are travelling around New Zealand in their recently purchased van, Alec. Sian is responsible for the majority of the cooking and she comes up with so many culinary delights. We love every one of their posts on Instagram, check their page out!
What country are you based in?
New Zealand
How long have you had a van?
Around 5 months
Why did you choose your current Van?
We are originally from Scotland with no experience living in a campervan so we wanted something as comfortable as possible. A toilet and a shower were a must for us. We spent around a week looking at various vans and saw this and fell in love with it and it ticked all the boxes.
What is your favourite feature of your van?
The countertop oven we bought to replace the microwave that was there
How do you spend your time in your van?
Full time
What has been your favourite experience in your van so far?
Being able to go wherever we want whenever we want. We have parked up in some pretty incredible places.
What has been your worst experience in your van?
I wouldn't say we have had any 'bad' experiences… Yet… For me, getting used to a much smaller space than what were used to, especially in the kitchen was a massive adjustment. When I cook everything is everywhere. I have had to learn to manage that ? Scott's was almost going off the road hitting some black ice
Describe your van kitchen setup…
We are very lucky as we have an amazing set up. We have two gas rings, a gas grill, a fridge with a tiny wee freezer, a countertop oven that you could cook pretty much anything in. We have almost all the pots, pans, cake tins you would ever want (Scott would say too much) and also a great Dutch oven for campfire cooking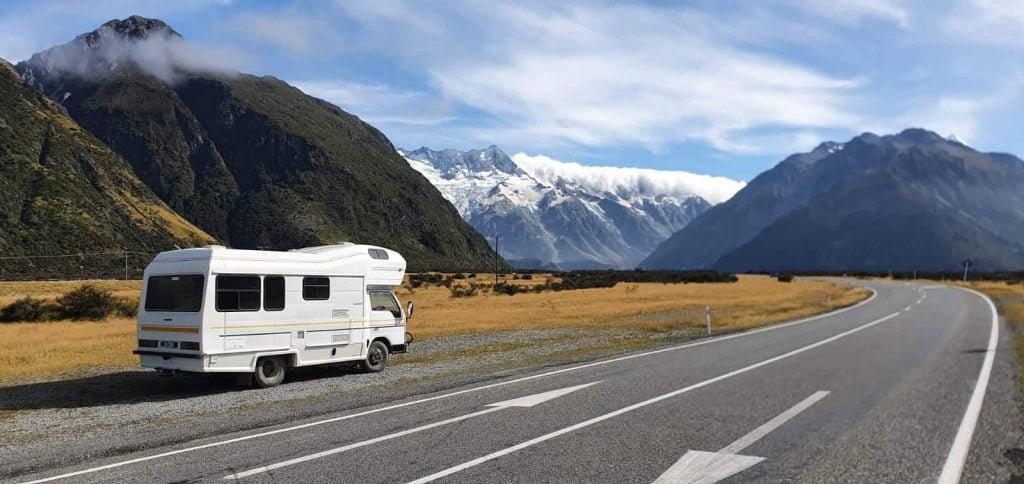 What is your favourite van kitchen accessory and why?
My nutri bullet
What couldn't you live without in your van and why?
Again, my nutri bullet. I use it all the time
Do you have any first hand funny van life stories to tell?
Scott decided to drive down a cycle path, had a fight with a low hanging branch and managed to rip one of our roof hatches off. I saw the funny side… Scott maybe not so much.
You can catch up with Sian and Scott through the social media links on their profile. Don't forget to try their recipes and give them a big thumbs up!
Want to be featured on
vanlifeeats.com?
To apply for a featured post on vanlifeeats.com simply follow this link and fill out the application form. We promote all featured van lifers across all our social media networks, we send out a "featured Van Lifer" sticker for your van as well as awarding you a prestigious badge for your profile on our website.