Featured Vanlifers May, Derek & Chloe share their vanlife experiences with you. Find out what this married couple like to do & eat while travelling full-time in their van.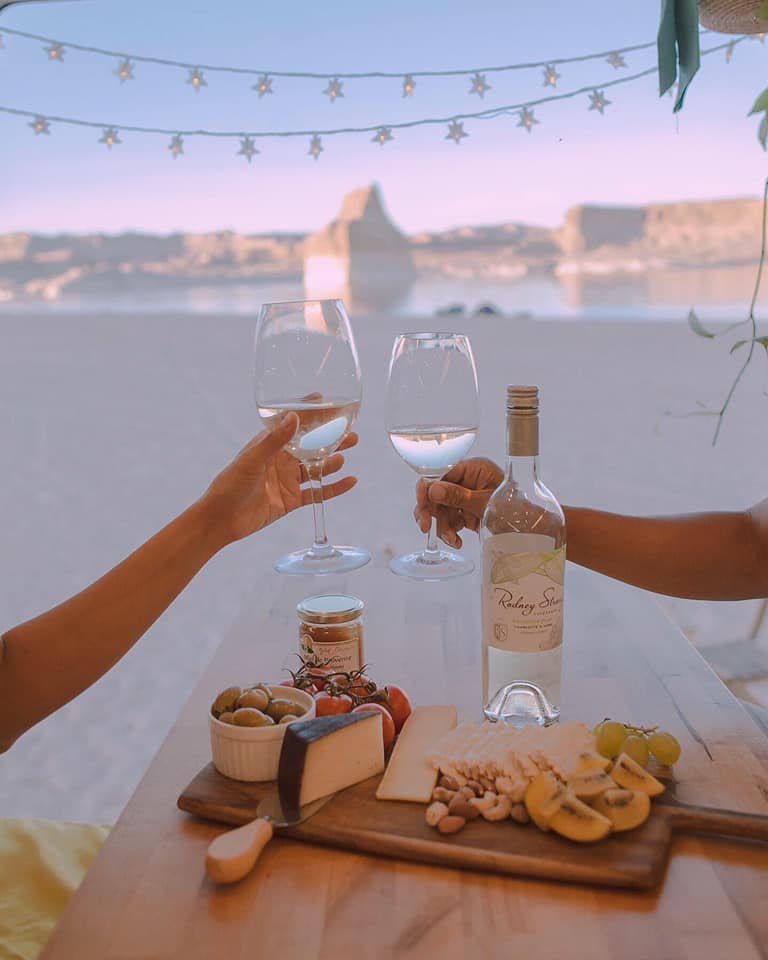 You can follow their adventures on Instagram @mayandtravel. Head to the bottom of the page for links to all their social media pages.
May, Derek & Chloe
These guys love to travel, and one of their favourite things about travelling in their van is that they get to take their dog Chloe with them. The travelling clearly agrees with her as the 11 year old still looks like a pup!
If you have seen their Instagram feeds you will see amazing editorial style photos highlighting the places they have visited. All of their photos are inspiring and showcase many beautiful places. They are currently based in California, travelling full-time in their van 'The Ark'.
What do featured vanlifers May, Derek & Chloe do when travelling?
There are many things that we see vanlifers enjoy doing on their travels, hiking, climbing, kite surfing and yoga to name a few. Many also like to take an instrument such as a guitar on the road with them too. Not many take a guzheng and piano along on the journey though! Music is a real passion of May's and there is no way she wanted to miss out on that when travelling. There is something very magical about watching someone play the piano with rolling waves through the window in front of them. Head to the bottom to find her instagram dedicated to the music she creates in her van or the wild.
The musical talents do not end there either! May quite often makes the most of the open spaces when travelling by performing traditional chinese dances.
The pair really enjoy seeing Chloe exploring new places. They regularly take her hiking and for walks (chasing squirrels is one of her favourite activities!). They say whatever provides their dog happiness also brings them joy and is the highlight of their travels.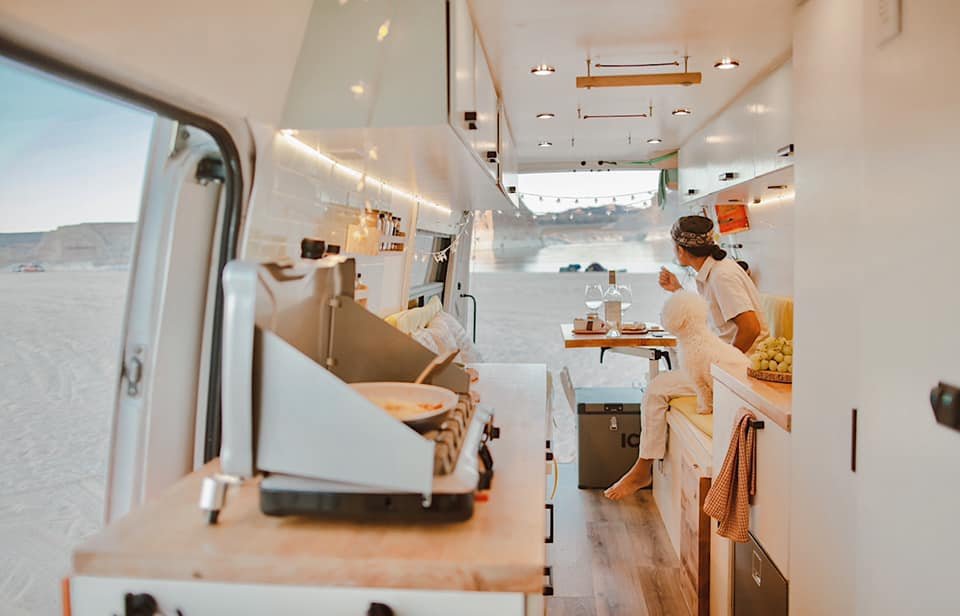 What do featured vanlifers May, Derek & Chloe eat on the road?
The couple are very conscious of eating well on the road, and are adamant this keeps them healthy. May & Derek have not experienced illness for years, including headaches, colds, sore throats etc. They attribute this to the healthy diet they eat. Living on the road does not mean healthy meals can't be enjoyed!
The majority of the couple's diet is plant based, and about 20% is made up of chicken, sea food etc. They like to keep things natural and avoid processed food. They have been lucky enough not to have any cooking disasters in their van so far! May's favourite meal to make in the van is a coconut soup, Tom Kha Gai. You can find the recipe right here!
Chloe also eats well on her travels, she has meals cooked for her daily. These usually contain cod or tuna with raw vegetable juice over the top. As with their own health, they are certain this diet attributes to Chloe's health and youthful energy.
Their van kitchen
May and Derek have the benefit of being able to cook indoors and outdoors. One of their favourite things about cooking in the van is that they cook with different views everyday. What's not to love?!?
May's favourite kitchen accessory is their pressure cooker. It gets used to cook many delicious Vietnamese dishes such as rice, pho & beef stew. Her favourite features of their kitchen are the vast storage space & counter top area. Space can be limited in a tiny home so counter top space is such a luxury. By not having a fixed hob not only does it create space, but allows the opportunity for outdoor cooking.
Their van pantry essentials are: sea salt, cayenne pepper, olive oil, apple cider vinegar, paprika, raw honey & tumeric powder. All great ways to add flavour to dishes.
What's next for featured vanlifers May, Derek & Chloe?
The couple dreamt of vanlife for 2 years before they converted their van, and their favourite place to visit so far has been boondocking at Mammoth Lakes. The area has many beautiful secluded hot springs.
As well continuing with exploring and hiking, May will continue enjoying her music & calligraphy. When the pandemic has ended and travel is more accessible the couple are planning on travelling to South America & Canada in The Ark. We're sure Chloe is looking forward to finding more squirrels to chase!
Their tips for future vanlifers….
One tip for my fellow vanlifers is getting organized. Organization skill is one skill that you need to master when planning to live in a van. It's all about surviving in the tiny space with only basic things that you need. You couldn't afford to create a mess in your kitchen, leaving unwashed dishes in the sink, or fit junk food into your fridge. You need to be organized in every little aspect from cooking in your kitchen to planning where to sleep every night. 
Where to find May, Derek & Chloe..
May: @mayandtravel
Derek: @derekandtravel
Chloe: @chloeandtravel
May Music: @mayandguzheng
Website: https://www.inarabymay.com/