We are proud to introduce our first featured vanlifers, Chris & Shelby, travelling full time in their 1989 Dodge B250 van Luna and not forgetting their trusty travel companion Hagrid the Bearded dragon.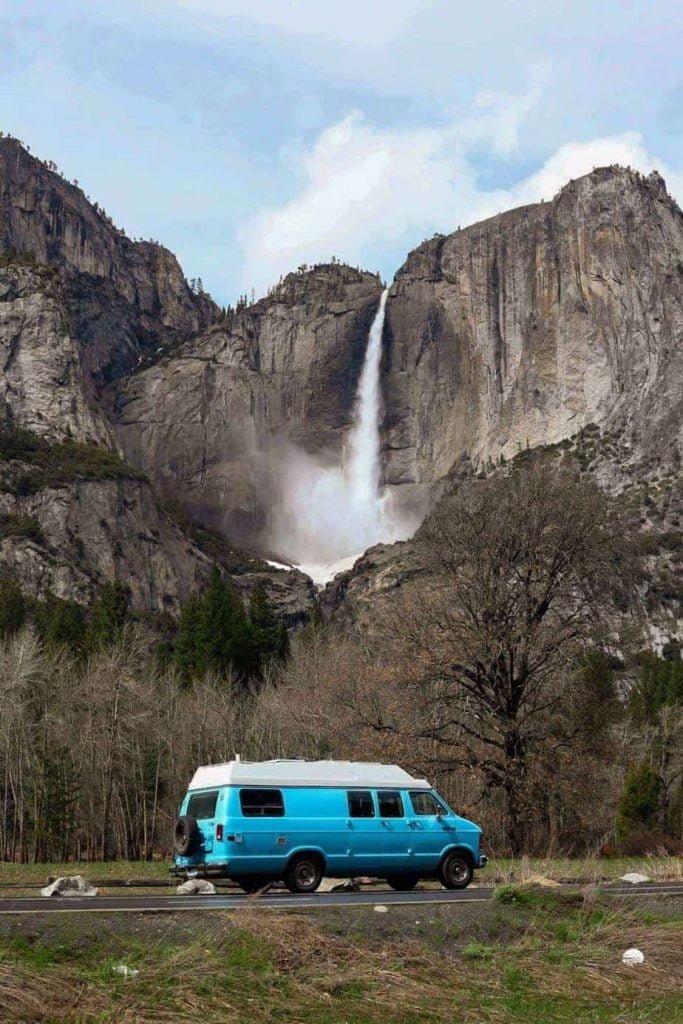 What country are you based in?
United States
How long have you had a van?
We've had it for over 4 years, and have been traveling full time for a year and a half.
Why did you choose your current Van?
It was affordable, already a camper, and we were anxious to get going! We thought it would be a quick remodel. But we had to tear it all out and start from scratch! Lol.
What is your favourite feature of your van?
Ooh! This is hard! Our comfy bed? Our bookshelf? Or maybe our big map of America, where we track our travels with map pins!
How do you spend your time in your van?
Full-time
What has been your favourite experience in your van so far?
Besides experiencing the incredible locations our van has taken us to, we have loved the drives, and Shelby reading Harry Potter out loud to Chris. And it is always so neat to get to a boondocking spot at night, and wake up the next morning to see the beautiful location for the first time, while we enjoy breakfast with our morning coffee (Chris) and tea (Shelby).
What has been your worst experience in your van?
We don't have air conditioning, so being in warmer climates and dealing with the heat in our van has been rough. It's always at least 10 degrees warmer in the van. Our Fantastic Fan does help a little bit!
Describe your van kitchen setup…
We have a covered sink with running water (from an electric water pump), a covered two-burner propane stovetop, a pull out cutting board, and a magnetic spice rack ( ). And we have cupboards for food and cookware.
What is your favourite van kitchen accessory and why?
We LOVE our trusty little kettle! We don't have a hot water heater, so we heat all of our water in our tea kettle on the stove (mostly for washing dishes and making tea and coffee ).
What couldnt you live without in your van and why?
Shelby cooks a lot, and we buy a lot of fresh produce, so our Dometic fridge is a life-saver! We only need to grocery shop once a week, and can stay longer in awesome boondocking locations.
Do you have any first-hand funny van life stories to tell?
While boondocking on the Pacific Coast Highway, a drug dealer in a truck camper slammed on his brakes, peeled over, leapt out, and immediately offered Chris a job. And to prove he had the money to pay him, he opened a door and pulled a wad of cash out of his cat's litter box, while the cat stared into Chris' soul. Although the drug dealer was nice, Chris did not take said job.
What do you like to cook in your van?
Chris & Shelby have added their favourite recipes, right here. These include pizza dough, loaded sweet potatoes, and creamy chicken & corn chowder.
https://instagram.com/happy_vagabonds
You can catch up with Chris, Shelby and Hagrid through the social media links on their profile. Don't forget to try their recipes and give them a big thumbs up!
Want to be featured on
vanlifeeats.com?
To apply for a featured post on vanlifeeats.com simply follow this link and fill out the application form. We promote all featured van lifers across all our social media networks, we send out a "featured Van Lifer" sticker for your van as well as awarding you a prestigious badge for your profile on our website.