Here at Vanlife Eats we have been very lucky to receive a bundle from Just Smart Kitchenware to review. Click here to go to the product review section on our website to read other reviews on their products.
This review is of the Just Smart Kitchenware bundle, the bundle arrived in a cute jute bag. A great idea to save on packaging and it can also be re-used. Either keep it in the van for your shopping, or use for packaging gifts.
Inside the bag you will find 2 large, square collapsible storage tubs, a collapsible multi-function bowl and a collapsible funnel.
A bit about Just Smart Kitchenware
If you haven't read our other reviews you may not know about this company, so let us fill you in.
Just Smart Kitchenware is headed up by Jacquie, a lady keen on travelling. She travels Australia in her trailer. While travelling she realised there was a gap in the market for van kitchen storage and Just Smart Kitchenware was born. Items are available to purchase on Amazon as well as at www.justsmartkitchenware.com. (Scroll to the bottom for an exclusive discount code). They currently dispatch to the UK, Australia & Germany.
There are 3 main features of their products:
Space-saving
Multi-function
Quality materials
Smart tubs
We LOVE re-useable tubs in our van, it helps us reduce our waste and means we use less plastic.
As with the other Just Smart Kitchenware products these tubs are completely collapsible. This is ideal for life on the road, as when not in use they can be collapsed to use minimal space. Essential in a van kitchen. These tubs are made of silicone, meaning no chance of any breakages on the road. There is also the advantage of them being lightweight for those worried about weight.
See our previous review of a different set of tubs from Just Smart Kitchenware here. We enjoyed using them, but the main issue we had was that they weren't leak-proof. Also we liked the minimalist look they have, but realise some people like more colour in their tiny space. The new tubs solve both of those issues!
They are definitely leak-proof. We put them through their paces and had no issues at all. These tubs are transparent with a little pop of colour, which actually fits our colour scheme pretty perfectly!
Just How Smart?
Here is what we did and didn't like about the tubs. The fact these items are collapsible makes them perfectly suited to vanlife. This and the fact they are light means we are very happy to use them in our van kitchen.
We love that these are leak-proof, we have mentioned before that we are soup fans in the winter and these tubs are perfect to store it in! We have tried tubs that have unfortunately leaked, but no issues here. They are great for taking along on trips, picnics etc too.
We love the colours of these new tubs, they fit in with the Vanlife Eats van perfectly. The transparent tubs make it easy to see what's inside with a quick glance. The only downside we found to this was that we noticed a slight stain after storing a curry in one. To be fair, we think the majority of transparent tubs would stain after having a curry inside. It hasn't affected the use at all it is just something to bear in mind.
Bowled over?
Next out of the packaging was the multi-purpose collapsible bowl. Mark loves making 2 ingredient bread in the van (recipe here). He bought a mixing bowl for this purpose, and it was too big! Tiny kitchens with limited storage space and large mixing bowls do not mix.
This bowl isn't very large but it's an adequate size for a van kitchen. Mark managed to mix up his bread mixture with no issues. The best thing about it though, is that it is collapsible. When not in use, simply collapse it almost flat and put away. As with the other Just Smart Kitchenware it is made of high grade silcone. This means there are no chances of breakages.
After both of us using the bowl neither of us had anything negative to say about it. In fact we love it! We feel it is the right size for our van kitchen, a salad for 2, making up bread etc.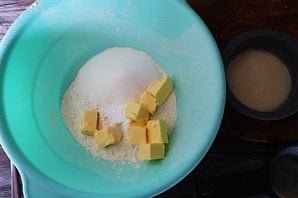 Funnel-ly..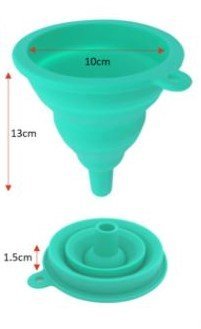 The item we used least was the funnel. We think for vanlifers who like to make their own preserves etc then this would be really useful. It can also be used for disposing of cooking fat into a bottle, or when making orange juice.
As with the other products it is completely collapsible. It is also the same colour as the bowl, providing a bit of colour in your van kitchen cupboards. The top is fitted with a steel rim making it sturdy even though collapsible.
What did we think?
We loved everything about this bundle. Would we recommend it for vanlife? 100%!! There isn't much better suited to vanlife than collapsible, lightweight kitchen products.
A couple of other things to mention, all these products are super easy to clean. Even after cooking in them or reheating food in a microwave, they still clean easily. This is such an important factor when picking van kitchen storage. Easy cleaning means less water when washing up. Water can be a limited resource in a van so using less is always best.
A second thing to mention is that these items can be used in the oven also. If you have an oven in your van, these are safe to use in there (apart from the lids). Ideal for baking or reheating leftovers.
Exclusive offer
If are reading this you think you NEED these in your van kitchen, then you are in luck. Just Smart Kitchenware are kindly offering 15% off this van kitchen bundle. Head to www.justsmartkitchenware.com and enter discount code 'vanlifeeats'. Only valid for this bundle and not other Just Smart Kitchenware products.