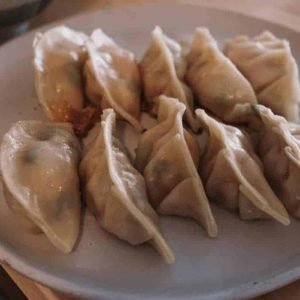 Vietnamese Dumplings
An amazing tradition veitnamese dish - Although fiddly, they are definitely worth re-creating in any van kitchen
One-pan - Stove top meal
Ingredients
8

oz

Shrimp

8

oz

Ground pork

1 1/2

tsp

Grated ginger

2

Garlic cloves

minced

4

tbsp

Chicken broth

2

tsp

Soy sauce

1

tsp

Salt

1

tsp

Sugar

2

tsp

Cornstarch

1/2

tsp

Sesame oil

1

tbsp

Mirin

1/8

tsp

Pepper

4

Scallions

Dumpling wrappers

Cooking oil

1

Dipping sauce
Instructions
In a large mixing bowl, add the shrimp, pork, ginger, garlic, chicken broth, soy sauce, mirin, salt, sugar, 1 tsp cornstarch, sesame oil, and pepper.

Mix with a pair of chopsticks in one circular direction.

Add scallions and mix well.

Put one dumpling wrapper in your palm, and have a small bowl of water to use, wetting the wrapper edges with your finger

Put about 1 Tbsp filling in the middle, fold as a half moon shape. Use your index finger to push the filling down, and both thumbs to fold a small crease on one side of the wrapper, pressing the edges together and repeat until the dumpling is completely sealed.

Place on a plate so the dumplings are not touching. You can make as many as you will eat, and put the filling away for the next night, or continue wrapping and freeze the dumplings before putting them in a ziplock bag.

Add 1 Tbsp of oil to a skillet and place dumplings in two rows (8-12 at a time depending on skillet size).

Mix 2/3 cup of cold water and 1 tsp cornstarch in a medium size bowl to make a slurry and pour into the skillet. Turn the heat to medium high heat, cover with a lid and let it cook for 6 minutes or until there is no moisture in the pan. The cornstarch helps to create a nice, crispy bottom to the dumplings!

Mix soy sauce and vinegar for the dipping sauce (add chili oil if you want it spicy). Serve and enjoy!
Nutrition
Calories:
38
kcal
Carbohydrates:
1
g
Protein:
4
g
Fat:
2
g
Saturated Fat:
1
g
Polyunsaturated Fat:
1
g
Monounsaturated Fat:
1
g
Trans Fat:
1
g
Cholesterol:
22
mg
Sodium:
157
mg
Potassium:
62
mg
Fiber:
1
g
Sugar:
1
g
Vitamin A:
21
IU
Vitamin C:
1
mg
Calcium:
10
mg
Iron:
1
mg