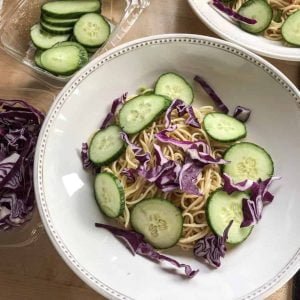 Cold Veggie Noodle Salad
Ingredients
Angel hair pasta

Bell pepper

Green onion

Cabbage

Cucumber

Sesame seeds

Fresh garlic

Fresh ginger

Soy sauce

Sesame seed oil
Instructions
Prep your noodle salad before you hit the road! Boil the angel hair pasta until it is cooked al dente (not mushy!). TIP: Rinse the pasta in cold water to keep it from sticking together (thanks Nana D'Alessio)

You can make your dressing while the pasta is cooking. Mince or finely chop fresh garlic and ginger and put it in the bottom of a small glass container. Add a teaspoon or two of olive oil (add sesame and chili oil to taste) and top it off with a generous portion of soy sauce.

Put your cooked noodles into a large glass storage container. Add some olive oil and chopped peppers and green onion. You can also add half of the dressing here if you would like.

Slice up cucumbers and chop fresh purple cabbage and store them for later.

On the road: We love this salad because it is a simple, healthy meal that we can grab quickly on a long driving day. We pop the salad out of the fridge, dish out our portions and then top them off with fresh veggies (cucumbers and cabbage), some sesame seeds and a little extra dressing. We hope you enjoy!