So after living several years in a van now I believe that I have a bit of knowledge to be able to advise people on what van life is really like. I know it's a cliche but van life really isn't for everyone. there are a lot of life's simple luxuries that you'll have to learn to live without such as regular showers going to the toilet privately even just being able to have a little bit of privacy with your partner.
People decide to live that life for various different reasons but often the case is due to the cost of living in the modern world in tied down to mortgages and renting. some people are able to just jump in a van and afford to live a life of adventure travelling. Personally I ended up falling into van life after a marriage breakdown and having a little option other than renting a room or lodging in somebody else's home. I like the idea of having my own space making my own mess and even more appealing being able to park and pretty much live anywhere I wanted.
I'm not going to lie it was daunting and very scary to start with and I actually found it quite depressing. found it difficult to choose where to park I found the places I did choose to park to be noisy with zero privacy being conscious of making noise and people calling police I was conscious of being broken into I was conscious of people knowing I'm in my van sleeping, which made it very hard to get a good night's sleep. I was generally very lonely.
I had to call upon the help and support my friends and family who were very accommodating allowing me to pub in the drive or in the street where I found comfort in the familiarity of my surroundings.
After few months I got used to it and remembered to buy bottled water. I fitted gas so I was able to keep warm and my full camping stove allowed me to have hot drinks and warm food. I even got used to walking around on my knees as I couldn't stand up in my beloved Volkswagen T4.
By this time I was now a lot more adventurous as to where I parked I have made sure that my curtains cover the whole window tinted my windows to make sure no light would leak out I used headphones for my TV on my phone for entertainment I actually became very cosy and very at home in my tiny space.
I am lucky enough to work remotely so I am able to work anywhere in the world with my laptop and my 4G internet connection so I do spend lots of time in my van. This does mean that I require a lot of facilities such as water. I drink a lot of tea and I need to go to the toilet and of course electricity to power my laptop and music.
This is where I hope my first-hand experience in living van life and overcoming difficulties making life on the road possible will really help others, especially helping with expectations of what van life is really like.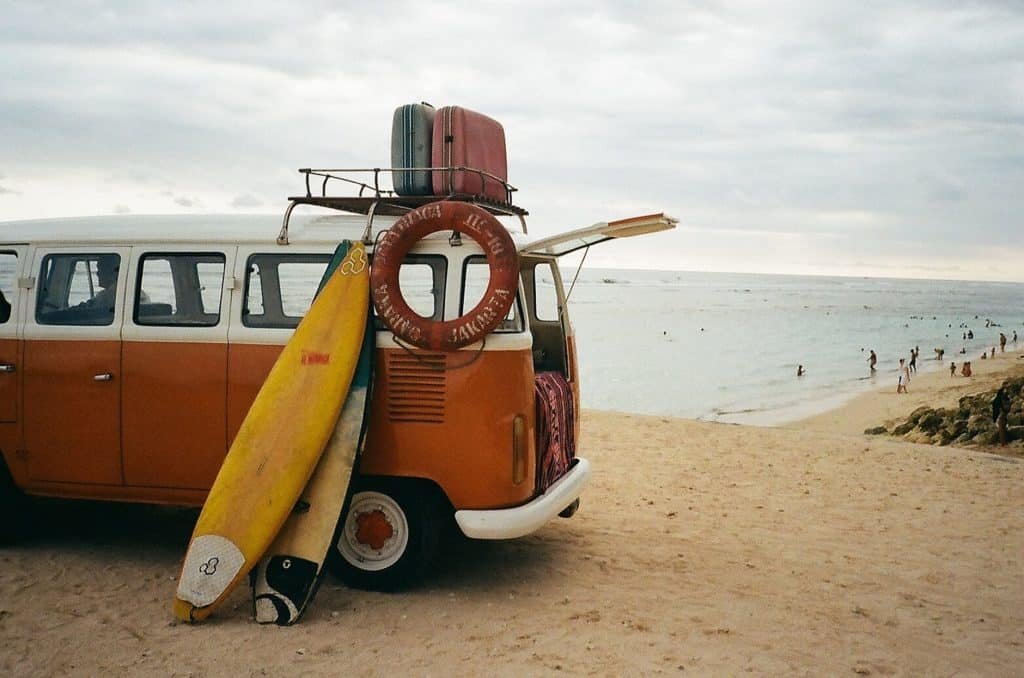 How social media portrays van life
When I look through Instagram looking at other people's van life journeys and adventures, it's always the same overly saturated photos turquoise oceans cliff top views sleeping with your back doors wide open lazing around all day in a thong or overly tight cut down jeans, it does make me a little jealous because I am I'm sitting here ear in the same pair of jeans I've worn all week and I haven't got the heart to cut them down as I fear I would get cold legs from this horrible draught around my side door seal. My curtains are closed so no one can see what I'm doing I'm and when I do peak through the curtain I have a lovely view of a car park and a brick wall. It's not through lack of money it's purely to do with wear my family commitments line my friends and my loved one live.
Van life influences promote the lifestyle glamorise the lifestyle through intensive photo manipulation video edits and of course only documenting the fun aspects of van life. You never see the hours they spend on the laptop editing content to increase followers subscribers likes and of course increasing their revenue. Van life is certainly trending at the moment and a lot of people are misled as to what van life really entails. Social media vanlifers use content as a major aspect of their revenue and there is nothing wrong with this this actually a very exciting way of making money but what is important is that viewers are aware that there will be equally or probably more days of hardship involved in living from a van. Seriously who would want to watch a YouTube video of a vanlifer holding in a turtle head frantically looking for a public facility!
Just don't be drawn in thinking it's a glamorous lifestyle with day after day of adventure, there really are sacrifices you will need to make.
When it comes to living in a van hygiene is certainly one of the most challenging obstacles to get right. From going to the toilet to brushing your teeth and to washing your clothes these are all all important hygiene routines we all need to maintain. Running water isn't the simplest facility to install in your van, and it's amazing just how much water you will go through on a daily basis. Depending on the size of your van and the facilities you have included you may or may not have a toilet TN ind up having to pee he in a bottle or having to to venture outside in the dark at night with a shovel to bury your poop! For those who do have a toilet equipped even then you have to put up with chemical smells or worse! and then you have the hassle of finding somewhere to empty it!
Physically washing becomes a challenge, especially without a running tap, filling up a bowl of warm water and having water splash everywhere. It's even a challenge to dry a damp towel after having a wash! Wet wipes can be a real lifesaver in having a quick wash down.
Brushing your teeth without a sink? Where are you going to spit? Carefully aiming in a bottle or cup? Maybe you're going to spit out of the window and annoy the locals? Even when you do have a grey water tank underneath your sink that greywater really can start to smell. You will need to regularly change this bottle or disinfect the inside to stop the smell.
Washing your clothes inside your van is near on Impossible! Yes you could fill up a tub of warm soapy water, but it doesn't half make a mess inside your van. Unless you are able to wash your clothes outside on a sunny day where you can also hang them up to dry, then you are almost certainly going to need to visit the launderette. Personally I spend an hour at the launderette every Sunday morning listening to love songs and chatting with some grannies.
Generally the best solution all round for hygiene is to maximise your use of public facilities. Join a gym, park near it and use it for regular showers and a full freshen up. Have familiarisation on which service stations and stores have toilet facilities.
As you can probably imagine there are times when this can be a massive inconvenience!
By far the biggest inconvenience is when you need to fill up with fresh water. Here in the UK you're very limited to where you can do this. Some petrol stations such as Sainsbury's have free water that you can use to top up, most graveyards have a tap that you can use although I have never felt quite comfortable topping up from there, and then you need to consider the filtration of the water. Is it really filtered to a drinkable standard?
You should definitely consider a filter for your system. Some filters available even allow you to filter rivers and lake water to a drinkable standard.
Personally I am just a pain in the butt to all my friends and family and often turn up for a catch-up, and a oh.. may I pretty please top up my water?
Toilet
As mentioned previously, it's always best to make regular visits to public facilities and minimise the usage of the toilet in your van (if you carry one) for two major reasons: the smell and also the hassle of emptying the toilet. You can not simply empty it anywhere, especially if you use chemicals to eliminate odours and break down the waste.
For chemical toilets you have only a few options to empty it:
Designated camp site waste disposal facilities – this option usually involves a fee or even an overnight camp pitch. It's certainly the most ethical method as you know your waste will be treated correctly as per environmental responsibilities. One major problem is that camp sites aren't often open all year round, leaving you with less options during the winter season.
Public toilets – not necessarily illegal or any thing wrong with emptying your waste cassette in to public toilets but it's certainly frowned upon. Does it really make a difference if it's from a container or out of your own body directly?
If you get seen by a caretaker of a public toilet carrying an obvious toilet cassette chances are they will say no you can't. There are however, more discrete public toilets that are vital to keep mapped for your conveniences! What you must also bare in mind is many car parks that house these toilet facilities have height restrictions. If your van is a high top then your options are once again limited!
What do I do? I contacted my local all season campsite and managed to make an arrangement that once a week to visit the disposal unit. I don't do this every week entirely as I once again rely heavily on my relatives to be accommodating for this hassle and empty in a downstairs toilet. Be careful! These loos can drip and leak blue, red or green chemicals or worse still, human waste! Maybe only ask of you know they have an outdoor or ground floor toilet!
Housework
Arguably this is a regular chore for any living space, be it a house or van, but when you are living in a tiny space such as a van, even the slightest bit of clutter can ruin your feng shui and make your home look a right mess.
Wet or muddy shoes can leave a trail of splatters everywhere! Even having a space to leave your dirty shoes or where to hang a wet coat can be a hassle.
I am constantly sweeping the floor with my dustpan and brush. I also go through so many floor wipes!
Washing Up
Washing up in a tiny sink can be challenging. Water splashes everywhere and marks the walls. There's little space to leave the dishes and pans to dry and unless you have a spare pair of hands to dry as you go, then you'll end up further spreading water. It's best to wash, dry and put away as soon as you've finished eating.
This hassle actually ends up putting you off cooking and encourages convenience food!
Accumulating Clutter
No matter how minimalistic you try to be, you will accumulate more and more belongings as time goes by. Books, clothes, shoes, gadgets, kitchen utensils.. it just happens. The amount of times I've made my van look pristine and then come back after shopping with new things and had a hard time finding a place for them to go. My clothes draws have now filled up to the point where everything is crammed in, I have books tucked down the side of the sofa, I have a box of gadgets, chargers and leads stashed under the sofa. Like I said, it just happens.
You almost certainly need to have a storage unit, room or garage on rent in order to store these accumulations. Christmas is coming where's the decorations? Probably not stored in your van. Also there's presents coming your way, better make some space!
Keeping Warm
Without investing in a quality van heater, in cold weather you will suffer! Before I had my diesel heater I was wrapped in a cold-weather sleeping bag with a heavy duvet and blanket on top. It was horrible in the winter! I did not want to get out of bed, and working was near impossible to do! I used to get myself to a warm coffee shop ASAP, although I was able to get on with work, it made the Van Life side a lot less enjoyable.
Mental Effects
Many vanlifers give up after a couple of years, not only because of the inconveniences, but also for the mental toll it has on you. It can be a lonely place, you may spend a lot of time on your own in your own mind, you will be questioned on why you live in a van and be made to feel like an outcast. It really can make or break depression and anxiety.
It's not all bad…
I've mentioned a lot of the down sides and inconveniences of Van life here as I've wanted to put across the point that most of the time your van is a mess, you are always on the scrounge, and chores are challenging. The photos on Instagram or the adventures on YouTube just don't capture this side of the lifestyle.
There is of course so many up sides to Van life not to be ignored!
The obvious is the freedom, parking up wherever you want, low-cost living and flexibility of where you decide to live in the world. Home is where you park it right?
My favourite part of Van life is whats influenced me to build this blog, remote working and online business. It really has opened my eyes as to how money is made in this modern age. Without the freedom and clarity that Van Life brought to me I would most likely be working in an IT job earning a standard UK wage. How life is different after building my online business and various revenue streams.