Wondering what gift to get a vanlifer in your life this Christmas? We've got you covered with this list of essential vanlife Christmas gifts. No need to worry about saving the gift receipt for any of these Christmas goodies. All the gifts on this list are sure to make any vanlifer happy this Christmas and are absolute vanlife essentials.
We have included options for all budgets, and are things that we love to use in our own van so can fully recommend them to you.
This article does contain affiliate links. Vanlife Eats is a hobby of ours and using these affiliate links helps to cover the running costs of our website with no extra charge to you. Thanks in advance for your support.
Essential Vanlife Christmas Gifts for under £20
These essential gifts are perfect for filling the stocking of a vanlifer you love this Christmas. If food heavily features in your vanlife travels then you are going to want to check these out.
Cooking Cosy
In these tough times with energy costs going up, you may just want this gift yourself! The Cooking Cosy is a little hat for your pans. It means you can bring your food to the boil then leave it to continue to cook under the cosy. This allows you to save on gas, so not only a vanlife essential but also in the home if you do vanlife part-time. You can buy your cooking cosy here.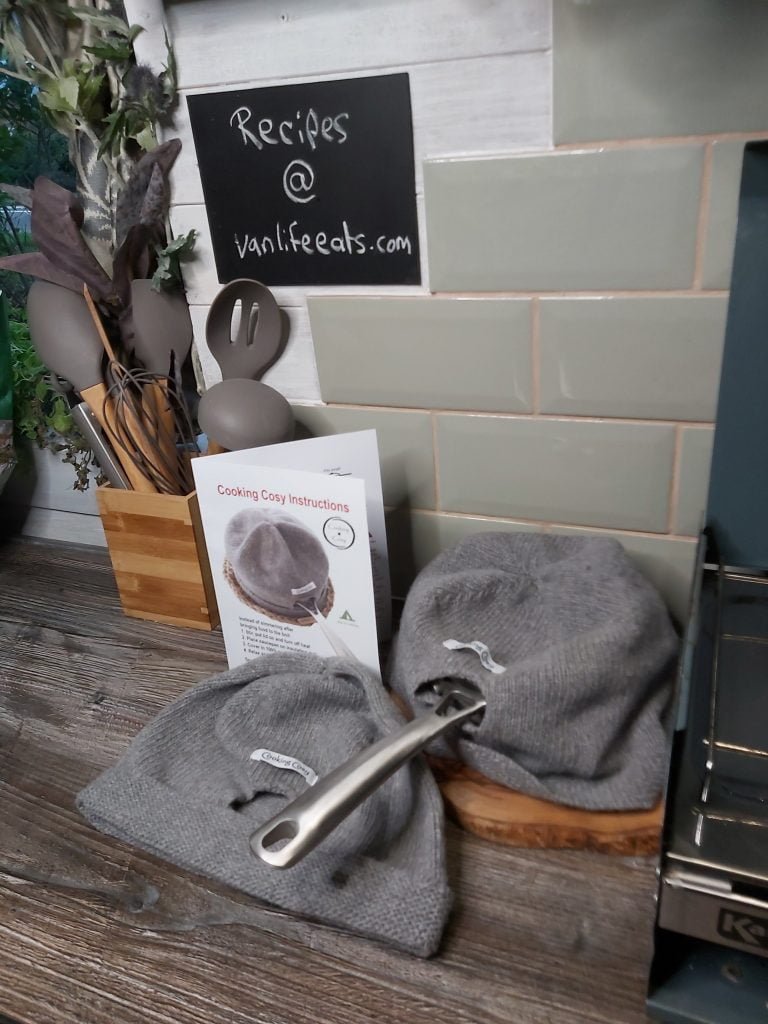 Stove top toaster
If you follow our Instagram you may have seen us talking about this next little gadget. We had many people joining the dotty toast club! Toast is something we both love with a good cup of tea. It's not the easiest thing to make in a van with no grill though. Then we discovered this little gem! An absolute bargain at around £6. This stove top toaster makes a great stocking filler and means you can toast bread on the hob. Super quick and super easy – get the butter at the ready. Buy yours here.
Global WakeCup
You can't have toast without a mug of tea! That's why the next item on our essential vanlife Christmas gift list is a good mug. These Global WakeCup's are our favourite mugs to use in the van. They come with lids making them easy to drink from while on the road, plus their pretty van friendly and you know they won't break when travelling. We hang ours by the handles on hooks so they don't even take up room in the cupboards. The stainless steel interior makes them super easy to clean. These are made from sustainable bamboo & biodegradable, making them eco-friendly. If that doesn't give you a halo then this will. The company donate 10% of their profits to The Marine Conservation Society *ding – halo incoming* it's the gift that keeps giving. You can get your hands on one for £20, or they offer a personalisation service for a little more. Find them here.
The Cornish Tea company cream tea
What do you get the person who has everything? Food of course. Not just any food though, only one of the finest things to come out of Cornwall. This cream tea sets from The Cornish Tea Company are perfect. They come through the post so you don't even need to wrap them. To keep the Christmas harmony and avoid any arguments, don't ask whether cream or jam is first…
These boxes are already a bargain at £20, but last time we checked our exclusive discount to get 15% off still worked, just enter VANLIFEEATS2022 at checkout. Even more of a bargain, but seriously.. cream or jam first? Answer here.
Yellow lids – Stretchy lids & straws
If your looking for stocking fillers that are good for the environment and your pocket, then look no further. These stretchy lids from Yellow Lids are fab, they are perfect for vanlife, and helping reduce food waste. They mean you can cover cans, or bowls of leftovers etc with these spill proof lids. This company realise it is unrealistic to completely stop single plastic use, so they have teamed with ReSea Project and have committed to remove plastic from rivers & oceans with every purchase. They also sell these fab straws which are great for avoiding plastic straws, or worse… the paper ones that disintegrate in your mouth! With them being under £10 each they are definite vanlife essentials!
Essential Vanlife Christmas Gifts for under £35
These gifts are a little bit more expensive so great for a present a little bigger than a stocking filler. They are still under £35 though, so good for those of us with a budget in mind.
Camping Soul Food cookbook
If you have tried all the recipes on here, then this cookbook could be just the vanlife essential for you this Christmas. We love this cookbook, it has such a unique feature. Each recipe has a QR code so you can enjoy the accompanying playlist while you cook a delicious vanlife meal! You can buy it right here!
Ridgemonkey sandwich toaster
The ridgemonkey is something we use regularly in our van. When we first bought one (as we thought every van kitchen seemed to have one!) we were surprised by how small it was. We bought the Compact XL sandwich toaster. Due to this we hardly used it for a long time. Then we discovered it's true potential!! We use it so much now, we have made omelettes, hotpots, brownies and all sorts of delicious things in ours. A great present for a solo vanlifer as you can cook perfect portion sizes for one person. Coming in at around £27 it's worth every penny. You can see all the details and buy here.
Ridgemonkey cutlery set
If you wanted to add a little extra with your ridgemonkey gift then these cutlery sets are great! They come in individual sets so ideal for solo vanlife. The quality of them feels amazing, the fact they pack away into a little pouch makes them travel friendly too. You can take them along on walks, picnics and adventures. These are under £15 and you can get them here.
Zyliss Easy Pull
This next one is a definite favourite gadget of Mark's. The Zyliss Easy Pull has been a game changer for us. It is a manual food chopper/slicer. I (Sophie) am terrible at chopping vegetables, they tend to fly everywhere. So this keeps everything contained nicely, stops the tears caused by onions and is powered by muscle power. If you fancy giving this to a vanlifer in your life, then click here.
Stove top Kettle
There's not many better sounds in life than the whistle of a kettle. Our kettle is an absolute essential in our van kitchen. We couldn't be without it or our morning cuppa. This 2.5l is the perfect size for us and fits on the hob perfectly. They come in lots of different colours but this one fits in with our van so well. You can grab one for a gift here.
Enamel serving tray
This was the vanlife gift we didn't realise was an essential until we got one. It helps keep our kitchen clean, as we put peelings and food waste on it making it easier to put in the bin. Mark regularly uses it to make fresh pasta and keep flour explosions to a minimum. Plus you can actually use it as a serving tray. They can be completely personalised and are £25, get yours from Duncan Stewart gifts here.
Essential vanlife gifts for under £75
If you are looking for a more extravagant gift, then look no further. These vanlife gifts are all under £75 but are something we use regularly in our van and 100% recommend them after putting them to the test!
Omnia Stove top oven
Coming up first is something we use in our van regularly. We tend to use it for baking cakes, bread, pies and have found it really useful. Although it isn't something we use every day it is definitely something we recommend. The Omnia starter pack comes in at £66.99 which contains the Stove top oven as well as a silicone mould. We definitely suggest using the mould when making cakes in particular to ensure they don't stick. You can purchase a starter pack here.
Wonderbag
Next up on the list is a different kind of oven! The wonderbag is a thermal non-electric slow cooker. For those worried about increasing energy costs this may be a good Christmas gift. It can be used for houselife as well as vanlife. You use it by starting off the cooking process then placing the pan in the wonderbag. It needs to be a good thick pan that will hold the heat well. The oven keeps it warm and carries on the cooking process. We have made stews in ours and even some beef which was cooked to perfection. It can also be used to keep things cool, so is multipurpose. It is quite large so if space is limited in the van it may not be the best option. Or do what we do and use it for storage or as a cushion. You can see the different colours available here.
FlavorStone Pan
This pan is a great vanlife essential, even if it's not a Christmas gift. This is a multi-purpose pan which makes it great for vanlife. You can fry, deep fry and even steam in it. It has a removable handle for storage too. It is a definite essential in our van kitchen. For £70 it reduces the need for lots of pans in the van, which take up space & money. You can find it here.
Gifts to blow the budget! (but they're worth it)
These gifts are budget busters, but we can guarantee they are ALL worth it. You can always treat yourself this Christmas.
Winnerwell woodburner stove
Woodburner stoves may not seem the most compatible gift for vanlife – but they are. Not only do they keep you warm sitting outside the van of an evening, you can cook on them too, and they look pretty impressive. Starting from £249 you can add whichever kit and accessories you want onto that. We have the Woodlander large Stove, we love it. It always draws lots of attention & comments whenever we have it set up. If you use code VANLIFEEATS at checkout you get 10% off!! Check them out here.
Vanlife Eats Big Picnic tickets
This is a gift for yourself as well as others! Tickets to the Vanlife Eats Big Picnic 2023! Each year just gets better & better. Tickets are £69 per adult, with a wide variety of unique demonstrations and workshops it really is not to be missed. If you can't make the whweekend then worry not, this year there are day tickets! You can buy tickets right here, we'll see you there!
Cobb bbq
If you love a bbq, then you will love taking a Cobb on the road with you! We have even cooked a whole chicken on ours, and it was cooked to absolute perfection. Priced around £160, it means you can have a bbq wherever you are. The amazing design means the bottom doesn't get hot so you can safely have it on camping tables! Get yours here!
Savernake Knives
Any good chef knows how important a good knife is. We were lucky enough to collaborate with the amazing Savernake Knives! If you enter this secret part of the website then you can save 10% off our exclusive design. You just need to enter the password vanlifeknife to access the collection. The knives start at £152 with our discount and they will sharpen them every year for free and have a lifetime guarantee, so definitely an investment!
Thanks for looking through our list of essential vanlife gifts, we hope you have found something for the vanlifer in your life. Plus make the most of the exclusive discount codes. If you want to share the festive cheer and buy us a gift, we would love if you could buy us a coffee to help support the running costs of our website.
We wish you a Merry Christmas, and a happy, healthy & prosperous New Year.
Sophie & Mark