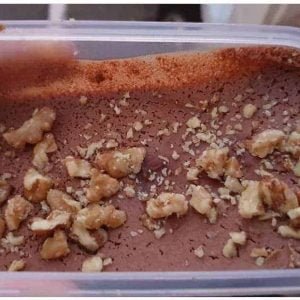 Aquafaba Chocolate Mousse
This one is a delicious and easy to make 2 ingredient chocolate mousse that also happens to be vegan (if you use vegan chocolate & milk) The catch: you need an electric mixer. So if you are a normal person and don't have an electric mixer in your van, this might not be for you.
Ingredients
150

ml

Chickpea water

150

g

Chocolate

Walnuts

1

tbsp

Sugar

1

tsp

Lemon juice / vinegar

1

tsp

Cayenne pepper

1

Water / milk
Instructions
In a double boiler, melt the chocolate. Add a splash of water or milk, it is not necessary but I recommend it for the chocolate consistency when mixing with the chickpea foam.

Meanwhile, drain the chickpea water from the can into a big bowl. I highly recommend adding a tsp of acid (lemon juice) into it as well, it will help the foam stabilize and reduce the whipping time.

With the electric mixer, mix until the chickpea water becomes a stiff peak. It should take at least 15min and you'll know it's ready when the foam doesn't slide when the bowl is tipped. Don't stop before that.

Cool the chocolate a bit, add the cayenne pepper (if using) and stir very gently.

Pour the chocolate in the foam and incorporate very delicately the foam to the chocolate. The more delicate you are the fluffier the mousse will be.

Distribute the mixture into containers. I recommend whisky glass size transparent glasses.

Refrigerate at least 3 hours or overnight (I used a cooler with ice on top)

Add nuts on the top for a crunch. Voila!