We see many different campervan conversions on our Insta every day. Our favourite ones by far are the upcycled campervan kitchens, so inspirational! So sit back, relax and enjoy taking a peek into these inspirational upcycled campervan kitchens.
Using recycled and upcycled items in your van build can save on cost. It is beneficial in other ways too. Using recycled items and upcycling them saves perfectly good items from landfill. Like many other vanlifers, we try to look for ways to live sustainably. Reusing items and reducing waste (ours or someone else's) is all a move in the right direction for this movement.
We love the sentimentality upcycled items have associated with them. It's so fab when parts of your campervan conversions have their own stories to tell. Looking at them can remind you of a certain time, place or person instantly and that's a lovely feeling.
That leads us on to the 7 inspirational upcycled campervan kitchens in this article. We hope that you enjoy them too.
Recycle Inn
Yasmine & Rene specialise in converting vans into campervans using recycled materials. The couple are are based in France, and promote living in a sustainable way. They do this by using as many upcycled items as possible in their builds. Reducing plastic use in their van and often participating in beach clean ups are other ways.
They have converted a number of vans, and we will be focusing on one in this article. This van is a long wheelbase, high top Renault Master 2. Everything in this campervan kitchen has been upcycled using recycled materials, and they love that each item has a story attached to it. A lot of the wood used in the van is pallet wood which they obtained for free. They lovingly took the time to sand all the pieces down to create the look you now see. The worktop was created from an old wardrobe door. The cupboards were also created from upcycled furniture.
Upcycled Campervan Kitchen Features
There are many features in this beautiful campervan kitchen that immediately catch your eye, the first being the eye shaped window. This unique feature is felt to protect them on their travels, and even has an 'eyelid' to block out the light at night time.
The couple really wanted some authentic Portuguese tiles in their campervan kitchen. They struggled to find any on their travels. Eventually they found these lovely tiles and upcycled them to create their splashback. The colours complement their build perfectly.
Some more beautiful upcycled items include the tap. The tap was was originally from a wine barrel obtained during their travels through Bordeaux. Two old biscuit tins are now used as overhead storage. The second hand map of Spain & Portugal helps them document their travels. All of these help to create a cosy campervan kitchen, with lots of memories and personal touches.
Favourite campervan kitchen gadget
They confess to keeping life simple with no gadgets, however, they do love their stove top. Plus having the ability to cook a variety of meals with their oven. The oven was also second hand for $30 and has been given a new lease of life in their campervan.
Favourite campervan meal
Their favourite thing to make in their campervan kitchen is fresh bread or vegetarian lasagna.
INSTAGRAM: @recycleinn
Dan Bowker
What better way to start an upcycled campervan renovation than with an upcycled van? Let's show you Dan's ex police van, now inspirational campervan! This van is a full-time home on wheels, and a lot of the conversion was completed using recycled and upcycled items.
This was a true labour of love, all of the wood in the kitchen is reclaimed. Dan helped tidy up the local area by collecting any crates at the side of the road. These were then cleaned up ready to use in the van. The majority of the screws and nails used were either reclaimed from old pieces of wood or from junk stores.
That isn't the only recycled thing in this campervan kitchen. The cutlery, pots and pans are all second hand too.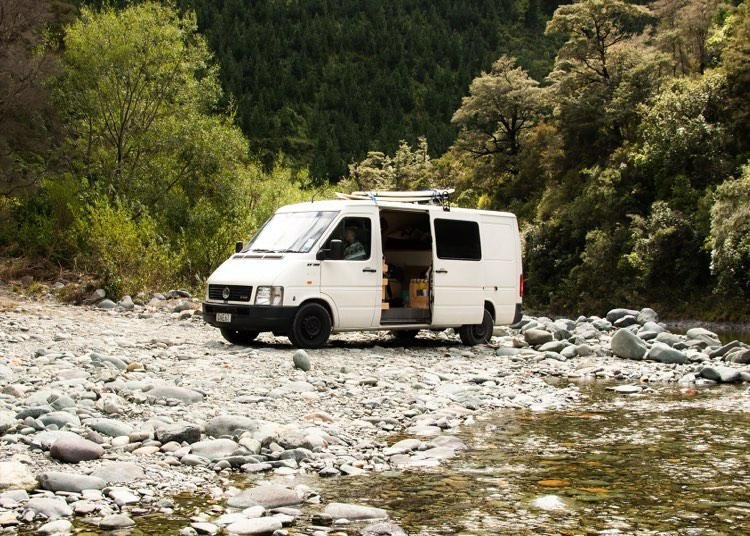 Dan is a fan of old style cabins which may be where the inspiration came from. Converting a campervan yourself means you can get exactly what you want. Travelling in the van full time Dan felt it was important for it to feel homely and is very happy with the end result.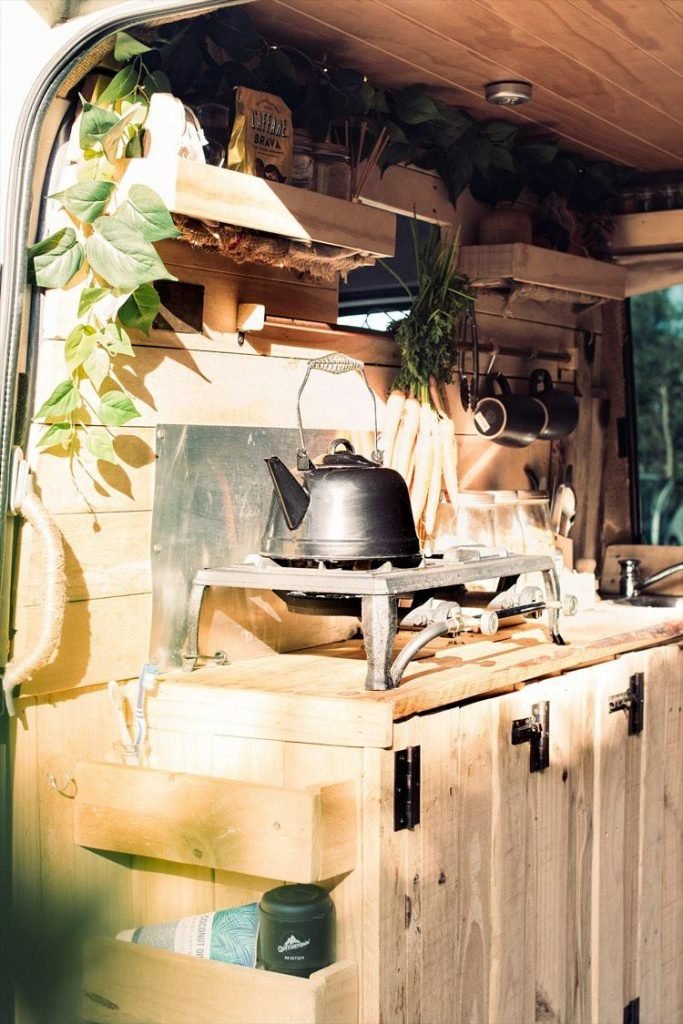 The kitchen is fitted out with a cast iron dual gas stove, a water pump and a cooler. The electrics run off solar power allowing them to stay off grid and reduce their carbon footprint.
The set-up of their kitchen means there is no need to set anything up, it's all ready to go. They considered this an important factor when planning their kitchen.
A favourite feature in the van is their stove. This not only warms up the van while boiling water for a morning coffee, but also allows them to make awesome Cuban sandwiches!
Favourite campervan kitchen gadget
A hand blender, which comes in handy for smoothies, soups & curries.
Favourite campervan meal
It was too hard pick one! They said they enjoy making broccoli soup, pumpkin soup, steak burritos and curries, and they love Mexican nights in the van too!
Instagram: @danbowker
AdvantureIreland
As their Insta name may suggest, Jonny & Megan are enjoying vanlife in Ireland. They have a Toyota Hiace. It may be small but that doesn't mean they can't have everything they want in their home on wheels.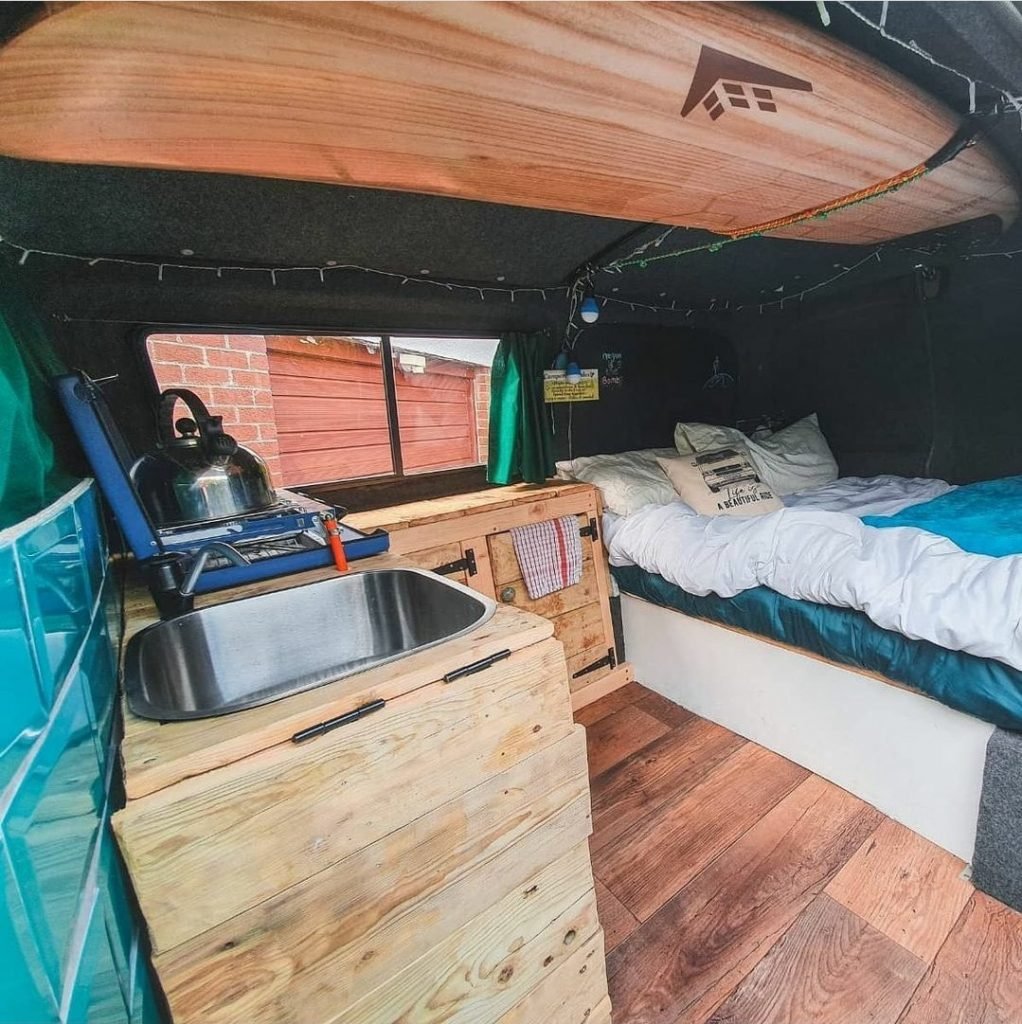 Surfing plays an important part in their life and they even have storage for their surfboard in the van! Their van is colourful and cosy, plus it has a rooftop garden. The upcycled kitchen is made with some reclaimed wood that has a very special story behind it. The kitchen units are made from Jonny's Dad's old garden fence!
"Almost the full kitchen is reclaimed, the wood is all reclaimed wood panels from a fence. It's cool because I remember helping my dad build that fence when I was a kid. He would always have me out helping him with little jobs like that when I was younger. I definitely gained my skills and love for wood working from him. It's nice being able to use those skills, especially repurposing something that we both built together"
Upcycled and recycled items, full of memories, can make your campervan even more magical inside. Meaning you can take your memories from home on your travels with you.
They describe their own kitchen as basic but functional. There is a 2 burner hob with a grill. If extra space is required, the end of the cupboard folds up to create extra worktop space. These space-saving ideas are total campervan kitchen inspiration.
The reclaimed wood sets off the teal coloured tiles, which happens to be one of their favourite features, alongside the cupboard door knobs.
The hose linking the water tank to the tap is another recycled item in their van kitchen. This was originally a garden hose which has been thoroughly cleaned.
Favourite campervan meal
Jonny admits that Megan is the one with the culinary skills. He does however, make a mean cheese toastie & the world's best cup of tea!
Their advice to anyone embarking on a van build…
Anyone thinking about embarking on a van build, it's the best thing you'll do! The enjoyment of building the van alone is amazing. The best bit about it is that you can build it to your exact specifications, to suit your needs. There aren't really any rules when it comes to putting a van together. That reflects nicely on the life you can live with a van too, a never ending exploration in your home on wheels.
Instagram: @advantureireland
Vanoraks
Vanoraks are made up of Jess & Darren. In September 2019 they purchased an old window fitters van and decided to convert it into a mini home on wheels. The global pandemic arrived not long after they bought the van. Lockdown provided the time to work on the van. It is now ready for adventure, as soon as they're allowed to.
Many of the items in the campervan kitchen are upcycled. This meant the couple could use the money elsewhere for all their homely comforts. They found the upcycling process fun, enjoyed putting unwanted items to good use, and felt it added character to the interior of the campervan.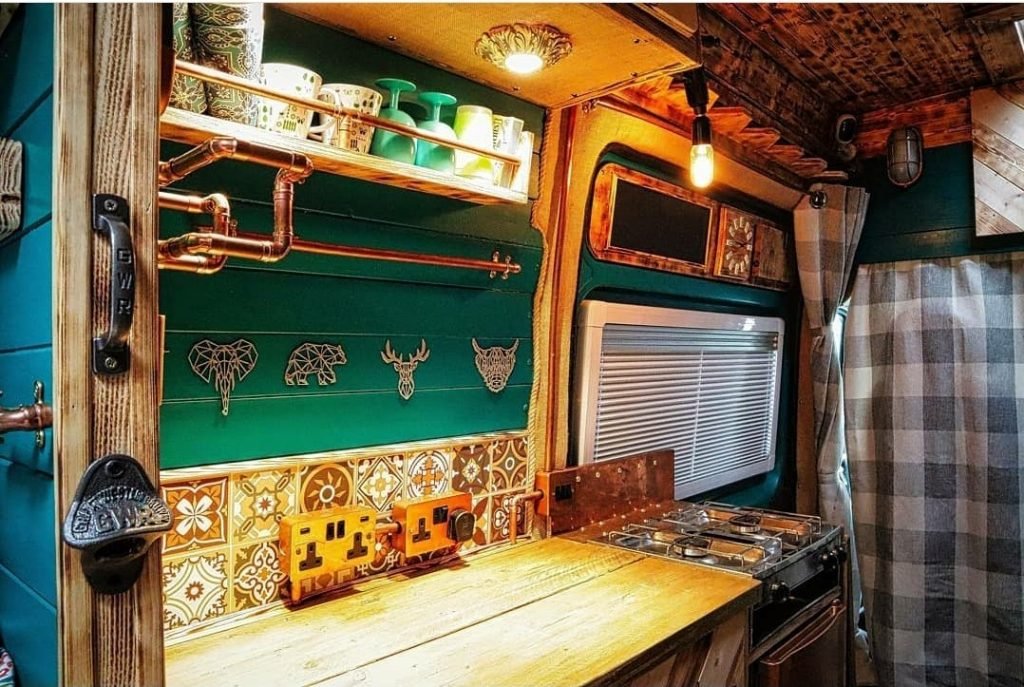 Upcycled Campervan Kitchen Features
Some of the upcycled items came from the previous owner. The window fitter racking was used as the internal frame for the kitchen, shower and bed. The worktop in the kitchen is made from upcycled scaffolding boards. They spent time sanding the boards, waxing and sealing them to make them suitable for use.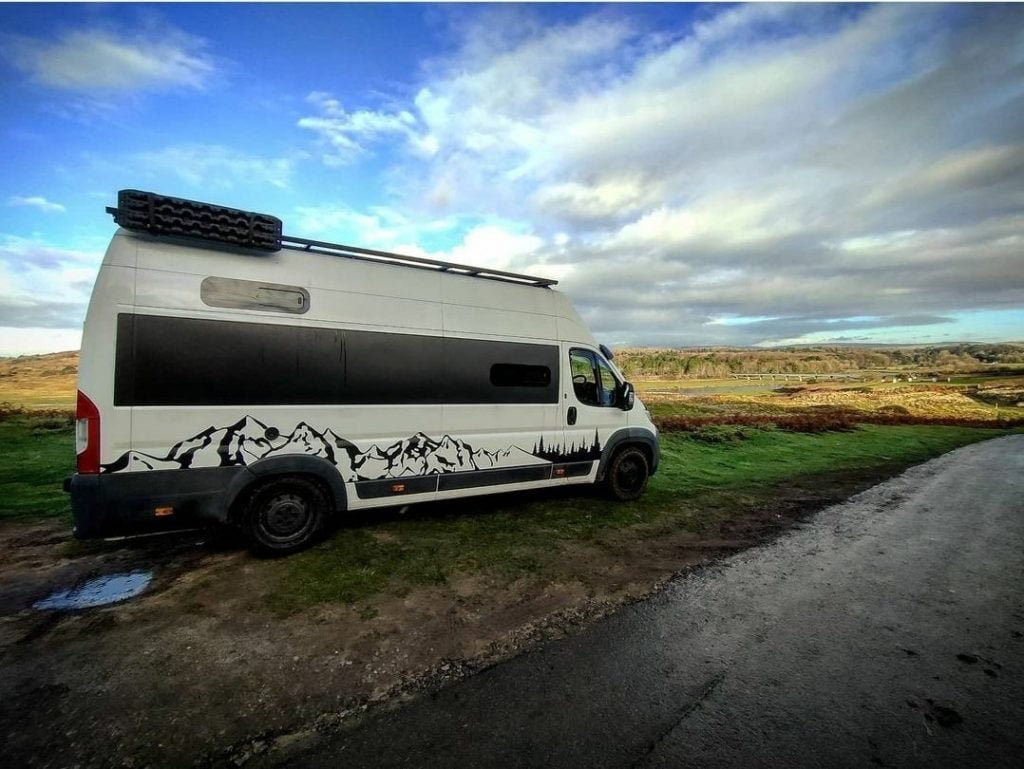 Using upcycled items can be a conversation starter too, the lamp above the kitchen hob is actually an upcycled blowtorch from Darren's Grandfather's garage. It proves to be a talking point when they have visitors in the van. There are many more gorgeous talking points in this campervan. One being the beautiful copper sink which actually started life as a pan. The wind deflector behind the hob was created using a copper sheet from a skip.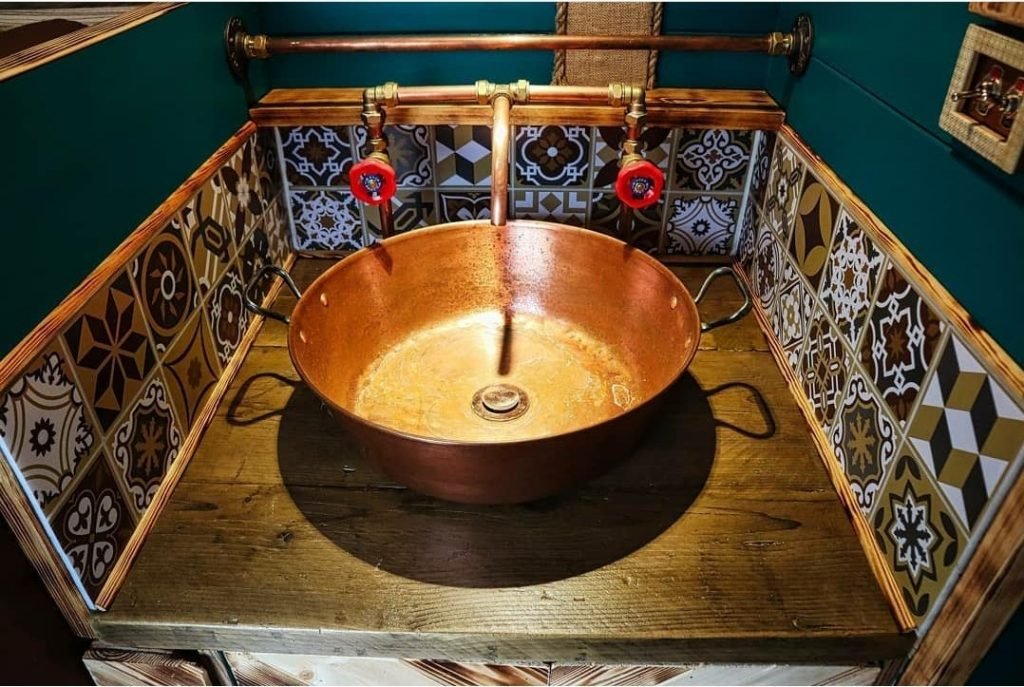 The eco-friendly aspects of the van don't end there. The van runs off solar panels which provide enough energy for all their internal electrics and gadgets. Their water tanks have sensors to monitor the water usage in the van. The shower head contains beads to improve water pressure and reduce the amount of water they use. This is handy when there isn't an unlimited supply of water!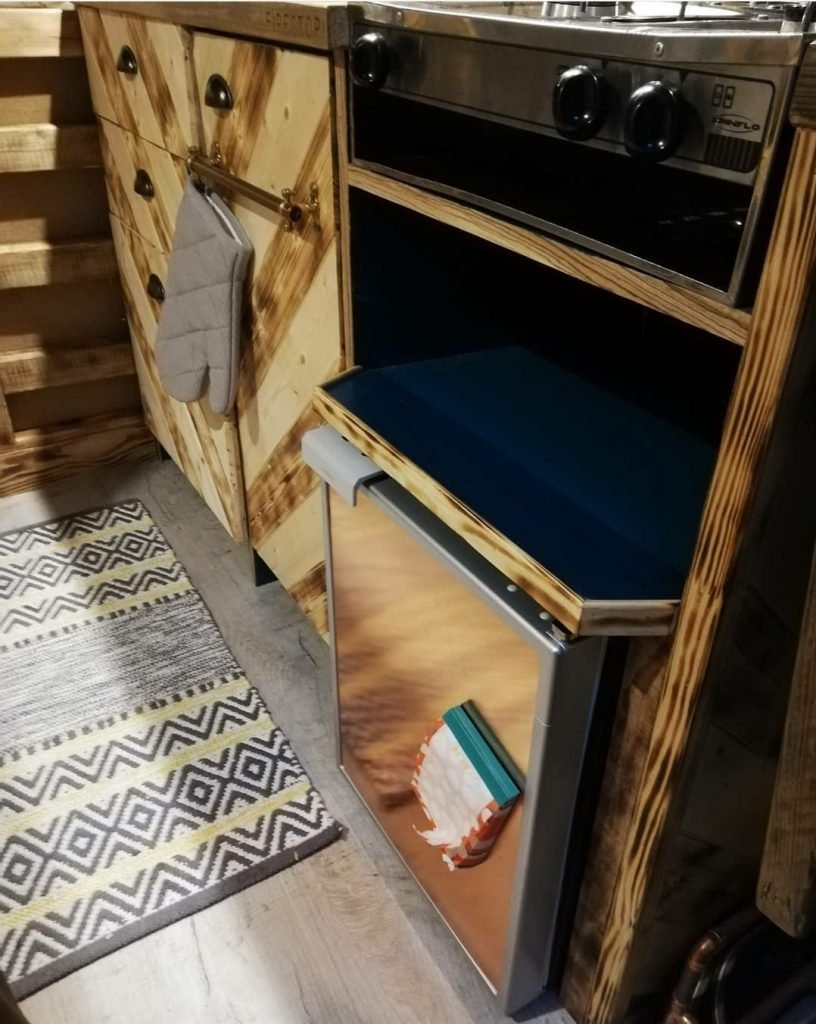 Favourite campervan kitchen gadget
We have another fan of the hand blender. These guys like to make soup, dressings and use it for chopping herbs. Their wall mounted bottle opener has come in useful too!
Favourite campervan meal
They love to enjoy a breakfast treat of vegan pancakes. After a long walk one of their favourite ways to warm up is with a warming vegan chilli. The recipe is right here for you to recreate it yourself.
Their advice to anyone embarking on a van build…
Watch as many YouTube van build/conversions to get an idea of the style and layout that will work for you. Don't be afraid to ask other vanlife/van builders questions, even if they seem simple.
Instagram: @vanoraks
Website: https://linktr.ee/vanoraks
YouTube:
Urura home
These guys love using reclaimed items so much, they even made a business from it! They create beautiful wooden home decor using reclaimed timber. The campervan kitchen is no exception. They have used upcycled items to create their perfect living space.
They have used reclaimed wood in their build which is included in their table, worktop and light piece. Upcycled roofing battens were used to make their table and chairs. Another upcycled feature is their tap. They made this themselves from industrial pipe work.
This campervan kitchen has a twin hob burner, jetboil and portable gas bbq. They make the most of the sun by having a solar shower in the van, A portable solar pack means they can charge smaller items without using energy from the van batteries.
Favourite campervan kitchen gadget
Having a hob as the main way to cook meals in their campervan, their favourite gadget is a vanlife necessity. A high quality non-stick pan can be versatile and is easy to wipe down when doing the washing up in a campervan.
Favourite campervan meal
Their favourite meal is a veggie burger. This has the versatility of going with many different things to make a meal. On special occasions they like to make pan pizza!
Their advice to anyone embarking on a van build…
Be true to your own. It's great to get inspiration from other van lifers but you will never recreate something they have made. Be unique and think outside the box. Make it around your own needs.
Instagram: @urura.home
Website: urura.co.uk/shop
Parking on the Wildside
If you are looking for an inspirational upcycled campervan kitchen – look no further. We see this campervan kitchen attracting attention on Instagram frequently.
These UK vanlifers travel in their van full-time and have recently been enjoying Scotland. At the beginning of their build they knew they wanted to try to make it as environmentally friendly as possible.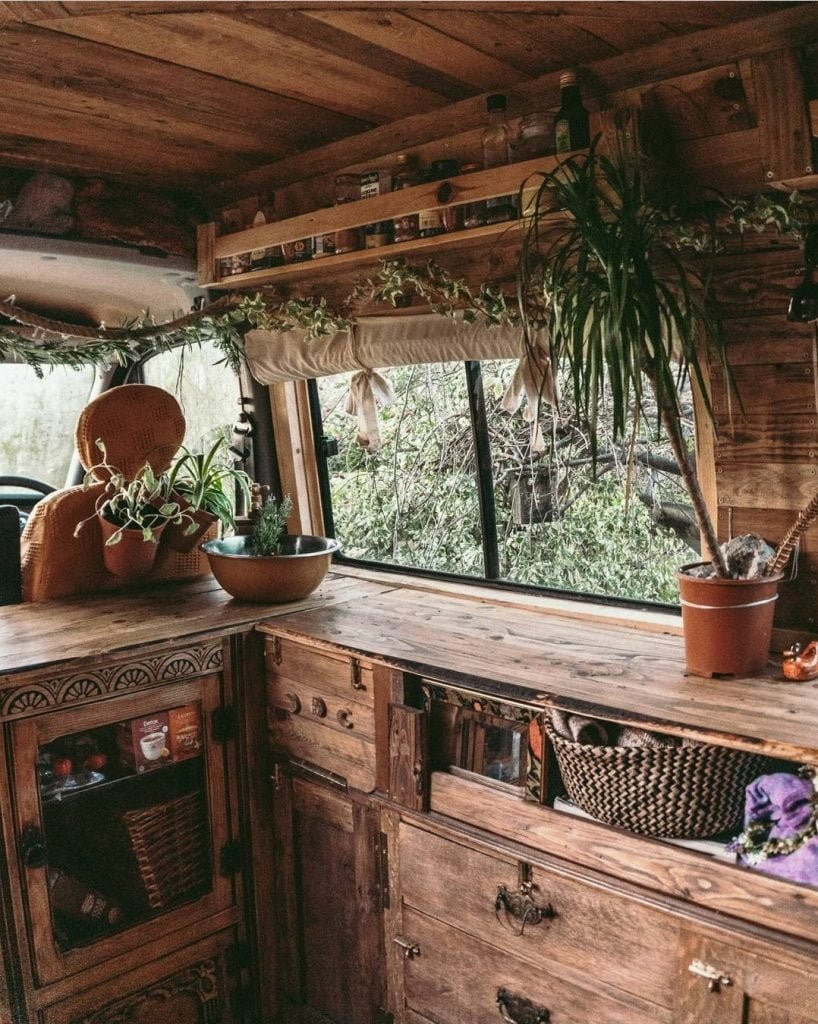 They have done this by using as many recycled and upcycled items as possible, and installing a solar powered system to make sure they can camp off grid.
Upcycled Campervan Kitchen Features
Their kitchen was structured around some second hand cabinets they found. As many recycled and free items as possible were used, to minimise the cost and effects on the environment. Upcycled pallet wood was used to create their countertops & all their crockery and cutlery is second hand. They found a store which makes use of paints and varnish that would otherwise be thrown away and used these in their build.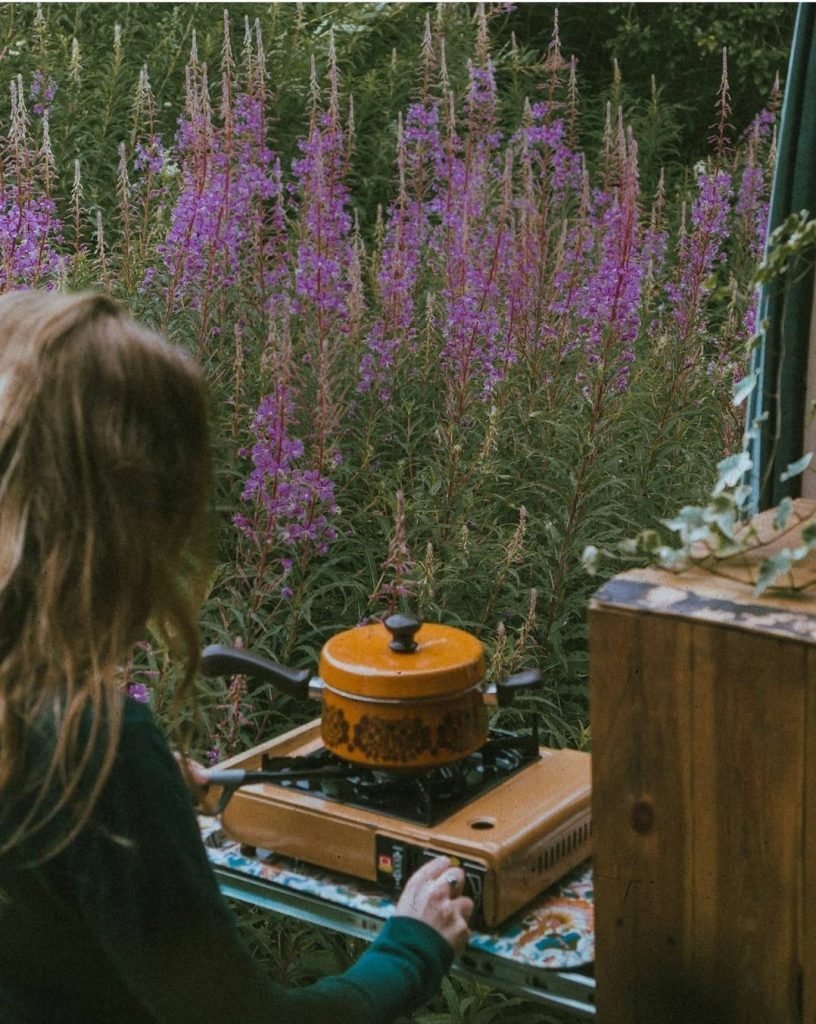 The couple would have loved a live edge worktop in their campervan kitchen. This would not have been within their budget though. Luckily they found some long slats of wood in a skip. Some of these had live edges, and so they combined them together. After sanding and oiling them, they managed to get the worktop they desired.
The single ring camping stove is perfect for cooking inside and outside the van. This was also upcycled by using coach enamel to paint it a soft gold colour. They have been having issues with condensation in their van. This means they are braving cooking outside as much as possible, or making some fab one-pot pasta to minimise cooking time. Having over 40 jars of condiments in their van means they are never going to be eating a bland meal!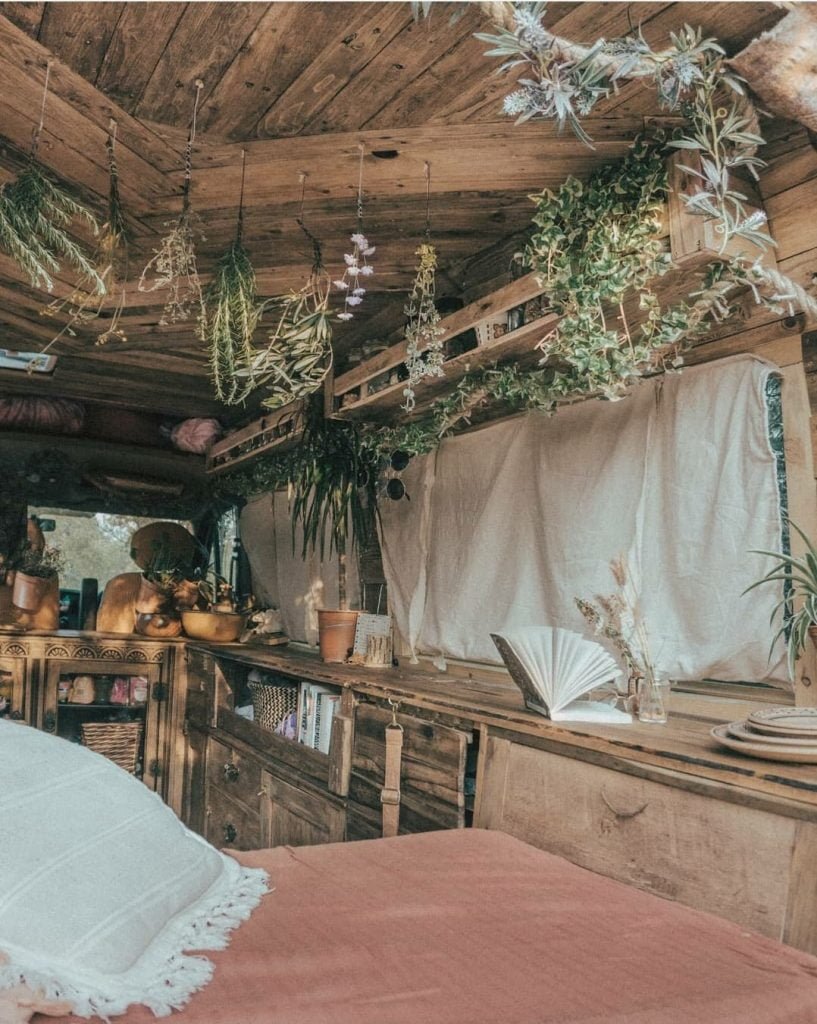 Upcycling your van isn't limited just to the interior. Laura & Aaron upcycled the outside of their campervan too – by painting it themselves!
Laura & Aaron don't limit their upcycling just to their van, all of their clothes are from thrift stores too. One of their favourite things about buying second hand items is imagining the history of the item and they characters that owned it before.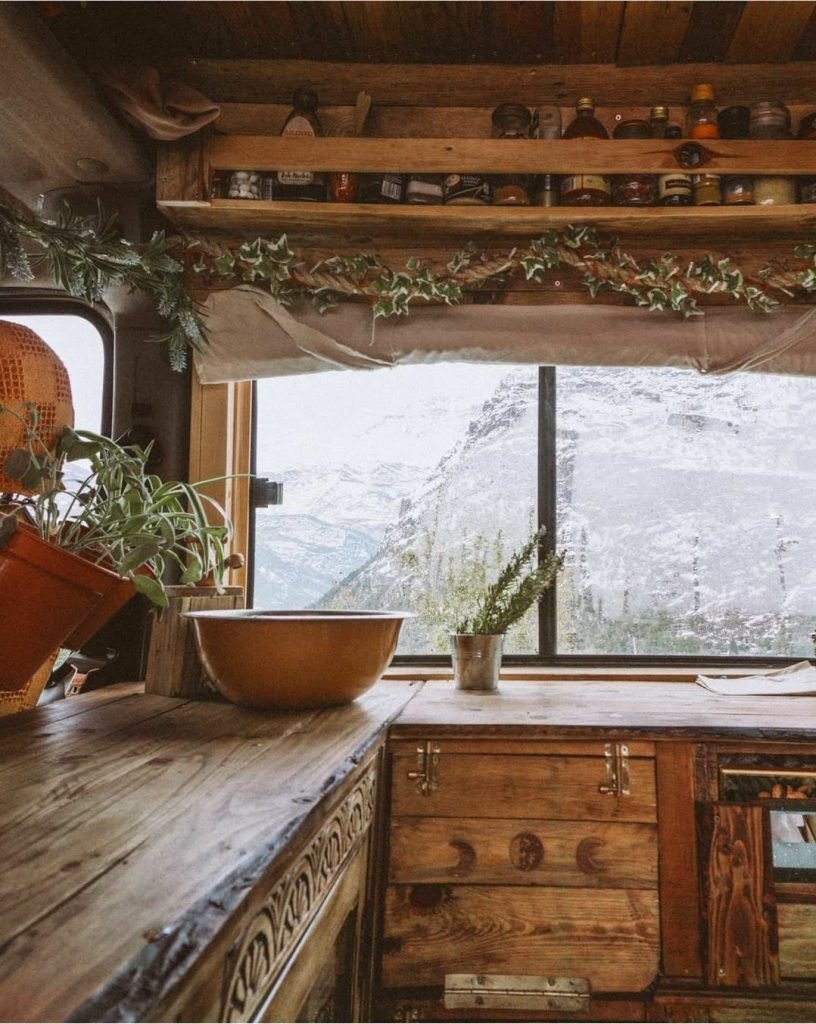 Why use upcycled items?
The couple like to be conscious of the environment around them and trying to protect and preserve it. Buying new items made them cringe knowing that there was likely little consideration for the workers or environment in production. This is one reason they decided to create an upcycled campervan, plus the lack of funds! Upcycling and recycling items meant they managed to keep the cost of their conversion low.
The couple like to travel extremely slowly on their travels, take it all in and be considerate about the amount of fuel they use. The tap is operated via a pump to minimise water use (and it's fun to pump!). A solar power system set up in their van to help with energy supply.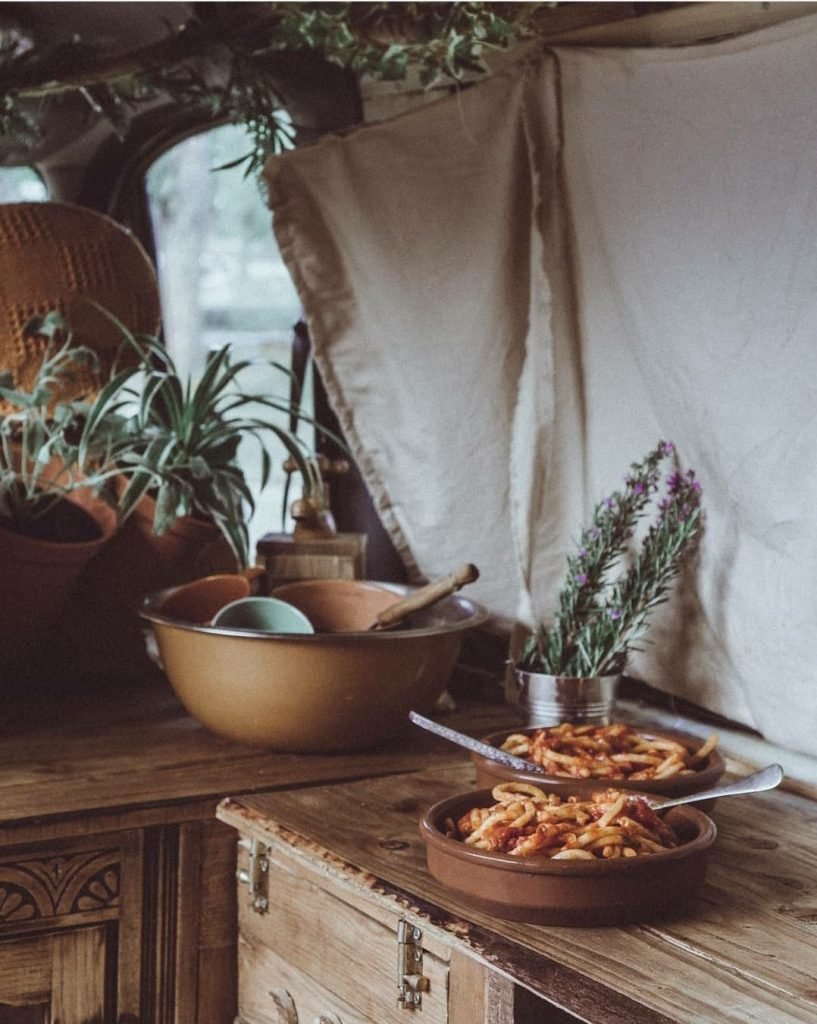 Favourite campervan kitchen gadget
Their favourite gadget is their carbon monoxide detector. Cooking in a small space can be risky if not well ventilated. Having a carbon monoxide detector means Laura & Aaron can sleep soundly knowing there are no dangerous gases in the van.
Favourite campervan meal
Part of wanting to live a more environmentally friendly lifestyle is eating a vegan diet. The couple like to make hearty italian meals with lentils, courgette and wayyyy too much garlic!
Their advice to anyone embarking on a van build…
The main thing is to not let 'lack of knowledge' hold you back, you can learn it all!!
Instagram: @parkingonthewildside
Camper Vibe
Their van may currently be off the road, but that is not going to stop us including it in our inspirational upcycled campervan kitchens. Louise, Emily & AJ the dog are all fine and hopefully will soon be back on their adventures.
They worked within a budget and did their best to stick to it all the way through. With the pandemic, the uncertainty made them more determined to stick to their budget. This is one of the main reasons they decided to use reclaimed items in their van.
Upcycled Campervan Kitchen Features
Louise built the kitchen cupboards and drawers using reclaimed wood. The wood used, was made up of pallet wood and wood that was leftover from their build. They feel the use of these upcycled cupboards reflect their personalities, 'not perfect, but does the job'
The coffee sacks used in their kitchen are from a small coffee distributor they found on a campsite. These fit in with the decor, and can bring back memories of their trip.
Their build shows that you can incorporate some reclaimed materials in your build, no matter how big or small.
Favourite Campervan Kitchen Feature
Their favourites are the blackboard where they can leave notes to each other and their cactus shelf. Emily likes the tiniest draining board, and Louise loves the worktop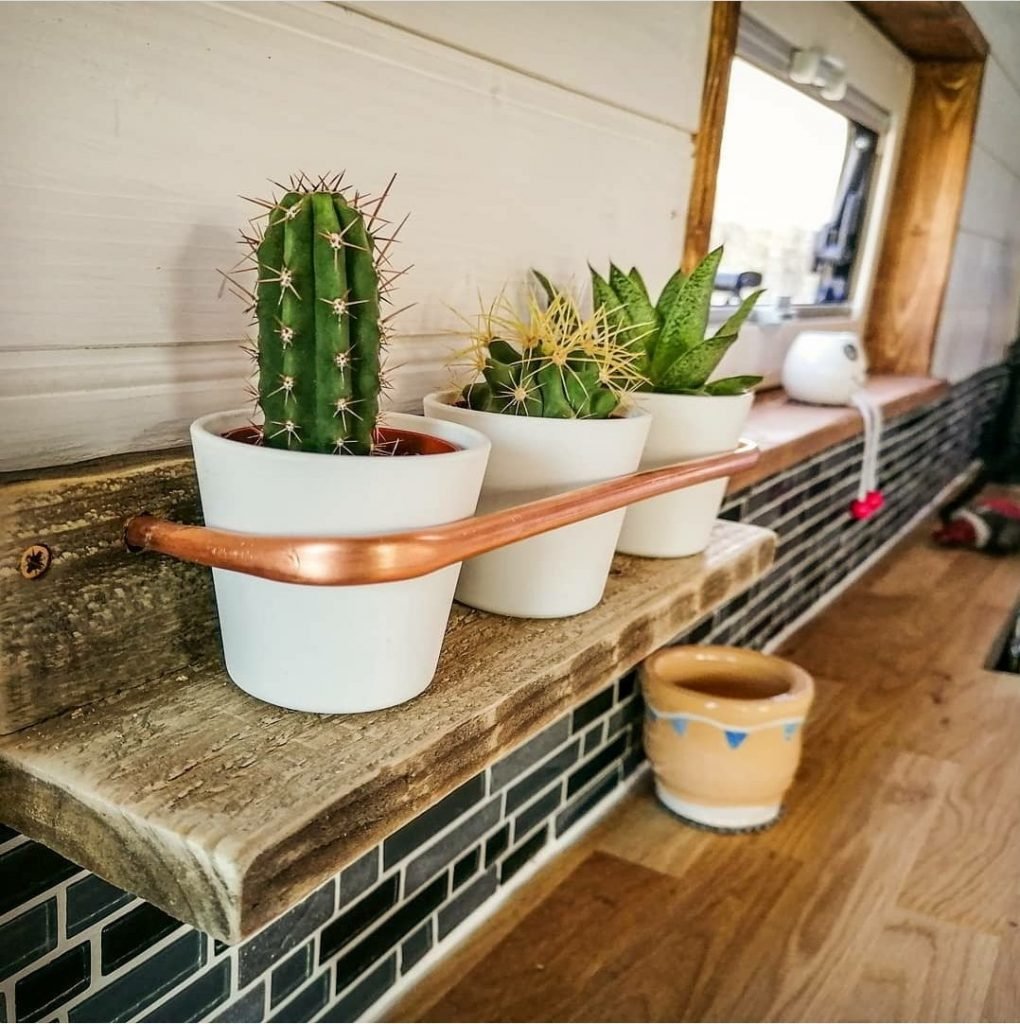 Favourite campervan meal
They love one pot meals, and who doesn't less washing up, woo-hoo! Their particular favourite is a vegetable Jambalaya.
Their advice to anyone embarking on a van build…
Take your time on the planning. It really is the most important part and don't be afraid to have a nose in other people's vans, we still do now. Don't rush it, speak to as many people as you can who have done it already to get multiple opinions (of which you will get MANY). Use this knowledge to make your decisions based on your needs. Every van builder has made a few mistakes try and learn from as many of theirs, but no matter what you will make some of your own.
Website: campervibe.co.uk
YouTube:
Are you feeling inspired?
We hope seeing these inspirational upcycled campervan kitchens has given you some ideas. There are many reasons to use upcycled items in your van build:
Save on cost
Give a new lease of life to unwanted items
Save items going to landfill
Fill your van with memories
No matter how many upcycled items you choose to use, it can provide those finishing touches to your campervan kitchen.
Want to see more inspirational campervan kitchens? Be sure to check out our other article showcasing 10 of the best van kitchen designs right here!
Let us know in the comments if you have any upcycled items in your campervan!