Looking for a place to park up for night? Here is my first hand experience to the last few years of Van Life and where to park for the night.
I remember how I felt that very first time I ventured out on my own, looking for a "non campsite" urban place to park up for the night. I very quickly realised just how scary and intimidating it was! I moved several locations that very night and the dream and visualisation of parking up in a serene location was instantly shattered! My first location that night was one I was very excited about staying and parking up for the night. It was out in the country, up high in the Surrey Hills. I knew of a little parking spot I used to go to in my youth, tucked away off the main road with a stunning view of the night sky and the moonlit rolling hills. The thought of waking up to one of the UKs most beautiful views was so exciting!
After parking up my beloved T4 camper conversion "Betsy" I climbed in to the back and started to make it cosy. Within 5 minutes I started to feel quite anxious! The silence was actually incredibly loud! The slightest sound seem to freak me out! Call me a wimp but I entirely bottled the over night stay and decided it would be far better to head in to town and park in a residential road where I wasn't so isolated and would blend in.
Once again I was parked up and making myself all cosy. I had a tea on the brew and I was in my pyjamas. Not a particularly nice view of peoples houses and other parked cars. I had the curtains closed and had the light as low as I could as I was very conscious of being lit up from the outside. Once again I started to feel anxious! People walking past would make me freeze and turn the lights off completely and it was long before I was compelled to darkness and silence! Is this really how VanLife is going to be for me? In my pyjamas I climbed in to the front and once again drove away!
Finally I found comfort in parking up the same road as where a family member lived, where I found a little bit of comfort and a feeling of familiarity and security.
Years down the line I have not only become a little braver, but I have also picked up on some little tricks here and there that make choosing a park up a lot less daunting and help you embrace the freedom and find that passion to a lifestyle you will love!
The Law
First and foremost you need to be aware of what laws govern your freedom in the country that you reside or are travelling within. Here in the UK there is no law against living in a motorhome or campervan but there are many restrictions as to where you can park and sleep. It is strongly suggested you research thoroughly with the authorities of the country and region in which you are travelling in to avoid prosecution.
Many carparks these days are controlled with number plate recognition cameras and limit you to the length of time you can remain parked in the carpark, and more often than not you will be required to sign in your numberplate inside the premises such as a pub, supermarket or hotel to prove that that you are a guest or hold custom.
Parking illegally will result in prosecution, clamping or even being towed away. You must always respect the parking regulations of all countries and regions that you are staying at and avoid any legal conflict. Some countries can be tighter on prosecution than others!
Is it illegal to drink alcohol and sleep in my van?
Most countries all hold the same law on this and it is strictly a no. Being caught drunk in your van and having the keys in your possession will almost certainly get you taken away in a police vehicle and charged with being in control of a vehicle under the influence of alcohol.
The only time you will be ok to do so, is on private land with the owners permission such as a driveway or camp site. Be aware that a public house (pub) car park is quite often not going to be allowed, and is often a place that the local enforcement will purposely look for RVs, vans, and campervans.
How to find a good park up
Finding a good spot to park up for the night can vary on how stealth or discreet your van is. If your van blends in with other parked vehicles it can be a lot easier to find a spot and get an undisturbed nights sleep. For those vans that are obvious camper vans, you need to be more strategic in finding a suitable stop for the night.
Park Safe!
Parking a vehicle whilst you are inside it, you should always be very cautious how where and how you are parked. Whilst you may think it safe to park on the road in busy surroundings, be sensible. Do not park close to corners or on busy roads where you could get crashed in to.
Do not park in the shadows of quiet car parks, this is an invitation to being broken in to. Most of the time when thieves will be startled they will run away, but its not worth the risk of damage or even worse should they become aggressive.
Oh, and if you are parked on the edge of a cliff, don't forget to put the hand brake on!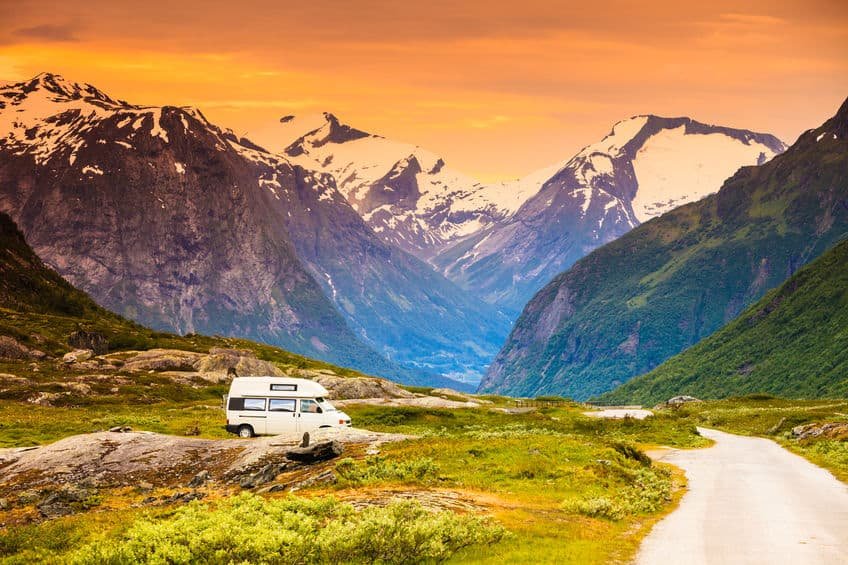 Finding that serene location is always the van life dream right? Falling asleep to the sound of owls in the woods or waking up to the sound of the ocean. So how do you find the ultimate van life park up?
Thankfully we have a great community of van lifers and we all share our favourite locations.
Here are some of the best Van Life and RV Park up apps available.
Another great way of finding van life park ups is to join Facebook groups such as Campervan Overnight Parking group. With over 80'000 members its great to be able to ask about locations and recommendations of a good park up. Embrace the Van Life community as everyone is always so helpful and enthusiastic to your adventures.
Campsites
Are campsites a good place to park for Van Life? I know this is something we try and avoid, as you have to pay, and it takes the "Van Life" away and makes you feel like you are just camping. One thing we can't ignore is that we regularly need to empty a toilet, fill up our water tanks, do our laundry and also have a good freshen up ourselves. Campsites are just ideal for a full van life freshen up.
Some campsites in national parks offer some of the best area views and host a "wild Camping" option which will allow you to park up away from other campers, perhaps by a lake or backing on to a scenic field etc. giving the illusion of wild camping, safely and with facilities nearby.